The new year 2022 calls to explore new functionalities and utilities of ordinary things with an extraordinary twist. By now, we all are much aware of the disrupting surveillance innovations which have been ruling the market for quite a time. One such advancement is a wireless surveillance cameras. It is a common yet extremely versatile kind of video monitoring camera. We know that it specializes in protecting distant or isolated locations accredited to its ability of wire-free connectivity.
Wireless surveillance cameras do not come with the limitations of a wired setup or external data connection. Equipped with an in-built SIM card slot, wireless cameras work fine on 4G/3G SIM-based technology in areas without good internet connectivity. What is more fascinating about a wireless camera is the wide range of utilities that it offers.
Uses of wireless surveillance cameras at a glance
A wireless monitoring solution can be installed at a residence, workplace, public place, crossroads, hospitals, schools, or any place that you can think of. Along with huge application options, a wireless surveillance camera protects people, assets, and properties in various ways. These advanced and flexible devices not just help owners prevent robbery and intrusion, but much more.
From checking who is at your door remotely to monitoring fields for birds and animals, tracking what your pets do in your absence, and instructing the delivery boy to handover your parcel to a neighbor via using a camera mic and speakers – you can get much more out of a wireless surveillance camera than you had ever imagined. High-definition video quality and 24*7 live monitoring through wireless surveillance cameras in both indoor and outdoor locations help build an extremely secure environment for your people.
In this article, we will read about 10 different uses of deploying a wireless surveillance camera at our properties:
We will explore some not-so-common use cases of this device along with its mainstream usage.
Here we go!
1. Secure cities and citizens:
Wireless surveillance cameras are the most popular choice of governments for the monitoring of cities and residents. 4G/3G SIM-based cameras installed on roads, public parks, and other congestion points keep a keen eye on the activities and movements of people and vehicles. Through round-the-clock live video feed, security authorities get constantly updated about every suspicious event that might unfold. They can track traffic rules violations, the safety of pedestrians and cyclists on roads, and can derive traffic or roadblock updates.
Moreover, data recorded by wireless monitoring solutions deployed across cities can be purposefully used to better plan and design the city's infrastructure and amenities for the public. It would help in raising the living standard of the citizens while offering them a quality life.
2. Monitor home and offices remotely:
Wireless surveillance cameras deliver complete flexibility of installation and repositioning, allowing you to place cameras to meet your changing requirements. A wireless monitoring CCTV can secure your home interiors, office interiors, blind spots, warehouses, entrances and exits, backyards, parking spaces, and front roads. Whether at your place or miles away from it, you can still watch whatever is happening in and around your home and office through video recordings and live broadcasts. With the advanced AI-edge advantage, these cameras warn you with real-time notifications on detecting motion in restricted areas or recognizing an unknown face standing at your doorsteps.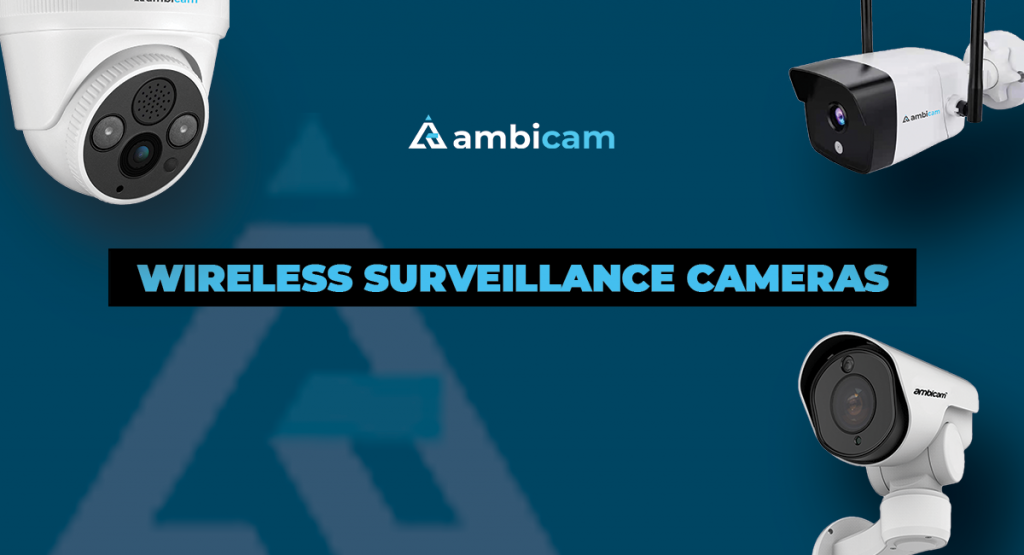 3. Watch your pets:
Stay connected with your furry babies all day and night from anywhere through indoor wireless surveillance CCTV Cameras. You can be with them virtually and watch them playing around a couch or probably pulling the laces of shoes that you might have forgotten to put back on the rack. Keep a track of all their good and naughty moves and laugh at those innocent actions while working on your system in the office or while driving.
Ambicam 4G SIM-based wireless surveillance cameras offer a two-way communication feature, enabling you to talk to your pets whenever you feel like or identify if they are feeling a little low or uncomfortable. Many sophisticated wireless monitoring CCTV cameras boast animal detection features that can detect a stranger animal and send you tocsins. It allows you to check if it's your own floor and kitty or your neighbor's pet trying to invade your garden.
4. Check parcel delivery:
Who does not want to shop online? And talking particularly about the recent times when all sorts of shopping have gone virtual to maintain the safety norms of the ongoing pandemic, we have one or another parcel lined up for delivery at our residential or official addresses. A wireless surveillance camera installed at the entrance viewing the outside area of your property can monitor all deliveries. You can check where the delivery boy is putting your parcel or you can suggest a more secured corner to keep that parcel in your absence.
5. Ensure the safety of old family members:
Wireless surveillance cameras like Ambicam's smart wireless monitoring systems come with a seamless installation process and easy connectivity. You can mount these cameras inside the home where your old family members spend most of their time. Besides, if they have a pre-planned long drive, you can install a wireless CCTV camera in their vehicles to track their journey. Wireless surveillance cameras assist you to ensure that senior citizens at home and offices are safe and doing well. And on spotting anything wrong for example, if there is any medical emergency or intrusion then you can respond immediately to protect them. But ensure to seek their permission before monitoring them through CCTV.
6. Manage vehicles and parking:
Smart wireless security camera system are an effective source of managing personal and public vehicles within a parking lot or on roads. These cameras boast in-built motion sensors, ALPR, etc. to manage vehicles in a better way while maximizing safety. Based on AI/ML algorithms, wireless CCTV cameras are capable of detecting vehicles running on the wrong sides of the road, over-speeding, entering into restricted zones, or being parked for an unusually long time. Security responders get real-time alerts on identifying anything suspicious via smart surveillance cameras to get prepared to manage an awful situation.
7. Evidence collection:
Wireless security cameras record all important events happening around the places they have been installed. Be at schools, hospitals, government offices, or personal spaces, these cameras broadcast live video feed that is collected in the form of audio, video, and images. Such records are saved on the cloud securely in an organized form and can be retrieved instantly at any point in time as valid evidence against false lawsuits.
8. Manage entry access remotely:
You have the power to allow or deny entry access to visitors into your property even when you are not present there physically. It offers you immense peace of mind as you remotely control and decide who can enter your home or office. For example, if you have gone to enjoy a short summer vacation with your family and you get a notification on your mobile phone that your house help is at the door. You can allow her to enter the house and keep an eye on her moves. Or in another case, if you notice that an unknown face is there, you can talk to him via a two-way communication option and can then decide on sharing the access.
9. Participation in home automation:
A range of smart wireless security cameras can be combined with your home automation routine by syncing them up with smart gadgets. This innovative unification takes the automation and security services to a whole new level, providing optimized security and access to your place. Many smart cameras work well with Google's Assistance, Apple's Siri or Amazon's Alexa, allowing you to control lights, door locks, music systems, or much more with your voice.
10. Neighborhood watch:
Wireless cameras usually capture surveillance videos up to a good range that can help you keep an eye on the neighborhood. Your outdoor wireless surveillance camera can help prevent crime in places within close vicinity. Being a responsible citizen and a helpful neighbor you can track if anyone tries to trespass your neighbor's property in their absence or if anything wrong happens to them in the dark hours of the night. However, you need to keep them informed about camera surveillance.
If you have got more ideas about the utility of a wireless surveillance camera, share them with us and your fellow audiences.