Security surveillance is a basic requirement for every public place, commercial center, household, and public vehicle on the earth. As crime rates have risen, the necessity for a resilient video surveillance system has intensified. Meanwhile, global pandemics call for remote security solutions Best 4G camera USA to be implemented.
In addition to protecting valuable items from theft, intrusion, and other types of crimes, remote video surveillance is the best way to protect people and security guards from noticeable criminals and contagious viruses. By 4g camera USA it is possible to make everything in easy manner.
The Real Challenge Is Securing Remote Locations.
Even if we talk about having a fully functional remote security surveillance CCTV camera, not every monitoring 4g camera USA can guarantee the security of remote or isolated assets. Properties in remote locations or specific areas of the city with no or limited network connections continue to pose a challenge to being monitored by most security cameras.
In such cases, a Best 4G camera USA can be a lifesaver. 4G SIM-based video surveillance cameras operate independently of any cabled or router-connected internet, like landline or Wi-Fi. 4G SIM-based cameras have an SD card slot and use 4G IoT-enabled technology to connect to the internet. By overcoming the limitations of traditional networks, these cameras assist owners in safeguarding their belongings in strategic and isolated locations.
Best SIM-based Security CCTV 4G Camera on the Market in the United States to make it easier for you to choose an ideal 4G SIM-Based Smart CCTV camera with cloud technology, we have handpicked some of the best. The 4G cameras are manufactured & supplied by Ambicam, a leading security surveillance solution provider in the United States.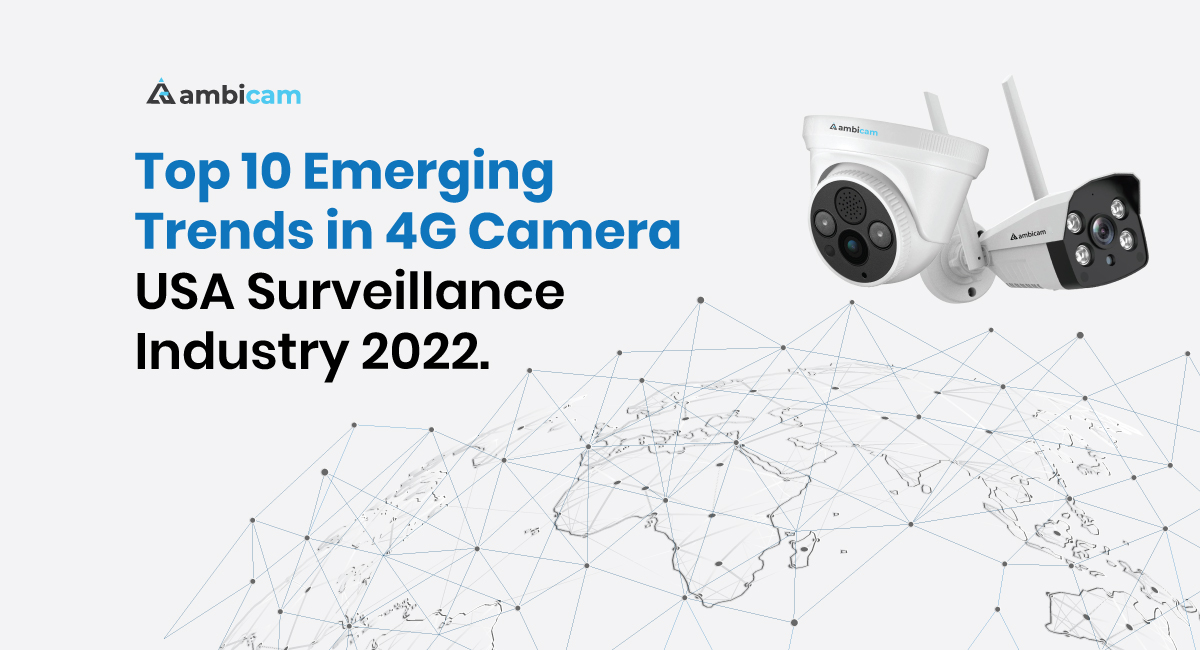 Trend 1
AI video analytics that use deep learning to improve business intelligence.
Using machine learning and deep learning, two of the most popular components of artificial intelligence, innovation is already boosting business intelligence and improving data. Through these two technologies, we have made extinguish progress in diversifying metadata, improving accuracy, and increasing granularity, which will allow surveillance systems to provide better security.
In 2022, we will see greater adoption of Deep Learning technology, which will improve video surveillance accuracy while lowering costs. Deep Learning and Computer Vision drive progress in areas other than security, such as robotics and medical imaging. Deep Learning in 4g camera USA video surveillance could speed up investigations by allowing search and filtering based on specific criteria, rule-based alerts based on behavior or oriented objects, etc.
The video analytics software is applicable for more business intelligence applications in 2022. The pandemic has accelerated a trend, it was already underway, and we also see an increase in the development of non-security-related CCTV analytics applications.
Trend 2
Moving beyond the edge to improve speed and efficiency
In recent years, there has been a greater emphasis on edge-based surveillance solutions that reduce processing time and are resource-efficient. However, debates over edge vs. cloud vs. server have raged on as manufacturers seek to maximize the benefits of each platform.
Intelligent solutions will be deployed across the edge, server, and cloud in 2022, resulting in a horizontal shift. The use of each platform would enable manufacturers to provide more scalable and flexible video surveillance solutions. For example, an edge-based solution can provide instant alerts when a threat is detected, and an operator can respond by verifying it through a cloud-based application.
Trend 3
Zero-contact or low-contact solutions as COVID-19 fear persists
COVID-19 has increased the necessity of touchless solutions such as facial recognition access control. As customers seek to reduce physical contact risk, video surveillance solutions such as license plate recognition may become more popular in the coming year.
As touchless solutions remain a hot topic, AI-enabled 4g camera USA can automate many processes that previously required some access credentials. For example, in smart parking areas, license plate recognition can optimize space usage and streamline overall access. The advantages of detecting complex events in real-time are becoming increasingly important to overall responsiveness."
Trend 4
Cloud technology as IoT gains traction
Along with the previously mentioned approach to deploying intelligent solutions, Sources predict a renewed emphasis on cloud storage. Though not a new technology in the security industry, cloud-based video storage is gaining traction in non-security markets.
All of this is being driven primarily by expanding possibilities in the IoT space. With the COVID-19 pandemic that hit the world recently, cloud computing has become even more appealing to businesses of all sizes. Many organizations found themselves reevaluating traditional uses of existing technologies while also looking for other ways to help with day-to-day operations by monitoring vacancies or providing additional coverage when staffing is low.
Read also this Blog: Top 5 Facts Of Cellular Security Camera USA Surveillance Industry
Trend 5
Cyber security on top priority for CCTV video surveillance for security.
Cyber security has always been a concern for IP cameras, but it reached an all-time high in 2020. The FBI reported early this year that it received about 3000-4000 cyber security complaints per day after the pandemic began, up from about 1000 per day previously. CCTV hacking is no longer just about the security of surveillance footage, as more and more devices become connected.
In 2022, people anticipate that more customers will prioritize cyber-responsible security vendors who adhere to best practices and meet all industry standards. These vendors would also have to be on the lookout for zero-day exploits and release patches while vulnerabilities seem to be recognized.
Trend 6
Increased acceptance of video surveillance, as well as privacy laws
We are seeing an increase in the number of countries and regions enforcing stricter privacy laws that govern the use of video surveillance technology. It would prompt businesses to take great care of the captured data, as they increasingly look to video surveillance as a tool to help them continue operations in the aftermath of a pandemic.
However, there is a growing awareness of the advantages of video surveillance. Businesses can reopen and resume operations while ensuring the safety and security of their employees and visitors, thanks to cameras and the intelligent data they provide. Today video surveillance can help enforce proper face masks or other protective gear wear and maintain building occupancy and social distancing guidelines.
With the introduction of smart 4G camera USA CCTV security, video surveillance also proves to be a cost-effective, flexible solution, as many of these video analytic applications can serve dual purposes. A retail store, for example, can use a smart camera to track store occupancy while also running an object detection application – ensuring no unattended or suspicious items are left.
Trend 7
Cloud-to-Cloud Integration Expansion:
What exactly is cloud storage? The term "cloud storage" refers to saving files to a remote storage system that can be accessed online. There is no need to save files on an NVR or computer hard drive when using this. It has several advantages over saving all security camera videos and images on an NVR, including the ability to access videos from anywhere and having a larger storage capacity than an NVR. NVRs that are specifically designed to work with cloud storage are among the new technologies for video surveillance systems. They will have a small hard drive that will allow them to store videos and images locally for a short period before uploading them to cloud storage.
Trend 8
4K Technology
Ultra HD 4K IP cameras are extremely advanced because they provide 27 times the resolution of traditional analog cameras, nine times that of standard HD cameras, and four times that of Full HD (1,920 & 1,080 resolution). That means even when we magnify only a portion of an image, the minor and finer details remain visible. 4k provides a more detailed image, allowing for better visibility and clarity. Many 4K cameras also include Moto zoom lenses for a more focused field of view. It also includes a built-in microphone for streaming and recording audio along with your video recording.
Trend 9
GDPR and Cyber security
Improving and advancing cyber-security technologies is a never-ending task that is extremely demanding in today's environment. Cybercriminals frequently try to exploit the vulnerabilities in 4g camera USA CCTV surveillance security cameras. So, this will keep them from being exposed. GDPR is a general data protection regulation that requires every organization or company to follow certain rules and regulations to protect data unification. Cyber-security laws and regulations will be used to regulate and monitor security and safety.
Trend 10
The 5G Technology
It is the most anticipated technology that has been making headlines in recent years. Every enterprise is anticipating the future of connectivity for various implementations with bated breath. 5G CCTV and telecom manufacturers are testing and releasing 5G-ready prototypes.
This technology could be 100 times faster than current 4G technology. Furthermore, 5G outnumbers 4G in terms of the number of devices that can be managed at the same time (millions of devices).
5G will have a massive impact on IP surveillance camera technology. A single 5G deployment can connect more devices in large enterprise premises. CCTV technology will be able to penetrate a wide range of market segments due to its low cost and ease of use.
CCTV surveillance systems, when outfitted with the appropriate technology stack, protect the internal and external environments from theft and burglary. Installing cameras in every room of the house and office significantly reduces criminal activity.
As the world recovers from the economic crisis, there will be a greater interest in cost-cutting and efficiency-improving solutions. The solution to these problems is intelligent video surveillance technology with analytics and cloud storage. Meanwhile, best 4G camera USA CCTV cybersecurity will remain a major concern, and vendors will place a greater emphasis on hardening measures.
Read also this Blog:  Buy 5 Best WiFi CCTV Camera for Outdoor Security In USA
For more detail please contact us.