People's security concerns have grown to an extreme level in today's world. In the USA, every other mansion, office block, including headquarters, healthcare facilities, government buildings, banks, and other entities, is looking for such device Cellular Security Camera to be placed within their establishments, which can provide a detailed focus on the individual citizens who go in and out of the building, using various devices such as security CCTV camera systems.
The Cellular Security Camera in the USA is a device that is primarily responsible for generating a highly visible and detailed image of the environment that comes into contact with the camera's lens.
(Security Camera for USA) Cellular CCTV security surveillance cameras or Surveillance security systems are one of the most innovative technological developments and advancements, allowing the user to use this device effectively without having to worry about the availability of electricity and networks.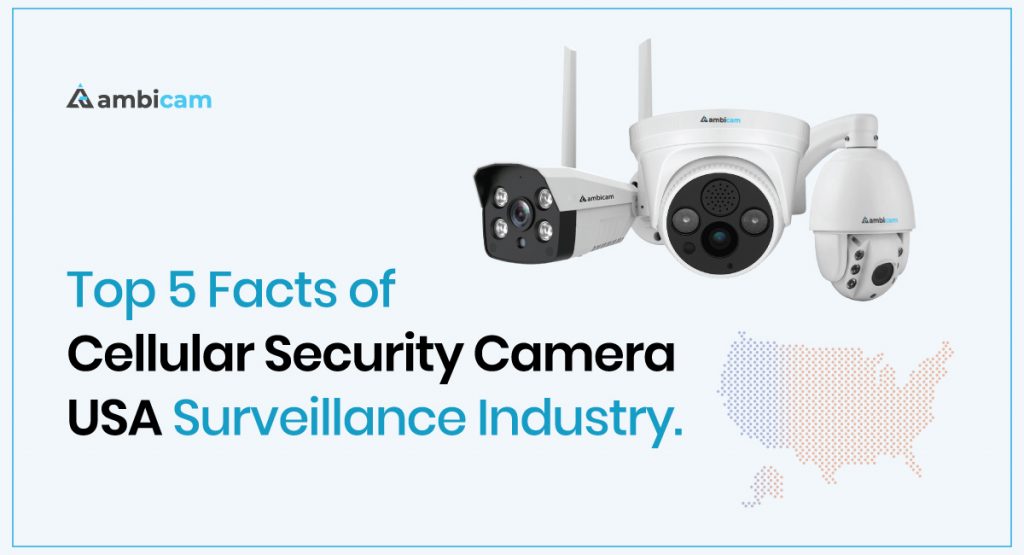 There are some infamous facts about these cellular security cameras, and they are:
1. Simple to Configure and Use
The cellular camera is extremely simple and convenient to use, as the devices' operation and installation are quite simple. Simply follow the instructions provided by the camera seller, which include turning on the power of your best cellular security CCTV camera and inserting a sim card into it.
We can connect the smartphone automatically to the device. However, to operate, you must first download the customized seller's application on your phone to perform all operations and view other features provided by the camera.
Because most security cameras include a complicated operating system, this is one of the most effective and convenient methods provided by any of them. As a result, cellular CCTV security cameras are one of the most tranquil devices that users can employ.
2. Phone Connect to Video Recording
The most beneficial feature of the Cellular security camera is that the visualizations provided by the camera, we can easily view through our smartphone even if we are in another part of the world.
This shows that no internet connection or Wi-Fi is required to access the visuals outside of our home, company, or any other organization where the security camera installation is done. A cellular security CCTV camera allows you to view the camera's live streaming even when you do not have internet access.
We can view it as using cellular services; simply open the App and visuals will appear on your screen. This gives you the advantage that if you are leaving for a picnic, hiking, or other adventurous spots, but you also need to monitor the surroundings of your home and offices, you can easily check it via your phone.
3. Additional Charges for Data Packaging
Aside from the higher cost of the camera itself, one of the major concerns is that you will have to spend a significant amount of money on purchasing the data plan for the cellular surveillance cameras. Because there are various types of data plans available with varying costs, this data plan may vary depending on your requirements and needs.
Before wireless security cameras, homeowners had to rely on wired systems for any type of home security protection. Most homeowners prefer not to deal with the hassles that come with wired systems. Consider tangled wires, high installation costs, and clumsy equipment.
In the present day, we can wirelessly control, store, and transmit data from home security systems. Of course, as with all wireless technology products, we can take several approaches to achieve the desired result. In this section, we'll go over your two main options: a cellular security camera and a Wi-Fi-enabled security camera. Continue reading to learn the benefits and drawbacks of both, and which wireless security cameras are the best option for you.
4. Cameras for Cell Phones Instead of Wi-Fi, use a cellular network.
The cellular camera is entirely wireless and powered by either batteries or solar panels. Because the camera is wireless, it spared us the mess and hassle of concealing wires. The wireless feature also makes these security cameras user-friendly and simple to install, and homeowners can contact their cellular provider for cellular backup or use an SD card for additional storage.
5. Cellular cameras are extremely simple to install.
Again, there are no wires with a fully wireless system, making it less of a hassle for homeowners. Cellular surveillance cameras do not require professional installation and we can install them in just a few simple steps from the comfort of your own home. Simply insert a SIM card into the camera, download the camera's smartphone app, and position the camera as desired.
In contrast to a wireless camera, the cellular camera requires an additional step to connect to a cellular network. However, if you need to use a security camera in an area without Wi-Fi, a cellular camera is your best option.
Read also This- The 5 Best CCTV Camera USA Retail Security Solutions 2022
❖ What Is the Distinction Between Cellular and Wi-Fi Cameras?
Cellular security camera and wireless (or Wi-Fi-enabled) security camera is NOT the same things, and their applications are not the same either. While both cameras are wireless, they operate in strange ways. Wi-Fi-enabled cameras connect to a smartphone app via a wireless internet connection. So long as a Wi-Fi connection is available, the app gives homeowners access to live streaming, two-way audio, and other smart features.
Cellular cameras function more like cell phones, as they use a 3G/4G/5G cellular network connection rather than an Internet connection. They link the camera to a security panel via a cellular node, which causes the use of a cellular data plan. The panel, like a cell phone, can use a mobile network to send messages and notifications to home security monitoring stations.
Depending on your needs and the environment, a cellular camera can function as a solar-powered security camera, with solar panels replacing batteries. For cellular cameras, homeowners can either contact their cellular provider for cellular backup or insert an SD card for extra storage.
The cameras would easily be operated away from home by connecting to a cellular network rather than Wi-Fi. Wi-Fi cameras are bound to a Wi-Fi network, which restricts their placement when needed outside the home or around a property. Because these surveillance cameras use cellular data rather than a Wi-Fi network, we can use them as driveway cameras, trail cameras, and a variety of other outdoor security applications.
There are a few other advantages to using a Cellular CCTV Security Camera.
Here are a few to keep in mind: to be considered
6. Cellular Cameras Have Excellent Surveillance Capabilities
Cellular cameras provide automatic security from a distance. To improve camera footage, wide-angle lenses are equipped with the cameras. The camera's wide-angle lens allows it to see more, giving the homeowner complete control over their property surveillance. Because they provide better protection, wide-angle cameras are commonly used in wireless security systems.
Other cameras only provide a 90-degree view, limiting the camera's recording angles. To fully protect your property, your camera should have a wider range of recording angles. Besides having a wide-angle lens, the camera also has motion detection and night vision for added security. A cellular security camera is packed with features that make them ideal for remote security.
7. Cellular Surveillance Cameras Allow Remote Monitoring Via A Smartphone
Although the camera is self-contained, cellular cameras can be used as surveillance cameras by logging into the camera's smartphone app. Homeowners can use the app to view live video footage. We refer this to as "remote viewing," and it essentially allows homeowners to watch the camera footage from any location.
This is an excellent security feature that is frequently included with wireless security cameras. However, because the cellular camera depends on a cellular network, homeowners will need to pay more for a cellular data plan that meets their requirements.
8. Cell Phone Cameras Make Excellent Trail Cameras
If you're looking for a trail camera, this surveillance camera is a great option because it's completely wireless. Trail cameras are frequently used to observe wildlife in their natural habitat (either by hunters, photographers, and hobbyists alike). Hunters use trail cameras to observe animal tendencies and habits.
Trail cameras assist hunters in determining when herds migrate to salt licks or nearby streams. Because animals develop behavioral patterns, trail cameras can assist hunters in determining when and where game animals will congregate.
Photographers and nature enthusiasts can also use cellular cameras. Wildlife photographers can set up cellular cameras near bird nests, rivers, and other natural habitats to observe wildlife without interfering with nature. When powered by a solar panel, we can leave the cellular security camera running for months, watching and recording wildlife activity.
Photographers will stream live footage from their cameras with the right data plan. Not to mention that most cameras include night vision, motion detection, and cloud storage, allowing you to capture and save all of life's best moments.
❖ Ambicam is eager to provide the best camera on the USA market to their esteemed client.
❖ If you wish to buy a CELLULAR SECURITY CAMERA FOR USA Without a second thought Contact Us.
❖ For more information, please email or call Ambicam!
❖ We would be delighted to assist you!