The tale of the evolution of security surveillance solutions from being bulky hardware set up to wireless security cameras is quite fascinating. It is a display of the advancements in technology that by time has reinvented the appearance, utility, functionality, and most importantly the applications and purpose of security monitoring CCTV.
As a quick recap, security cameras in the very beginning used to work on the basis of electric power supply and a monitor and recorder connected through data wired to broadcast live videos. Gradually, IP cameras and NVR came into the picture that eliminated the need of connecting cameras to the recorders. IP cameras were connected with the recorder through a network cable that sent the recorded data over the internet. And sometimes later, wireless security cameras were introduced in the market.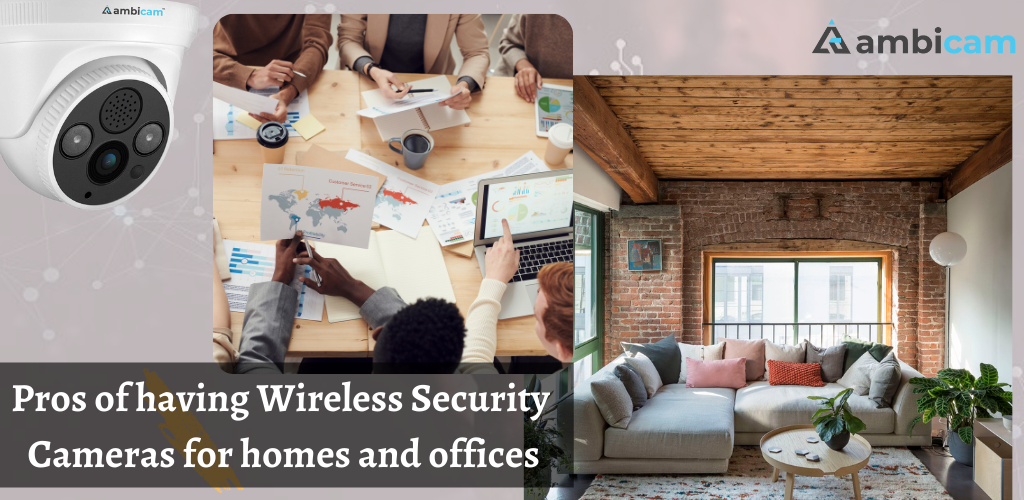 A product of innovation, wireless security cameras leverage the wireless network to transmit live footage to the receiver connected to a display screen. Moreover, such cameras are capable of broadcasting recorded audio-videos directly to the cloud without any intervention of a recording device. Wireless video surveillance systems offer convenient installation and streamlined operations that make them more popular amongst customers.
Working criterion of wireless security camera
Wireless cameras operate either on batteries or power supplies to record visuals and audio but they are all wire-free in transferring the recorded data to the receiver. Such cameras translate the recorded video into digital data and use a wireless connection to send it to the receiver, where it is stored. Prominently there are two types of wireless connections: Wi-Fi or radio transmission that are used by wireless cameras for data transfer. Users can access the recorded data through a video management system that comes built-in in smart devices such as desktops, mobile phones, laptops, and tabs.
Wireless security cameras also deliver the option of cloud and local storage. Cloud storage allows users to upload recorded data directly on the cloud servers and gain remote access to the data for utilization from anywhere at any time. Wireless cameras feature a built-in SD card slot for local storage. The data stored in an SD card can be transferred to other devices through hard drives or USB cables and remains less vulnerable to hacking.
Salient features of wireless security cameras
Different CCTV cameras in marketing come with different features. In the next section, we will discuss salient features of four types of wireless cameras offered by Ambicam i.e. Dome CCTV camera, PTZ security camera, 4G bullet camera, and Eyeball security devices. Let us explore the features of these cameras below:
Embedded with deep learning/AI algorithms
Low bandwidth consumption to save costs
Cloud storage for more scalability and reliability
Saves 80% of space through automatic video compression
Digital zoom and pixels to deliver enhanced image clarity
Wide-angle view for wider coverage
Full HD resolution
Hassle-free sharing and downloading of videos
DIY setup and configuration through a mobile app
Support SD card of up to 128 GB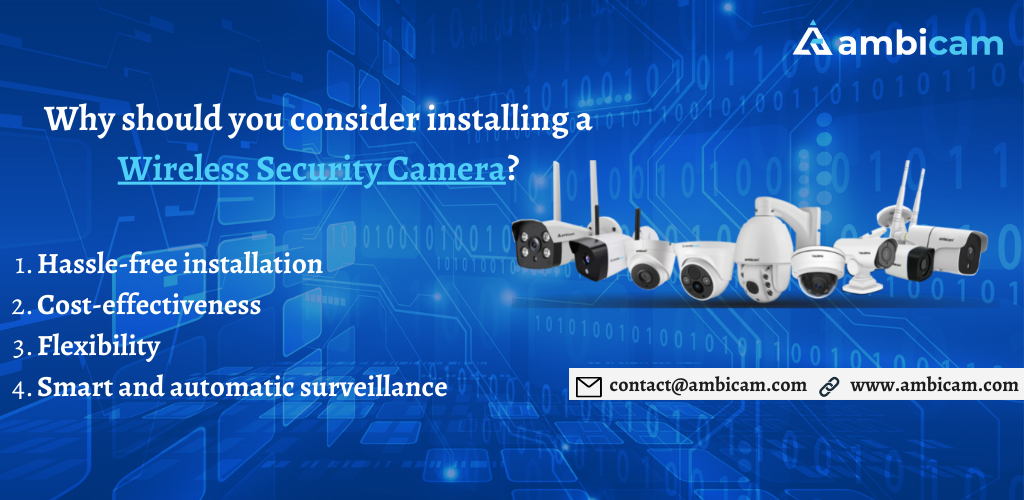 Why should you consider installing a wireless security camera?
A wireless security camera offers a lot more flexibility to users as compared to any other type of advanced CCTV camera. Explore all the good reasons to opt for a wireless camera when thinking of securing personal and professional places using a video surveillance solution.
1. Hassle-free installation
Modern wireless surveillance systems like Ambicam wireless CCTV cameras come with the simplest installation process. You don't have to be tech-savvy to deploy a wireless CCTV camera in your home or at any workplace. This nature of monitoring cameras does not involve wiring and drilling and thus they can be installed anytime by anyone. All you need to do is just connect the camera to a power source and Wi-Fi, and configure it to receive – there you go!
Ambicam's range of 4G SIM-based CCTV cameras do not even require a Wi-Fi connection or power supply as they operate on cellular data and batteries. So no more connection complexities with a DIY installation of smart wireless cameras.
2. Cost-effectiveness
Next-gen wireless security cameras come with an easy setup and do not demand bulky hardware to get up and running. No additional network connection, no wire settings, no professional assistance – everything saves plenty of dollars while offering you hassle-free installation. Not just money, it also saves a lot of your time and effort as smart wireless cameras come with just plug and play installation settings. Therefore, such cameras are most preferred for domestic purposes.
3. Flexibility
As the name suggests, wireless cameras can be installed anywhere without cables or wires. You could simply mount them on a pole, set them on a ceiling or wall, put them on a tabletop or wherever you want. Moreover, you have complete liberty of repositioning these cameras according to your changing needs and your camera will be replaced without any hassle of changing wire fittings. It suits best to the houses or workplaces on rent.
4. Smart and automatic surveillance
Innovative wireless cameras are equipped with automatic motion sensors and various advanced features. Such capabilities make it an ideal choice for both indoor and outdoor security surveillance. With these smart sensors, wireless security cameras help you save huge storage space and bandwidth costs as they record footage only on identifying a movement or suspicious acts.
Major advantages of installing wireless cameras
Wireless CCTV cameras deliver myriad benefits that make your lives easier and more protected while allowing you to sleep peacefully. Attributed to the smart and automatic features of new-age wireless surveillance systems, they help in deterring crimes, identifying strangers, restricting trespassing, boosting security surveillance of distant places, and decreasing false alarms. These cameras offer 24*7 live video surveillance, remote monitoring access, a two-way communication facility, clear video quality even at night with a night vision feature, and much more.
Secure better with Ambicam Wireless cameras
Ambicam wireless cameras are synonymous with innovation, resilience, and functionality. Designed exclusively to cater to the surveillance security of households, the public sector, corporations, the healthcare sector, retail stores, educational institutes, vehicles, etc., these smart cameras offer 360-degrees real-time monitoring access to the respective responders.
Ambicam smart CCTV cameras have much more offerings for their customers. Connect with us to get in-depth details.