Cloud-based WiFi video surveillance cameras are unparalleled examples of modern technology offering infinite benefits to households and enterprises in the field of security monitoring. WiFi video surveillance cameras are considered the best and the safest monitoring devices that deliver all day and night video surveillance facilities to the responders, that means complete peace of mind.
Cloud-based WiFi video surveillance cameras provide additional convenience and advantages along with the conventional functionalities of a traditional security camera.
Let us delve to understand the working mechanism of a WiFi Video surveillance camera.
1. The technology behind Cloud-based WiFi Security Monitoring Cameras
Be it indoor surveillance or outdoor, you can trust a WiFi surveillance camera without a second thought. Adding weight-age to the former statement, the next section explains cloud-based WiFi video surveillance technology's working criteria.
2. Absolute ease of portability
A WiFi security camera is 100% wireless and comes without any hassle of drilling and nailing cables. You have the utmost liberty to relocate the camera as many times as you want to meet your requirements. Just imagine a scenario where you are free to put the camera in your backyard at night and then reposition it in your living room to keep an eye on your kids, or installing it on the main door while you are away from your home or office.
Above all, you can also carry it to a new place for security monitoring purposes. Isn't it a great advantage to access the massive flexibility of relocating a surveillance device at your convenience?
3. Secure storage on cloud
Eliminating the odds of cyber-attack, theft, or tampering, cloud storage of recorded video and images is unquestionably safe. Moreover, it delivers the comfort of data access, organized storage of records, quick search ability, and excessive storage space in comparison to physical storage devices.
Most businesses in the US must have an intact cloud storage provision available for their security CCTV systems to maintain a secure backup for the data recorded by the cameras. Cloud-based WiFi surveillance cameras save considerable costs of space and storage, offering additional benefits to the owners.
4. Simple mobile app configuration
WiFi surveillance cameras can be configured easily with mobile apps that work as a centralized security server. For instance, Ambicam Smart Cloud WiFi surveillance cameras come with an in-house mobile app. With a simple tap and click formula, one can integrate the camera with multiple streaming devices such as mobile phones, desktops, laptops, and tablets to access live footage of monitored areas.
All you need is to link the cameras to your WiFi network and configure it with the mobile app to get it up and running on your display devices.
5. Excellent battery backup
The myth around wireless cameras is that they are more vulnerable to power disruptions because of hard-wiring construction. However, in reality, modern WiFi surveillance cameras boast a good battery backup to deter the perils of camera disconnections at the time of power outage.
The strong battery delivers ample strength to the camera to run disruptive even when the wiring system fails. Hence, cloud-based WiFi cameras constantly monitor people and properties continuously to deliver enhanced security.
Find customized security monitoring solutions with the best Cloud WiFi Video surveillance cameras from Ambicam
Needless to say that Ambicam cloud WiFi security cameras are well-equipped with all the technologies mentioned in the above section. Besides, they come with live view, night vision, and motion detection as major features that lend an added advantage to the user in boosting the safety of all the essential belongings and lives of people.
All the cameras offer a massive scope of application in mainstream usage including security surveillance of the private and public property, cities, shopping complexes, businesses, retail stores, hospitals, schools, and universities, and anywhere as preferred by the owner.
Ambicam cameras are most considered for their ease of installation, ergonomic designs, smart features, innovative technology, and long shelf-life.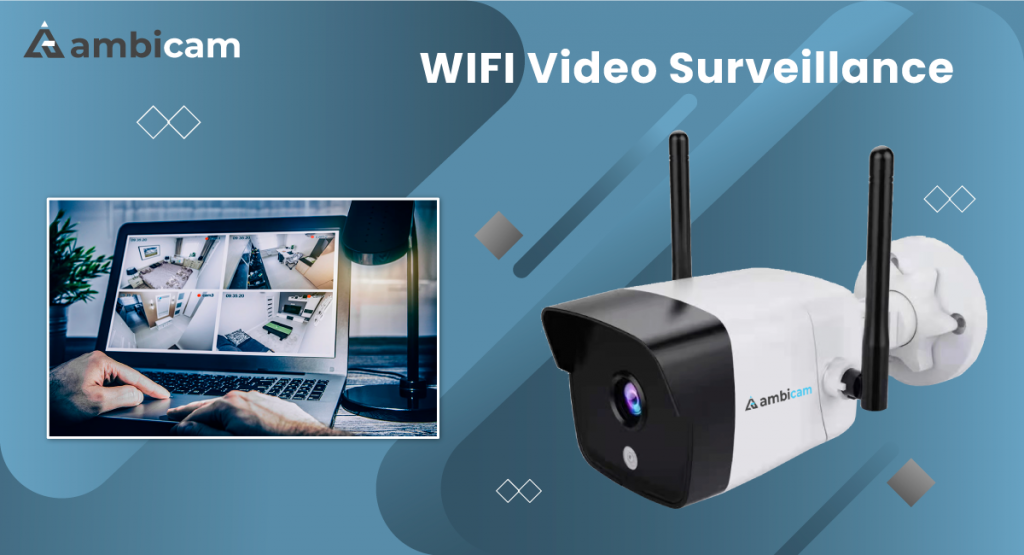 As nothing looks worth it without having its benefits explained, we will now discuss the advantages of cloud-based WiFi security cameras.
a. Constant access from anywhere in the world
With an internet connection, you are all free to watch the live video broadcasted through the surveillance cameras round the clock and from any point on this planet. During the tough times of pandemic when everyone avoids visiting places or meeting people in person, having a WiFi enabled surveillance camera to track your valuables is no less than a blessing. These cameras allow you to be virtually present at your home or office while being miles away in reality.
b. Pocket-friendly solutions
Cloud WiFi cameras do not put a hole in your pocket because they require minimal setup to get started. Avoiding the need for bulky hardware, technician's fees, and other costs of wiring and settings, these wireless cameras do not demand any additional monetary investments.
c. Integrated monitoring platform
Unlike traditional cameras that demand an NVR or a DVR to access the footage of a CCTV camera, cloud-based cameras do not require any supporting hardware to view videos. Instead, cloud-connected surveillance solutions offer a centralized platform to watch the live or recorded videos of any location.
d. Real-time notifications
Owing to the smart video analytics technology and AI algorithms, cloud-based WiFi surveillance cameras quickly recognize suspicious activities and send instant alarms to the responders through SMS or email on a real-time basis. These tocsins alert the security authorities well in time, allowing them to strategize a plan to avoid any sort of crime or misconduct. Real-time alarms extend a sense of relaxation to owners even after working hours of their commercial places or at times when they are away from their homes.
e. Flexibility to scale-up
Cloud-based cameras enable owners or security authorities to start with a storage plan and scale it up later whenever required. One can increase the storage capacity of cloud space to meet his/her commercial or personal requirements. Alongside an IP or any other camera can be connected to the cloud in a bid to keep recordings and relevant data safe from the hands of cyber criminals or strangers.
f. More security, fewer worries
The new technology when used strategically to its fullest potential can be the most effective medicine to keep the anxiety of security threats away. Particularly in the case of security surveillance solutions which allow you to have control over your properties and possessions to provide or restrict entry access to people, watch all the movements and activities all day and night, communicate remotely with strangers at your door, and much more. Therefore, embrace the cloud-based WiFi surveillance technology and bring peace to your life.
Ambicam is an expert in delivering cloud-based WiFi Video surveillance cameras along with myriads of in-built smart features, making CCTV cameras more effective. The brand has a wide variety of WiFi surveillance cameras ranging from 4K camera, object detection camera, camera with PTZ movement, face recognition camera with AI/ML algorithm, and wide-angle dome camera.