Managing the security of a warehouse has always been a tedious task. It has gone far more challenging with the pandemic outbreak as more security concerns have arisen. Warehouse monitoring is no longer a tale of protecting valuable goods rather safeguarding human lives from an unseen foe is a bigger hindrance.
Floor managers and security staff in warehouses are already burdened with supervising operations, logistics, labor, inventories, guest entries, and the physical security of manual resources in and around a warehouse. On the other hand, some warehouses pose more difficulty in security management due to huge company size, massive inventories, extended working shifts, a huge number of workers, and conventional security systems.
Innovative warehouse security cameras are much more capable of measure video streaming. Integrated with AI-enabled intelligence software warehouse security solutions convert live and recorded images and video feed into organized, actionable, and measurable data. Advanced Artificial Intelligence and Machine Learning algorithms further boost the functionality of these security systems, assisting responders to:
Constantly monitor real-time activities happening in each corner of the warehouse such as the administrative office, parking lot, storage house, maintenance zones, etc.
a. Review various recorded footage within a couple of minutes using comprehensive and custom video filters
b. Enhance situational consciousness and responsiveness with algorithm-based notifications in real-time
c. Enable monitoring staff to revisit the data recorded through videos and images and strategize future operations based on identified behavior
Since we have discovered what modern warehouse security systems do. The next section will highlight the outcomes of these offerings in strengthening real-time monitoring in warehouses.
More than ever now is the time to upgrade the traditional warehouse security systems for augmented safety and streamlined operations. Businesses are dwelling in the age of the Fourth Industrial Revolution which has given birth to a multitude of intelligent technologies, revolutionizing the way surveillance systems work.
With the advent of new technologies and AI-enabled analytics software, warehouse monitoring solutions have been redefined.
By deploying smart technologies, warehouse owners and managers expect to amplify:
1. Perimeter security: Protecting security staff by eliminating the requirement of guarding isolated areas of a warehouse physically.
2. Control theft: Investigating former episodes of thefts and preparing precautionary plans to deter future inventory thefts based on previous patterns and data.
3. Operational efficiency: Streamlining logistics by regular monitoring of operations and fixing loopholes to optimize efficiency. Besides, preventing downtime due to redundant investigating incidents gaining meaningful solutions to daily issues with intelligence surveillance solutions.
4. Risk management: Capturing video evidence of goods and objects to manage false claims and improve the physical safety of staff.
5. Inventory management: Tracking stock of finished goods to get prepared to meet fluctuating market needs and unpredictable demands.
Warehouse Security Solutions empower warehouse owners to fulfill their expectations and needs with highly customized and scalable security systems. It offers next-generation warehouse security cameras with cohesive AI analytics software, allowing them to avert malpractices and improve operational transparency.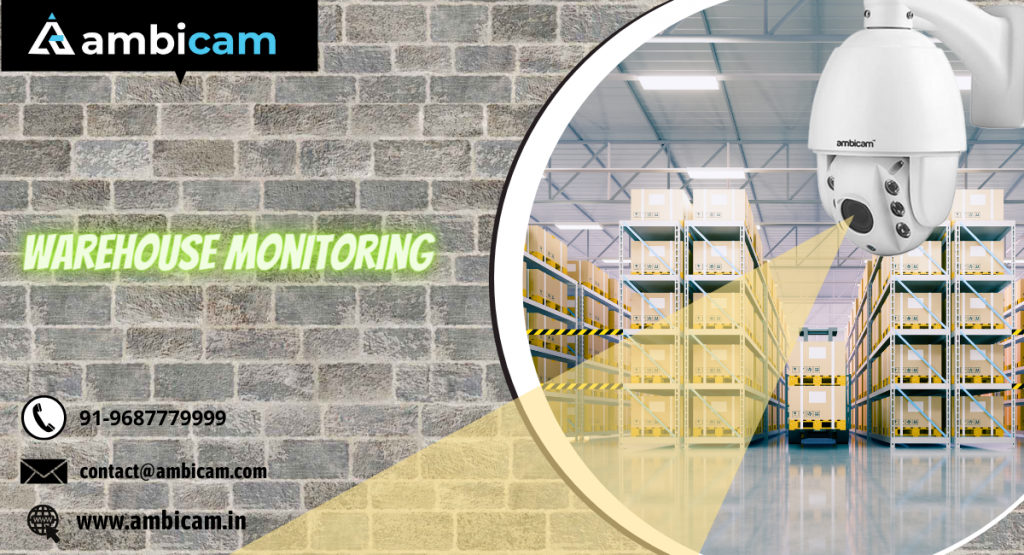 Ambicam's comprehensive warehouse monitoring safeguards workers, property, assets, surface, and surroundings. It offers the utmost peace of mind to the owners with the help of 24×7 monitoring of the entire warehouse. Smart warehouse security systems fetch data from images and videos and generate purposeful insights from it to track performances and activities.
What does Ambicam offer?
World-class IP cameras for high-quality videos and better security
Warehouse monitoring cameras are powered by AI to immediately identify abnormal behaviors and suspicious activities, warning safety personnel to respond promptly. Multiple offerings by Ambicam are:
1. AI/ML assisted functionality
2. Ultra HD 4G CCTV Camera
3. Customized Dashboard/monitoring portal
4. Real-time alarm sensors
5. Access control
6. Post-event evidence retrieval in HD
7. VMS dashboard for 24X7 live surveillance
8. Cloud storage for safe and hassle-free video management
9. Clear night vision for round the clock safety
10. Live centralized remote monitoring
11. Seamless installation within minutes
12. Highly scalable in-house mobile application
How Surveillance Systems help warehouses augment their security and efficiencies?
Ambicam delivers robust and smart cloud-based security cameras custom-made to protect warehouses through advanced digital technologies. These surveillance systems are integrated with innovative hardware and software technology to promise the uncompromised safety of mankind and assets.
Benefits of  warehouse monitoring cameras:
Seamlessly monitor every activity related to inventory
Simplify warehouse processes and optimize space utilization
Declines internal thefts and disputes among employees
Monitor warehouse pallet
Monitor hidden and secluded nooks and corners
Broadcast 24×7 live feed in real-time
Contact less monitoring of people and places
Remote monitoring and management
Applications of Ambicam security solutions in warehouses
Every warehouse has a number of strategic spots with much-required safety measures. Smart warehouse monitoring systems are designed ergonomically to get installed at the points most vulnerable to theft and security breaches.
Deploy these CCTV cameras at the following spots to maximize business and employee security:
Receive and intake point
Inventory and order management section
Human resource monitoring and quality control areas
Storage section
Exterior surroundings
Point of purchase
Dispatch Area
Front-desk/reception counter
The future prospect of warehouse security management based on current challenges, Considering the present scenario and the past reports that emphasize the increasing theft incidents in the US alone, the need of deploying an intact security system in warehouses is inevitable.
According to facts, businesses in the United States bear a loss of almost $ 50 billion every year from workplace crime. This awful monetary damage has to be waned by implementing smart surveillance systems, particularly in warehouses where tons of finished goods are stored.
Interestingly more and more businesses are hoping to install digital technologies as monitoring solutions in business properties to improve safety measures. According to reports, the CCTV market in the US is expected to touch $29 million by the year 2025 that indicates a promising future of surveillance devices in the nation.
The fact is adopting smart surveillance solutions for warehouses or other commercial spaces has become a mandate. No business can survive with vulnerability to crimes; therefore, having a strong and efficient monitoring system in place is crucial to promise a secure working place to employees.
If you want to fetch more information on new-age warehouse security solutions, Connect with the team of Ambicam. They will help you better understand the utility, features, and specifications of products and their personalized benefits for your business.