Do you realize the severity of security threats your business and home are exposed to on a regular basis? Probably yes, therefore, a lot of people have embraced digital security device. However, installing one or multiple security device like CCTV camera is not enough to get rid of the security threats you deal with. If you dive deeper into this context, you will notice that security risks are ubiquitous and inevitable and that they surround you from all around. From viruses and hackers to incompetent devices or unfaithful staff members, to intruders and attackers – your people, data, and property are persistently exposed to such perils. Hence, combating these threats is critical.
Diligent monitoring and management of all your security systems is the most effective solution to this problem. Configure every camera installed on your property appropriately and manage them well to seek fruitful and expected output. Otherwise, a multi CCTV camera setup will be all in vain if not automated to respond instantly on identifying potential threats with minimal false positives.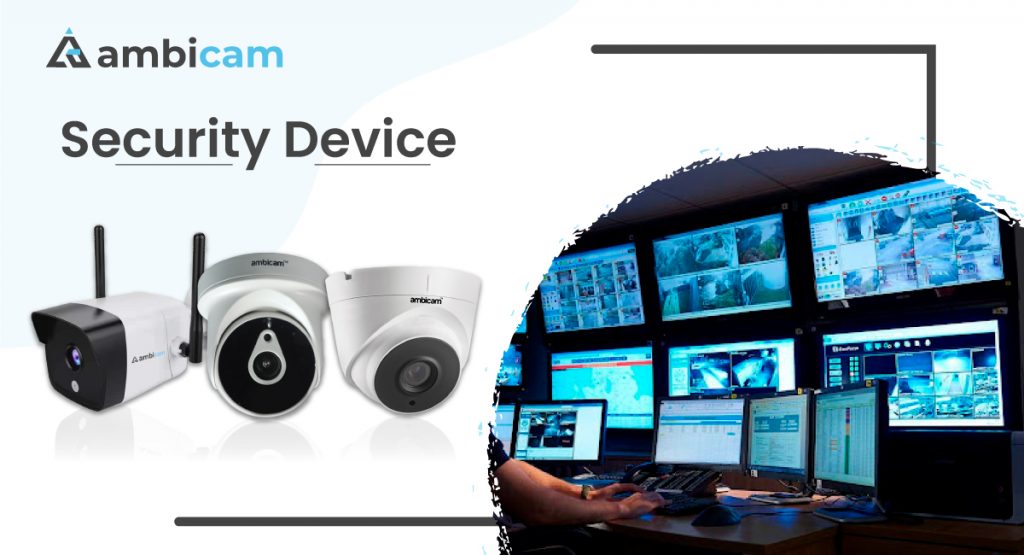 Manage and monitor video security device with Ambicam
A pioneer in the digital video security systems space, Ambicam has established itself as one of the most customer-centric brands that deals in manufacturing smart video surveillance solutions. It offers advanced cloud-based live monitoring and management services through AI-enabled Video analytics and video management. These services keep security device optimal and updated, helping you stay a step ahead of potential security threats.
Ambicam's next-gen VMS (Video Management System) is compatible with every industry-standard video monitoring system and thus integrates with numerous cameras on LAN/WAN regardless of the size, type, or model of a camera. With an in-house mobile app, Ambicam provides the utmost flexibility and ease to the users to connect as many devices to a common viewing screen as they want. Be it an Android, iOS, or Windows format device, Ambicam VMS supports all of them while delivering superior quality services and usability. It allows you to monitor and manage all your video feeds at a central location from the command and control center provided by Ambicam.
Modern problems need modern solutions
As devices are getting smarter, hackers and criminals are getting smarter so you have to come back as the smartest by implementing premier management and monitoring software to keep your security device functional and bug-free. Ambicam's VMS offers precise monitoring based on automated sensors and algorithms and identifies early device failure, assisting you to recognize all possible loopholes well in advance before they get painful for you. As a result, it allows you to focus more on expanding your business and enjoying yourself with loved ones without being stressed about the security of valuable belongings.
The functional anatomy of VMS is simple – Detect, Protect, Respond, and Recover!
Monitoring Security Device with maximum Potential
One of the most important aspects of a VMS is video analytics. It is a smart monitoring feature of new security device. Video analytics work on AI/ML algorithms that record videos broadcasted by CCTV cameras and convert those recordings into useful insights. These purposeful insights send real-time alarms to responders to warn them about suspicious acts and movements that can be possible security threats. Such alarms are extremely useful especially in odd hours when no one is present at a property. Responders can immediately take an action to secure their assets on receiving a threat notification on mobile.
Leveraging the power of AI-based algorithms, video analytics delivers functions such as face recognition, object detection, traffic management, Automatic License Plate Recognition, object tempering, vehicle tracking, and much more. All these in-built security protocols of VMS boost the security surveillance of assets at homes, buildings, cities, offices, checkpoints, etc.
VMS and video analytics also keep a track of device responsiveness, run backups, detect device malfunctioning or occurrence of malware, and resolve software problems round the clock automatically to ensure amplified security monitoring management.
The usefulness of Security Device Monitoring and Management
For businesses and homes, effective monitoring and management of their security devices are keys to amplifying protection against criminal threats. Let see how:
1. Identify potential risks:
It is a fact that just monitoring or managing a security device does not always stop a crime from happening. But you can definitely identify the frequency, modus operandi, and common circumstances leading to unavoidable as well as unexpected threats. Sometimes users can prevent a crime by identifying it through video surveillance, otherwise, they can accumulate details of the crime as solid evidence that can be used later to prosecute the suspect.
2. Precise results with minimal false positive:
Software that monitors and manages security device work on AI-enabled smart features such as face recognition, stranger detection, motion detection, object detection, ALPR, and various other sensors. Such algorithms deliver results by precisely reading the recorded video and translating it into meaningful and intelligent data. These features instantly alert responders on detecting an unidentified face or object, abnormal movements, forceful entry in prohibited areas, suspicious vehicle parking, and much more.
3. Document events with video proof
Video recordings of a happening or event are legal records that narrate an incident through audio and video with a minimal scope of error or manipulation. These proofs work best in your favor whenever you come across a false allegation or lawsuit filed by a customer, employee, guest, or neighbor. Video evidence is valid proof of your innocence in court.
Maintaining COVID-19 norms at commercial and public places
Attributed to smart features including people counting, mask detection, and crowd detection, modern security device monitoring allows responders to identify actions and faces breaking safety protocols during the pandemic.
Benefits of having Reliable Video Management and Monitoring Software
Along with identifying security threats, accumulating data and records, broadcasting 24×7 live video, integrating multiple devices to a central screen, VMS offers myriads of additional advantages to the users like:
a. Complete peace of mind: Frequent software updates and round-the-clock monitoring and management of security devices help you view all your belongings on a single screen anytime even while being miles away from the place.
b. Expert Protection: Emphasis on prime locations such as blind spots, dark areas, prohibited locations, etc. to maximize security.
c. Cost-effective: VMS provides enhanced surveillance based on intelligent features while demanding the least infrastructure and related resources. It is a one-time investment in a video security system to avail of budget-friendly and robust monitoring expertise.
d. Easy and unified view: VMS comes with an easily readable dashboard to access recordings or live videos of all surveillance devices from a single source.
While there is much more to know about a VMS, we recommend you to take expert advice on the same. Ambicam is happy to assist you with all your queries related to security device monitoring and management.