Shopping Malls are a great place of attraction for a large crowd of any other establishment. There are so many people in such a varied and wide space with a huge amount of money transactions being processed on a daily routine basis. It's the ideal location for criminals to do malicious activities.
CCTV Camera For Shopping Malls often have multiple floors, stores, restaurants, movie theaters, and many brands' showrooms. The buildings are expensive with aesthetic infrastructure and interior design, this leads to the presence of unique challenges for security personnel.
You also have areas where merchandise from huge companies is stored and delivered. Not only are malls practically a "welcome" sign for criminals, but they can also present a great challenge for anyone who is looking to help, beef up security.
Ambicam's guide to professional CCTV Camera for shopping malls will provide you with a great deal of information.
Some major benefits of CCTV Camera in shopping malls:
1. Prevention of Theft:
Retail showrooms, storage facilities, and delivery areas within a mall structure are all targets for thieves who look to run away with stolen goods as well as cash. Surveillance cameras can beforehand spot suspicious activity which allows security personnel to prevent the happening of any crime.
2.Deterioration in Crimes:
Security surveillance camera systems installed in shopping malls help to monitor the premises for inspection of any individual's weird behavior and can help to curtail unfortunate criminal acts such as kidnappings, fights, and violence.
3. Increase safety & security of customers:
The presence of security surveillance cameras in malls raises the mall's overall level of security and gives customers confidence and trust.
4. Monitor Employee Activity:
Security surveillance cameras can capture instances of employee theft, other improper worker conduct, fights between employees and provides ample evidence to solve any issue.
5. Coordinate Security Personnel:
Operators who view the recordings stored by CCTV security cameras can direct security staff to specific areas of the mall when any suspicious activity is spotted.
6. Crime Investigation:
Security surveillance cameras installed in shopping malls enable you to record footage, providing investigators and crime departments with valuable evidence of specific incidents and suspects.
7. Lost children:
Some customers sometimes visit the malls with their children. It is normal to hear cases of a lost child due to the large crowd at the shopping malls. To help reduce the stress and hustles of finding the lost children manually at a shopping mall, CCTV surveillance systems can work as a lifesaver.
8. Control emergencies:
Eminent emergencies like a fire, terrorist attacks, burglaries, or other natural disasters are not unusual for most shopping malls. In such situations, CCTV surveillance security systems can be beneficial for the safety of employees and customers.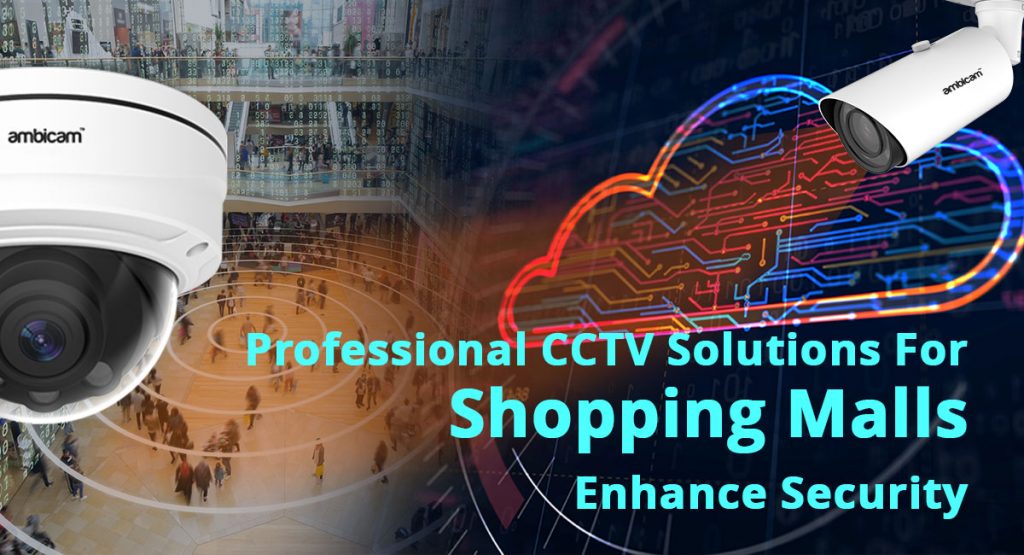 Features to look upon while getting a security CCTV camera for shopping malls:
a. Camera shape: Like bullet cameras is bulky and generic. Dome comes with wide-angle, etc.
b. The technology used: There are several trending and advanced technologies used in CCTV cameras like AI-based, deep learning/machine learning, edge technology, PTZ camera technology, 4K cameras, 4G sim-based security cameras, etc.
c. Sustainability: They should be economically sustainable and prevents the destruction of the environment.
d. Environmental conditions: When and where CCTV security camera can be used to that are all the weather conditions. Also, it should have a night vision for proper surveillance at nighttime.
e. Coverage: It tells how wide the surveillance area can be surveyed by the use of a single camera or that it will require multiple cameras, best is 360-degree cameras which can survey the entire area.
f. Image processing features: It should have featured face recognition and object detection for proper monitoring.
Proper places to install security  CCTV camera for efficient surveillance of malls:
1. Place and install cameras at all entrances and exits of shopping malls, so that, you can see who is coming and going to recognize their faces.
2. Place security cameras in areas that are always full of people, such as food courts, courtyards, gaming zones, and lobbies.
3. Make sure to take an efficient amount of precautions against weather or vandalism, especially with an outdoor installed security camera.
4. Make sure to place security cameras in the storage areas so, you can see what employees are up to all the time. Proper surveillance should also be done of delivery and loading areas.
5. Ambicam offers a comprehensive and complete range of solutions for your security requirements. The smart cloud cameras designed are complete hassle-free monitoring systems for shopping malls and complexes. The installation of security cameras throughout the mall premises will provide you with complete peace of mind and a sense of full security.
Everything can be managed and monitored with the help of an online application designed by Ambicam. The application will provide 24/7 surveillance on your smartphones, desktops, and tablets.
Some of the major security surveillance cameras designed by Ambicam for shopping malls efficient monitoring are:
a. PRO-2 camera:
Ambicam's wireless Wi-Fi wireless smart product family presents a smart cloud PRO-2 CCTV camera. This security camera provides a professional surveillance system for wide-area spaces. PRO-2 camera works 24/7 via cloud technology to help you monitor every minute of the day and store the data efficiently so, it can be retrieved easily shortly. It comes with an easy installation and DIY setup which is cost-effective. Monitoring can be done easily with the help of a mobile application.
Technical specifications are:
Sensor: 2MP CMOS
Display Resolution: 1920×1080
Lens: 2.8mm
Compression: H.264
IR LED: 1 High power IR Led
Power Consumption: 3w max
Internal storage: 32 GB SD card
b. 4G mini bullet camera:
The mini bullet camera is a part of the 4G family designed by Ambicam. These are cloud-based security surveillance systems that provide you with surveillance 24/7. It has less bandwidth consumption so very cost-effective by all means. The camera is specialized with built-in motion detection features to track every intruder. You can access live from your desktop, mobile, and tablets with the help of the Mobile application. It has various specific features like FHD, SD card support, DIY setup, etc.
Technical specifications are:
Sensor: 2MP FHD
Display Resolution: 1920×1080
Lens: 3.6 MM, 2.8 MM lens
IR LED: 10pcs*F5 IR Led, IR Distance 20 M
View Angle: 360° Panoramic View Angle
Power Consumption: 3w max, Night <8W
SD Card Support: up to 128 GB
c. 4G dome PTZ:
Ambicam 4G dome PTZ smart cloud cameras are a professional surveillance system for covering a wide area. The wide area is covered due to the movement of the camera in different directions to get a whole picture of the area under surveillance and zooming in features for further clear details of any event taking place. The advanced and trending PTZ (pan-tilt-zoom) feature allows a 360-degree view of the whole surveillance area.
Technical specifications are:
Sensor: 2MPCMOS Low Lux
Display Resolution: 1920×1080
Lens: 2.8MM / 3.6MM
IR LED: 34 IR LED, 3 IR LEDIR Distance 20 M
SD Card Support: up to 64 GB
d. Thermal cameras:
The thermal cameras designed by Ambicam are a complete preventive solution to safeguard people, the surface, and the surroundings from COVID-19. Integrated with AI-driven Cloud Thermal Camera for contactless body temperature monitoring in your premises. The CCTV surveillance cameras are powered by advanced and trending AI technology and machine learning technology to maximize the efficiency of your security systems.
So, they can eliminate the risks involved in direct physical contact for recording temperature and ensure the safety of every individual. Utilize thermal camera technology to its maximum potential and discover the efficiency of thermal screening cameras by incorporating them as a part of your security system to ensure a safe and secure life.
Technical specifications are:
of People: 5-6 Persons at a time
Face Recognition: 0.5~1.2m
Temperature Detection: 0.5m~0.75m
Video: FHD, Live feed on desktop/Laptop
Network: Wi-Fi, LAN
Resolution: 2 MP Camera, 1920x1080P
Support storage of up to 5000 records
In today's world, it is crucial to monitor and keep a keen eye on all the activities at the shopping mall because no one wants to find themselves in a dangerous situation due to dysfunction or lack of a security surveillance system. That is why you can easily find fully operational and reliable security systems in most of the shopping malls; they are strategically placed to improve the security and safety of every individual present in those respective premises.
In the digital era, video monitoring has emerged as the topmost reliable solution for safety in shopping malls and other public places. To ensure complete safety it is necessary to install a security surveillance camera throughout the shopping mall premises. Strategically placed security surveillance cameras assist to enhance security by providing continuous monitoring of each part of a shopping complex.