Security should be limited to not just indoor spaces alone. The safety and security of your outdoor area are as important as that of your indoor space. So, if you've been looking for quality outdoor wireless security camera system to safeguard your property, assets, and indoor belongings, here are some insanely powerful CCTV solutions from Ambicam.
These devices are engineered and developed by industry veterans for applications across private properties, commercial complexes, industrial units, warehouses, and other spaces that demand adequate security and protection.
Let's get started. These are the Outdoor Wireless Security Camera System From Ambicam: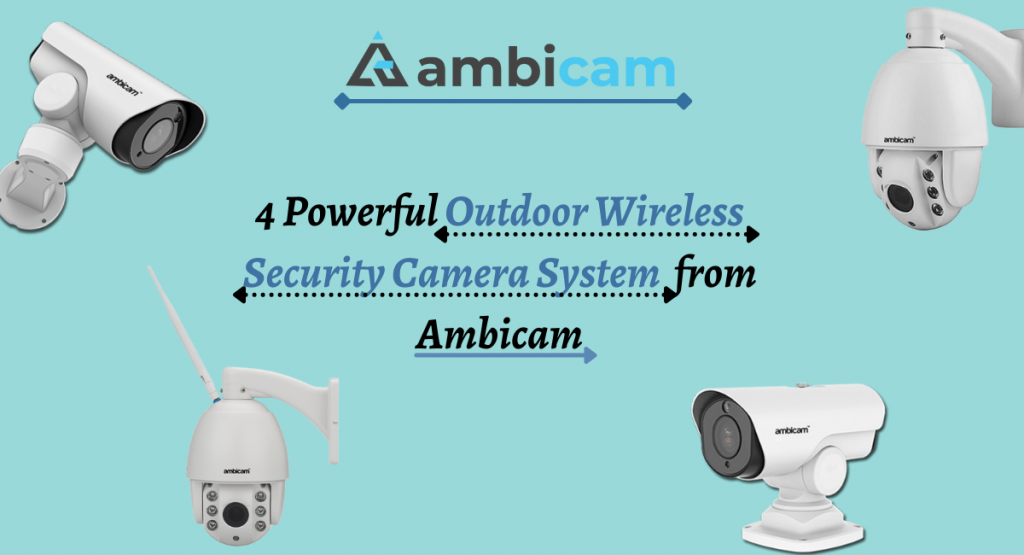 1. Smart City Cameras:
While we have heard of enterprises and organizations opting for digital transformation, can such an exclusive concept be applied on a geographical level? Seems like it can be and this is the concept of smart cities.
Also referred to as wired cities or digital cities, this involves equipping existing infrastructure with the latest tech concepts and devices such as IOT, artificial intelligence, machine learning, deep learning, computer vision, and more to unlock newer potentials for citizens, government, and its allied agencies.
Our state-of-the-art smart city cameras pull this feat off seamlessly with their capabilities and functions. The cameras are designed for real-time informatics and instantaneous decision-making. They can detect motion and objects and trigger notifications or alarms to stakeholders for immediate attention.
They can also be implemented across warehouses and off-shore oil rigs to keep an eye out for equipment and machine health and autonomously schedule service maintenance in advance before they could even malfunction.
Key Features:
Ideal Locations For Deployment
Airports and transportation hubs
Stadiums and music festivals
Hospitals and healthcare centers
Colleges, universities, and schools
Warehouses, industries and enterprises, and more.
Besides, modern lifestyle dictates fluid mobility and a major chunk of the urban and rural population moving into cities for jobs and livelihood. With this, what's increasing is the need for optimized cellular and wireless solutions to empower people's ambitions and goals. But that's not just what's inevitable. What's fundamental in a smart city concept is also airtight security and safety of assets and citizens.
2. Edge AI Camera:
Outdoor spaces demand their own set of operational conditions and hazards. While indoor areas have the luxury of adequate cabling, connectivity and setup conditions, one cannot expect the same outside. Regardless of whether it's a rather simple outdoor location like parking space or a complex and hostile environment like that of an offshore oil rig or desert, these places come with their own set of challenges.
So, security solutions that are to be deployed at such places should be equipped with special features. This is where Edge AI cameras come in. These are perfect outdoor wireless security camera system that eliminate the need for large-scale connectivity infrastructure for data transmission and processing.
These devices have processing and computing capabilities thanks to embedded systems, allowing them to process data locally and facilitate decision-making. This makes them ideal for deployment across any geographical location.
Key Features
Super-precise focusing
Record and stream 4K HD videos and footage
Minimal data transfer and maximum results
Reduced installation times
Compatibility with SD card storage as well and more
Besides, Edge AI cameras (like the name suggests) are also powered by artificial intelligence, machine learning, deep learning, analytics modules, and more for advanced decision making and functionalities. So, if you intend to monitor a vast geographical area away from habitable conditions, these systems are your perfect choice.
3. ANPR Cameras:
Abbreviated as Automatic Number Plate Recognition, ANPR cameras are specifically designed to keep your parking and any high-volume traffic places secured. The purpose of ANPR cameras is very niche and different from conventional CCTV cameras. They exist solely to record and transfer number place details to stakeholders.
ANPR Cameras are also equipped with automation and AI capabilities to autonomously transfer car details to security personnel. With this type of outdoor wireless security camera system, airtight cases can be registered and presented. Security personnel can tackle the following crimes seamlessly with ANPR cameras:
Key Features:
Drug peddling and drug dealing
Murders and public firing
Grand theft auto
Rage driving and to study accidents
Track stole or missing vehicles
Human trafficking and more
These devices are designed to capture number plate details under any conditions such as low light to thunderstorms and act as powerful evidence-gathering mediums to assist in investigative procedures. The form factor of these devices allows for ideal outdoor placements.
4. PTZ Cameras
Oftentimes, security personnel requires additional information in terms of visuals or imagery than what is available to them. Regular outdoor wireless camera solutions just consistently record and stream footage to the best of their lens and imaging specifications.
However, there are times when stakeholders and law enforcement officers need to have a closer look at a suspect's face, spot clues on rather distant corners of footage, focus on one particular region, and more. To assist you with such unique requirements arrive the PTZ cameras.
Key Features
Full HD video quality
Cellular support
Real-time monitoring on a dedicated app
Simple installation and configuration procedures
Low bandwidth usage and more
PTZ stands for Pan, Tilt, and Zoom and as the name suggests, the camera allows you to get even the most minute details from footage precisely like the way you want them. These devices are also powered by deep learning algorithms for object detection, facial recognition, hazard identification, and more. With this camera, you can significantly reduce the number of CCTV Camera solutions you would need across a wide area because they have more coverage than your regular security cameras.
Are You Ready To Transform Your Security Measures?
We now believe you have a better idea of how to safeguard your outdoor premises. Based on your requirements, explore these devices from Ambicam and get in touch with us for a seamless surveillance upgrade. Or if you're confused, reach out to us and we will have the best solutions deployed for your outdoor space.