Artificial intelligence has been instrumental in redeveloping the way the healthcare sector delivers services and customer experience. From robotic surgeries to classifying clinical documentation, disease diagnosis, and security surveillance, AI contributes enormously to improving the quality of healthcare services while diminishing costs and efforts. Hospital security surveillance systems are one of the best use cases of AI-enabled technology in the healthcare sector due to varied reasons.
Hospitals are home to expensive machines, equipment, restricted drugs and medicines, and other confidential data. Protecting these things is paramount to ensure the continuity of a hospital without disputes. The most efficient way to secure healthcare centers from seen and unseen security threats is to install a robust hospital security surveillance system.
AI-enabled video monitoring solutions offer peace of mind to medical practitioners, allowing them to concentrate better on patient care and treatment without bothering about safety perils. It in return leads to decreasing burnout of the healthcare staff and reduces unnecessary mental pressure on them. Hospitals have multiple operational units and they all need efficient and constant monitoring to guarantee the safety of staff, patients, visitors, equipment, supplies, food, medical data, and much more from security breaches.
The points where hospital security surveillance systems should be deployed depend solely on the size of a hospital. However, high traffic areas are mandatory to be secured under surveillance in every healthcare center. These areas include public entrances, waiting areas, parking lots, corridors, billing and finance section, pharmacies, and garages. Apart from these top-priority locations within a hospital, other crucial places that demand CCTV monitoring include pantry/kitchen, trauma centers, infant and maternity wards, OPDs, and record sections.
Having multiple CCTV cameras installed to enhance hospital security surveillance can be astronomically helpful in protecting the lives, assets, and brand identity of a healthcare center. We will read this in detail in the next section.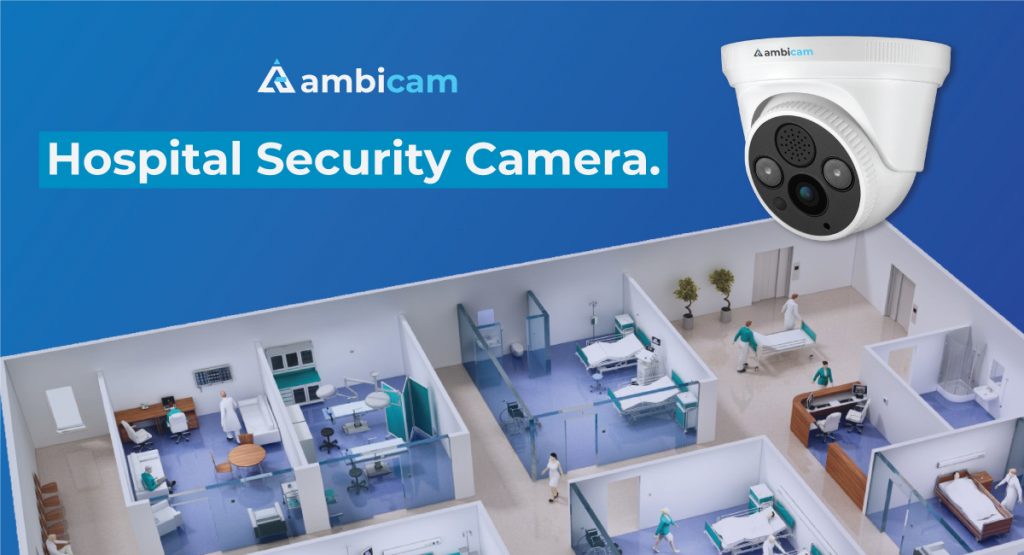 5 advantages of deploying smart hospital security surveillance solutions
1. Improve overall safety of humans and belongings
Smart CCTV cameras broadcast live video footage all 24*7, helping responders track every area of the hospital attentively while sitting at a single place. Operators can watch out for every suspicious activity, potential threat, patient distress, overcrowding, or any sort of malpractice taking place within the hospital. Moreover, the presence of hospital security surveillance systems discourages robbers, intruders, and other people with criminal psychology to attempt a crime as there are very good chances of being caught by the security guards.
2. Deter crime and violation of COVID-19 safety protocols
Smart CCTV cameras enabled with AI technology feature automatic sensors to detect unrecognized faces, motion, objects, tempering, masks, people counting, etc. Deep learning algorithms programmed in smart video monitoring systems instantly identify motion in restricted areas, strangers at entrances, people without masks, and the areas where social distancing is being violated. On any type of security breach, these systems send real-time alarms to the operators with the help of video analytics. Responders get alert on receiving such alerts and get ready to take necessary preventive options to avoid criminal attempts and violation of safety norms amid the pandemic.
3. Store confidential data digitally
Healthcare centers secured under the surveillance of CCTV cameras with cloud storage and video management systems can store recorded video and data safely on the cloud. The digital storage can be accessed remotely anytime on network servers, NVRs, and hard drives by authorized security guards. Remote monitoring and digital storage are two of the most crucial aspects of hospital security surveillance. Users can easily access recorded data to manage emergencies based on factual information. Besides, digital storage is far more organized than manual records. It offers quick and easy searchability of required information from bulk data, simply by selecting a few filters.
4. Resolve all internal and external disputes
Hospitals are often put into negative publicity due to fake allegations and dishonest claims by employees or patients and their families. In such situations, video proof from hospital security surveillance systems can help dissolve forgery assertions. Hence, digital evidence save healthcare centers from getting into fabricated lawsuits or paying expensive insurance claims. On the other hand, video surveillance records also play a significant role in resolving internal disputes between employees by presenting visible proof of who is guilty. A resilient monitoring system in hospitals assists authorities maintains the decorum to forfend unnecessary discomfort to the staff and patients.
5. Motivate employees and boost productivity
It is natural for humans to deliver tasks more efficiently and dedicatedly when they are aware of being monitored. Medical practitioners and helping staff work more carefully, courteously, and quickly if they get regular feedback based on real-time surveillance footage. Patients and attendants also stay cautious of creating chaos for the hospital employees causelessly. Thus employees don't feel frustrated due to unfavorable and antithetical behavior and in response behave more appropriately with patients and visitors. CCTV cameras in hospitals avoid procrastination of tasks, maintain discipline, encourage employees to work better, and enhance their productivity.
Things to remember
To get all the above-mentioned benefits of Hospital security surveillance, it is extremely important to keep a few things in mind. Read these below:
Respect regulations and ethics related to surveillance devices. For example, surveillance cameras should be deployed to serve the purpose of identifying and deterring crime. Hospitals should display notice for the patients and staff for being under the surveillance of CCTV cameras. Monitoring systems should be installed in washrooms and changing rooms. Video records and patient-centric data should only be revealed in extreme situations and in front of limited people.
Strategic placement of CCTV cameras is the key. Monitoring cameras need to be placed and positioned at all vulnerable points inside and outside a hospital. Especially, blind spots should be covered under surveillance to access live video monitoring during odd hours.
Technology-driven comprehensive hospital security surveillance with Ambicam
If you are searching for a holistic option to secure hospital premises then Ambicam's innovative smart monitoring cameras will best serve your purpose. Offering rapid and simple DIY installation process, next-generation technology, AI-powered smart analytics, crystal clear audio-video quality, and a lot more, these devices help hospitals stay protected from all possible security risks.
Explore our products and services by requesting a call from our experts.