A hospital security camera in healthcare facilities is prominent for both quality healthcare and public safety. Hospitals, clinics, and every healthcare facility are a haven for people in physical as well as emotional need, and increasingly seen as the most crucial place of refuge or safe place in the event of any large-scale emergency such as any natural calamity or terrorist attack.
Security challenges faced by healthcare sectors:
1. Working Staff:
Employees working there have easy access to all the patient files. The majority of them would never misuse it, still, there's no guarantee that no one will ever try to steal sensitive information. Criminals and hackers can use this sensitive information to perform malicious acts, and can also use that to blackmail people. Employees can easily access confidential financial documents of patients and use their credit card numbers to instigate fraudulent purchases.
2. Phishing techniques:
Sophisticated malware and phishing techniques that help to steal all the important credentials can compromise an entire system. It is one of the most challenging problems as malware takes one authentic link that is fake to plant a heinous virus into the system. So it is crucial nowadays to train the staff so that they can recognize some common phishing attempts.
3. Vendors:
Healthcare workers often work with a lot of vendors without firstly assessing the associated risk. For instance, if any healthcare institution hires some cleaning staff, the working employees might gain easy access to computers. To prevent such unfortunate incidents, patient's information should be authorized properly so that the average employee cannot view the whole information.
4. Lost and stolen smart devices:
Indirectly, any lost or stolen device or phone presents some of the greatest risks. Any mobile device or smart device can easily be used to target the respective networking and becomes a great liability as soon as it is lost or stolen. The main tension arises when this device falls into the wrong hands with suspicious mindsets, the person can easily access the whole system using stored login data and credentials with the Hospital Security Camera.
5. Online medical equipment:
The security integrated with medical devices, CCTV camera and equipment that works with the help of internet connection is often lacking, making them easy and vulnerable targets for hackers and cyber criminals. Due to technological developments, the Internet of Medical Things (IOMT) continues to develop and advance, these advanced devices are designed and manufactured to export important information to external and eminent sources and also interact with the whole world outside the doctor's office. This data could easily be expropriated or manipulated.
6. Unrestricted & unauthorized access:
Computers or smart devices that are not placed in restricted areas or have unauthorized access can easily be accessed by anyone including intruders. Some of these smart devices and computers are filled with sensitive information about the patients, unauthorized staff, or other intruders in that unrestrained area could quickly misuse and damage such important information.
In some cases, successful phishing and man-in-the-middle attack attempts on general-access computer systems provide an excellent gateway for hackers and cyber criminals into more sensitive yet authenticated areas of the network. It is always recommended to place these computer systems that hold patient information and all prominent details is placed in a secure and authorized location.
7. Inadequate disposal:
Some individuals believe that once you've deleted or erased certain information, you no longer need to take care or have to worry about other people accessing it and trying to decode it. But when healthcare facilities inefficiently dispose of storage devices, hard drives, old terminals, disks, and other hardware tools used to access a network with important credentials, this information can be used by criminals in a very negative way.
As after drives or disks have been deleted or completely clearly and even reformatted it is still possible to restore the provided information.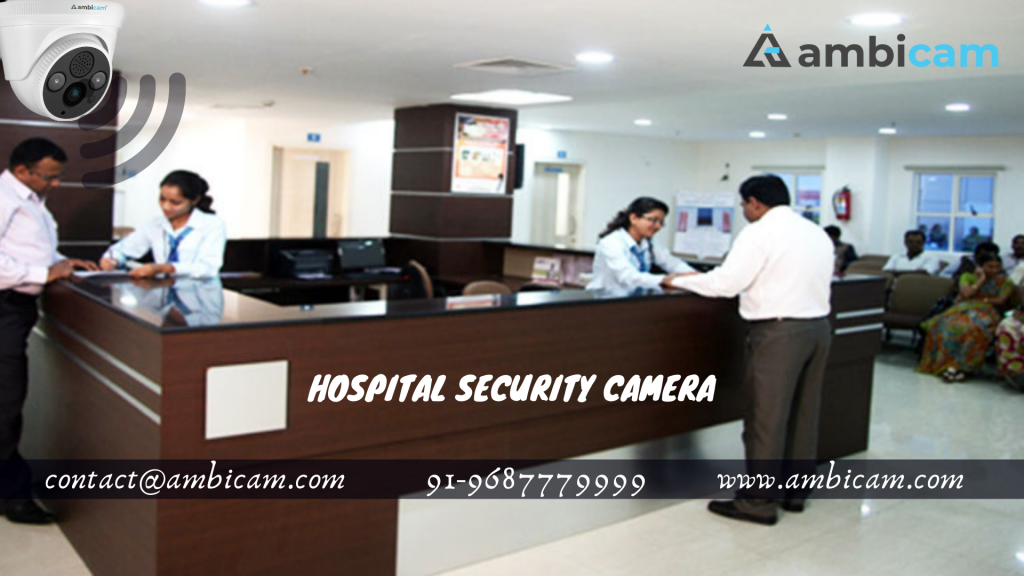 Vital advantages of deploying hospital Security camera and video surveillance systems:
a. Increase overall safety & sound environment:
Security cameras system implemented throughout the hospital premise helps to deter and prevent robberies, crimes, and break-ins. They also allow officials to keep a keen eye on troubled patients, visitors and look for unauthorized individuals in restricted areas.
b. Increase staff productivity:
The presence of a hospital security camera throughout the premises can maintain as well as improve communication between various hospital departments or buildings, allowing for staff to work to their full potential.
c. Avert underhand claims:
There are several cases where patients or visitors dishonestly attest to injuring themselves on the hospital premises. You can very well get a shred of visual evidence from the respective security cameras deployed and can disprove such assertions effectively, saving the hospital costly and unwarranted insurance claims and also bad media coverage.
d. Settle employee controversies:


Employee disputes and disagreements are somehow common in working culture and these can be easily resolved and brought to a conclusion when full proof evidence is available.
e. Remotely accessible:
Digital surveillance system with remote monitoring feature allows authorized hospital employees and officials to monitor critical and sensitive areas continuously, in real-time, from their personal computers from anywhere and at any time.
f. Digital & cloud storage:
Hospitals that choose to deploy surveillance systems with cloud storage can take all the eminent benefits of digital storage. Digital security systems allow the consumers to store the captured footage digitally on the cloud, network servers, hard drives, SD cards, or NVRs, the data is easily accessible to authorized users and offers proper searching capabilities.
g. Full proof visual evidence:
Live video monitoring cameras for Hospital deployed at a proper location can provide full-proof visual evidence for investigations. This helps police departments and law enforcement departments to track every activity of suspected criminal and other specific security breaching events that have taken place within or around the surroundings of healthcare facilities.
Ambicam Hospital Security Camera Solution, one of the most important products of any manufacturing and OEM service provider Company. A warehouse is a place where you store your all finished goods and the safety and security of that place are also more important, so security systems play a role of both the cameras together, firstly it protects your warehouse from any malicious activity and secondly tries to keep employees health on a check. For more information contact us now!