Advance technology in the world of the video surveillance industry is a never-settling factor. It invented and then re-invented the concept of video security systems, making it a beneficial tool for businesses and houses alike. While talking about modern CCTV Video Management Software surveillance systems, it does not just mean having CCTV cameras installed at your personal and professional property. Rather, it has a wide-ranged functionality and advantages to alter the overall meaning of monitoring and using the recorded information to make actionable plans for further betterment.
Video management and analytics software are new definitions of advancements in the theory of surveillance technology. In this article, we will explore the relevance of both and their key features along with their real-life in-use example.
CCTV Video Management Software
It is not enough to simply deploy a camera on your premises to watch the activities. But, making maximum use of the monitoring screen and the recorded video is the real game. Video management software enables you to connect multiple cameras to a single setup and monitoring screen and use the recording intelligently. This kind of software proffers flexible and scalable options to users to connect unlimited numbers of different cameras on LAN/WAN irrespective of their model, size, or other specifications.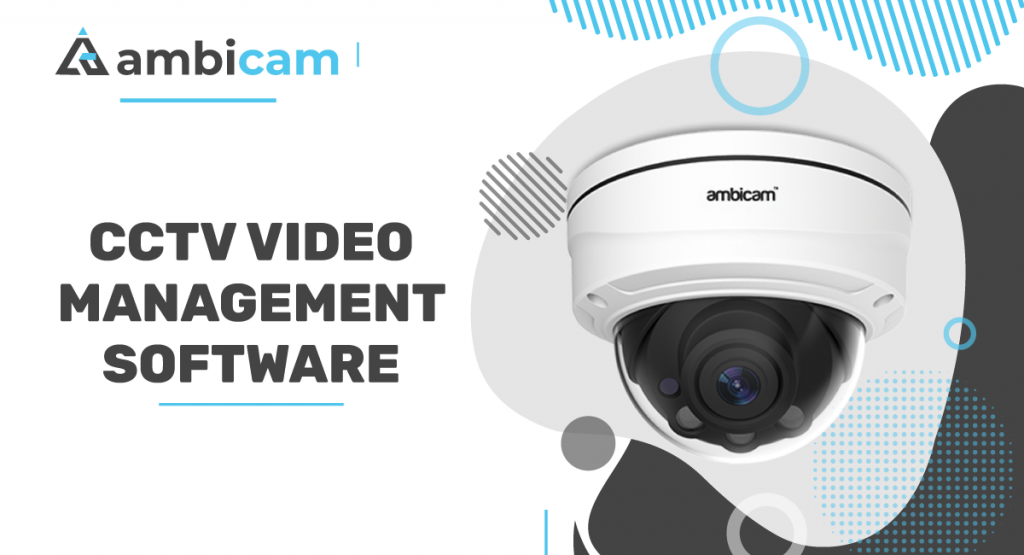 Video Management systems technically work with various IP cameras without compromising on functionality and quality of features offered. For example, Ambicam offers high-tech VMS featuring in-built protocols that are compatible with all industry-standard cameras.
Despite the number of cameras integrated into a VMS, the user can be monitoring all the cameras on a single screen of his/her smart device including mobiles, laptops, desktops, and tablets. Advanced video management software such as Ambicam supports all devices Android, Windows, and iOS through its in-house mobile app. The best part is that video management software delivers far beyond just an integrated surveillance platform. Other functionalities of VMS include video analytics, incident management, command, and control, etc.
Video Analytics for CCTV Camera
Video analytics translated the recorded IP video into meaningful data as business intelligence. In other words video analytics work on a defined set of algorithms to deliver video security functions. If you have an innovative video monitoring set-up, you can leverage the best offerings of video analytics to ensure a full-proof security system.
Video analytics are available in three forms in the current surveillance security market of the USA and worldwide. These are:
1. Face-identification system
2. AI-based learning module
3. Fixed algorithm analytics
From identifying an unattended briefcase to object tempering and from detecting a strange face to a vehicle number plate; today's video analytics capabilities have opened infinite avenues for users to try various permutations and combinations of these algorithms to avail of the maximum benefits of video analytics.
Unlimited capabilities of video analytics
Video analytics is an extremely budget-friendly technique to augment security while minimizing the use of manual interventions to leverage its capabilities such as:
Smart surveillance solutions with CCTV video management systems and WIFI video surveillance analytics could identify known and stranger faces using various combinations of 2D/3D face profile technology. It identifies a face based on real-world features like facial hair, light, pose angle, etc.
This feature detects people's capacity and occupancy in a defined area. In case the crowd count exceeds the maximum occupancy level, instant alarms are raised to warn authorities.
Case in point: Airports can manage crowds inside the premises during the challenging times of pandemic to ensure social distancing norms under COVID-19 safety protocols are being followed.
Automatic License Plate Recognition
Turning the parking management hassle-free, the ALPR function of video analytics helps in reading and recording vehicle license plates and other markings to unify the data with the security operational process of the location. It helps in automating entry access to vehicles, feed arrival and departure time, etc.
Objects that are tripped or abandoned at any corner of a surveillance area can be identified through instant notifications by leveraging video analytics. Besides, it also raises alarms in case an object is removed from the monitoring area to closely track any incident of theft or suspicious act.
Video analytics assist security authorities to recognize vehicles with suspicious movements such as entering a prohibited zone, abnormal speed, wrong direction, etc. by raising real-time tocsins.
Modern technology is capable of detecting the loss of video whenever someone tries to temper a CCTV camera. For instance: If a criminal tries to touch the camera lens or cover it with a cloth or paint, the automatic alarm will buzz.
PTZ capability (PAN, Tilt, Zoom) to monitor a human, object, or vehicle while entering or taking a halt in a user-defined area is quite useful for distant or under-construction buildings. The CCTV locks on after identifying the face or object and follows its way to allow the responder to monitor activities taking place in that zone.
Let us now move to unveil the advantageous edge of CCTV video management software and video analytics in the mainstream.
Businesses or households both can accumulate deeper insights into the activities taking place around them by using innovative technology. Based on this data retrieved from CCTV video management software, users can identify potential threats and mitigate the risks while enjoying the following benefits:
a. Accurate and faster readings and recording of incidents and human behavior based on automatic algorithms
b. Ease of allowing and denying automatic access for enhanced safety of humans and properties
c. Real-time alarms on the identification of suspicious activities to get prepared for a precautionary plan of action
d. Reduced requirement of human security for more efficient and error-free security surveillance
e. Flexible and scalable infrastructure to accommodate present and future needs without any hassle
f. Content tags and metadata analytics make the recording search ability much easier and faster
g. Video data can be translated in the form of reports and graphics to make data-driven business decisions.
Final thoughts:
If you wish to delve deep into the utility, functionality, and benefits of CCTV video management software and video analytics, request a call with our experts. Ambicam is more than happy to assist you and resolve your queries, making the purchase decision easier, firm, and beneficial.