CCTV cameras are safety-imperative for every business whether small or big. Established businesses have obvious reasons to install CCTV cameras in the business premises for protecting their goods, property, and employees. While on the other hand, small businesses are more in need of having security surveillance systems in their commercial property.
Micro and small enterprises mostly recruit young and inexperienced staff and are usually located away from business hubs to cut down the cost of the rent. It may turn out to be more prone to robbery, trespassing, and other crimes. Therefore, security surveillance cameras play a key role in safeguarding businesses and optimizing their operational performances.
Strategic placement is crucial
While we know that a monitoring camera is an effective option to protect businesses against crimes both internal and external. But, what is more important to keep into notice is well-planned placements of the cameras. CCTV camera installation needs to be at all major spots such as isolated areas inside or outside the office, warehouse, or retail store.
Front doors, check-in, and check-out points, cash counters, etc. are other critical spots to be covered under the vision of a security camera. Right camera angles and the proximity of the camera from all main points are extremely important to get the maximum coverage and precision along with fine quality images and videos. CCTV camera installation with flexibility of repositioning is always an added advantage. Businesses planning to deploy CCTV cameras in their premises must emphasize having wireless or Wi-Fi based cameras for enjoying maximum benefits of relocation and hassle-free installation.
Smart features come as a bonus
Smart cameras in today's market are equipped with AI-enabled features including data analytics, sensor-based functions such as object detection, motion detection, face detection, etc. These features accumulate the recorded data and convert it into meaningful information. These pieces of information are used by security agencies to decode suspicious activities or other genetic information of people and property for future references.
Besides, Smart CCTV cameras come with local and cloud storage options for secure and reliable data collection in an organized form. Responders can search any data anytime from the bulk history using codes or saved names for easy and quick access at the time of need.
Footage recorded by CCTV cameras is quite large in size and thus demands massive storage space and the cloud is the best option in this case. By scaling up the cloud storage capacity by putting in some extra dollars, one can own ample storage space to securely manage valuable and confidential data. Smart cameras offer 24×7 live streaming to mobile phones to monitor businesses remotely anytime. Furthermore, Smart CCTV camera installation helps enterprises receive real-time push notifications to ensure the safety of assets even after working hours.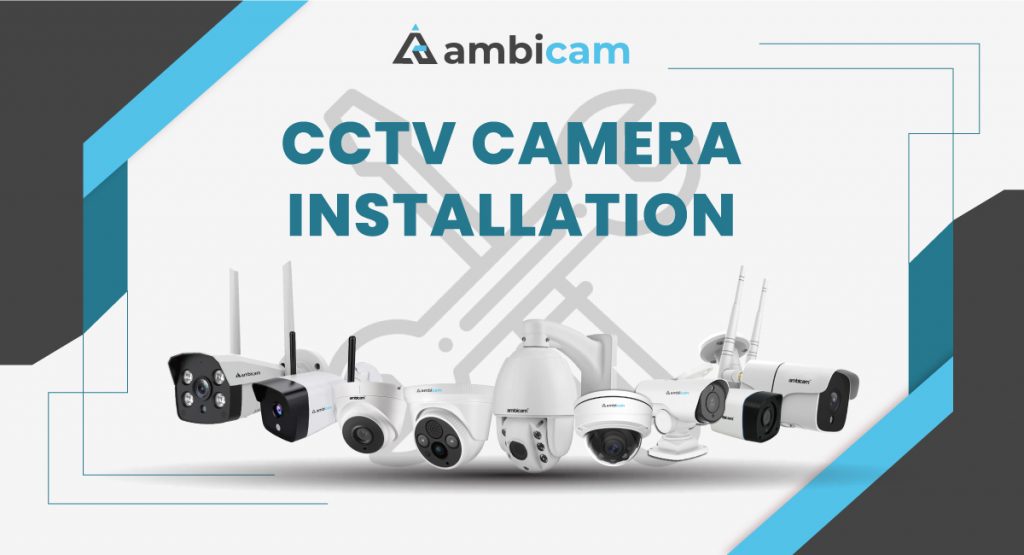 Let us now move to identify how appropriate CCTV camera installation and smart features all combine to benefit businesses in multiple ways.
Advantages of CCTV camera installation at commercial places:
1. Eliminate the chances of internal and external crime
It is not shocking to know that businesses are prone to external and internal thefts akin. Almost every entrepreneur has incurred considerable loss due to internal crimes that are committed by employees and sometimes visitors as well. Irrespective of the intentions behind the internal robbery, what matters is the financial or asset loss that makes a huge difference to the owner.
CCTV camera installation at blind spots and at the locations where valuable assets are kept or transactions take place would be the most effective and reliable means of eliminating any risk of internal or external burglary. When a CCTV camera is visible to employees or any outsider, it makes it quite difficult for them to steal even the smallest thing knowing that they are under surveillance.
2. Accumulate records as evidence
Criminals usually give up on the idea of crime after seeing a CCTV camera but those who take chances certainly get caught on monitoring cameras. Google is flooded with such videos and images in which criminals can be seen either committing crimes or damaging the camera. These videos are solid proof to prosecute the suspect in court.
Clear footage along with factual details of date, time, and location are valid evidence against criminals, revealing their misconduct and crime techniques. The best part is smart cameras with cloud or SD card storage keep the records handy and well-organized, making it easier for the security authorities to access the required file whenever needed.
It further saves you from getting into false allegations and claims made by staff or customers. No one can sue you or your businesses for fake complications when a security camera is there to protect you by recording every moment with clarity and accuracy. This in return saves a lot of capital and above all yours and your business's reputation and brand value.
3. Holistic protection of employees and visitors
Human lives matter more than possession. However, for a business, it is equally important to protect people and property to stay afloat. Deploying CCTV in and outside the enterprise space offers an immense sense of security to employees and visitors as they know they are being watched constantly by the security department. Moreover, an owner can get access to its property remotely to ensure the safety of staff and assets. Surveillance cameras in offices deter employee friction and violence, while it further prevents intrusion by strangers, robbery, and harassment.
4. Increases customer delight and loyalty
Under CCTV surveillance, employees always stay conscious of their acts and behavior. They tend to greet customers politely and serve them to the best of their capabilities. Customers being addressed by the business representatives humbly and timely feel elated and satisfied with the services. Customer satisfaction and delight leads to good business in terms of increased sales, stronger customer-business relationship, and enhanced customer loyalty.
Final thoughts:
CCTV camera installation in offices and other commercial places offers much more than just the safety of valuables. It also has economic advantages for businesses as a resilient security camera system is a long-term investment that further eliminates the need for multiple security guards. This saves you money on regular salaries and hiring costs. CCTVs are way more affordable than recruiting security personnel. Smart CCTV cameras such as Ambicam Smart Cloud Cameras come with low bandwidth consumption and video compression features that cut down the cost of bandwidth and storage as well.