Recently, wireless security cameras have become more popular security for home and business surveillance. Many users are turning to wireless security systems to meet their security needs because they are flexible, movable, and easy to install without the need for a professional to run wires through the property.
CCTV Security Pros is a market leader in full-service security camera systems for businesses and government agencies. Our comprehensive security systems are easy to set up and use, and they come with unlimited support from our security experts in the United States. Businesses can save thousands of dollars on installation costs by installing these systems themselves and utilizing our remote support.
Take advantage of advanced features like remote viewing from any desktop or mobile device with an internet connection at no extra cost. You can access your video feed from anywhere and any time by using your phone!
However, before you go ahead and install an indoor or outdoor wireless security cameras, keep the following items in mind, in addition to the cameras and wiring. Ambicam provides complete cordless security camera systems to meet your needs, whether you are a small business or a multinational corporation.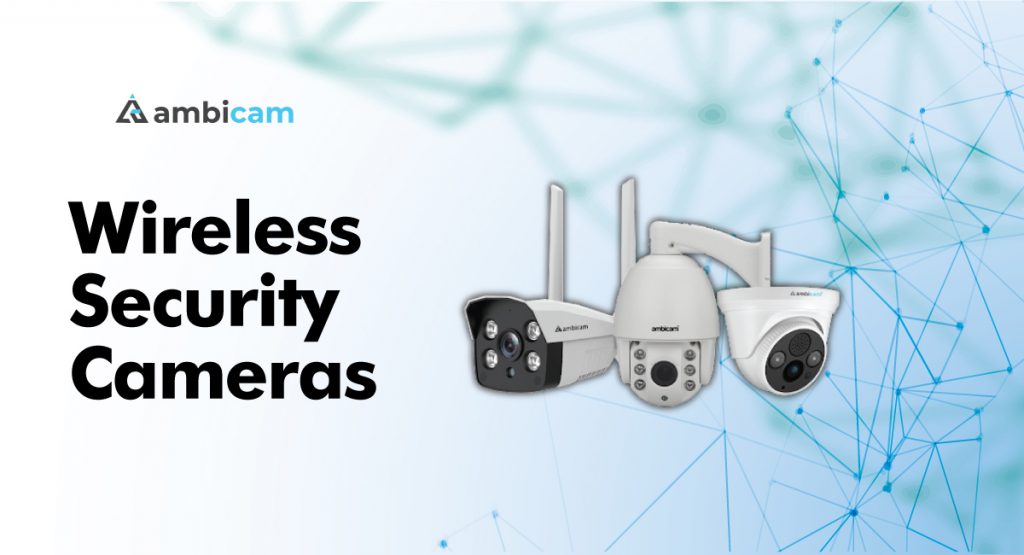 Top 5 Broadband Wireless Security Cameras:
1. Dome Camera 4G
2. PTZ Dome Camera 4G
3. Thermal Temperature Screening System Based on AI
4. AI-Powered Face Detection Cameras on the Cutting Edge
5. PTZ ANPR Bullet Camera with AI Edge
1. Dome Camera 4G
Ambicam technology, with its exceptional wireless security cameras features and performance, makes home security intelligent, secure, and convenient. When you are not present, the Ambicam home security camera monitors your home and notifies you of any activity. Ambicam Smart Security Cameras provide you and your family with peace of mind and safety.
The ambicam security camera detects motion in your home and sends alerts to your smartphone with HD video and audio via the Ambicam mobile application. The Ambicam Smart Cloud Camera for Home includes the following features:
The operation is wire-free. Setup is quick and easy.
Communication that works both ways
Cloud recording, A 4x digital zoom.
The strong broadband network for saving your data into cloud storage.
Key Benefits:
Keep the most important things safe.
Household security is customized for you, with live monitoring and surveillance 24 hours a day, seven days a week, to make your life easier.
Collect video evidence from the cloud.
Criminals are deterred with little effort.
Motion detection triggers real-time alerts for any suspicious activity.
Do-it-yourself camera with simple setup
2. PTZ Dome Camera 4G
Ambicam 4G Dome PTZ smart cloud cameras are a professional surveillance system that employs PTZ to move the camera in various directions to cover a large area. It provides a comprehensive view of the surveillance area and allows one to zoom in for more information on security events.
The ability to pan, tilt & zoom in allows us to monitor large areas with a single camera. 4G Dome PTZ cameras work via the cloud 24 hours a day, seven days a week, to help you monitor every minute of the day.
Bullet cameras are easy to set up and operate, and they can even save you money. Now is the time to order your Ambicam 4G dome PTZ security cameras.
3. AI-based Thermal Temperature Screening System
Next is a Thermal fever temperature, screening camera security, with the VMS and VAS based on AI and cloud technology. It is possible to determine whether or not a visitor has a fever by monitoring the visitor's temperature. It is even possible to speculate on COVID-19's impact and send workers to quarantine for primary prevention.
4. Edge AI-Based Face Detection Cameras
In Ambicam's product family, 4k products, ANPR detection, object detection, facial recognition, intrusion, and other Edge AI features are available. The Ambicam FHD, H.265+ Bullet Camera has a resolution of four times that of (Full HD) and runs at 30 frames per second, delivering an ultra-high-definition video viewing experience to users.
5. Edge AI-Based PTZ ANPR Bullet Camera
In Ambicam's product family, 4k products, ANPR detection, object detection, facial recognition, intrusion, and other Edge AI features are available. The Ambicam FHD, H.265+ PTZ Bullet Network Camera has an FHD resolution and runs at 30 frames per second, delivering an ultra-high-definition video viewing experience to users.
Well, our home, property, and assets are impossible to keep an eye on it. Surveillance supervision is needed to observe every activity in our surroundings. So be aware and relax with the assistance of a CCTV Security Camera Wireless to monitor your property.
8 Simple Steps – Wireless Security Camera Installation Instruction:
★ How to install a security camera?
Because wireless cameras require less equipment, they are easier to install than wired systems. Most devices do not require hardwiring into the property and can be installed simply by mounting them to the walls with no additional tools or accessories required.
By following these steps, users can install their surveillance equipment properly:
The first and most significant step is to find where exactly you would like to place your camera, outside or inside the house. The location should encompass the broader area of the house and offer the best view. However, choose the best place to cover the majority of the house.
Installing cameras high up on walls is an excellent way to keep intruders out. Higher angles typically provide a comparatively good range of surveillance, so users should position equipment as high as possible to cover the desired space.
Hold the wall-mounted bracket against the wall in the desired location and mark the screw hole locations with a pen or pencil.
Try to drill small holes in the walls that are slightly smaller than the screws on the bracket.
Pre-drilling small holes allow the screws to enter the wall without causing further damage. Later on, you can do it wisely and the final whole to ensure that your camera holds firmly.
After holding the mounting bracket against the wall and aligning the screw holes with the holes in the wall, screw the screws into place.
Before you install the camera, make sure the bracket is fully secure.
Insert the camera into the bracket and the required batteries.
At this point, the camera should be ready to use, and users should follow the manufacturer's instructions to sync it with the receiver.
★ How are wireless video surveillance powered?
The majority of indoor and outdoor wireless security cameras are powered by wiring and can be directly connected to a network if necessary. Furthermore, the term wireless camera refers to the method by which video footage is transmitted.
Some cameras are completely wireless and reasonably priced. However, such devices, such as Ring cameras, are prone to far more issues that are not commonly found in CCTV.
★ How do we connect a phone to a wireless CCTV camera?
Follow the steps outlined below to configure the wireless CCTV camera at your location.
Connect the DVR to the monitor directly.
⇓
Customize the CCTV DVR settings
⇓
Now is the time to configure the DVR's WIFI router.
⇓
Connect the DVR to the WIFI using a LAN cable.
⇓
Double-check the settings
⇓
Connect your phone now.
Conclusion!
Wireless security cameras are widely used throughout the world. However, the reliance on installation makes it prohibitively expensive to purchase. Nonetheless, our simple-to-implement guide can assist you in reducing your efforts straightforwardly.
For more detail contact us,
We are more than happy to guide you!!!