CCTV camera in this era are digital eyes gifted to us by technology as an additional sense of sight. Surveillance cameras help us monitor what is happening in the areas captured under a camera's lens. However, these cameras are useful only when monitored by human eyes to identify security risks visible in the live video feed. In simpler terms, digital cameras are just eyes but need the brain to work intelligently, eliminating human intervention at every step of security surveillance. AI technology is the brain to these eyes that creates a smart and comprehensive video monitoring system to optimize the protection of living beings, public and private properties, nations, products and goods, digital data, and much more.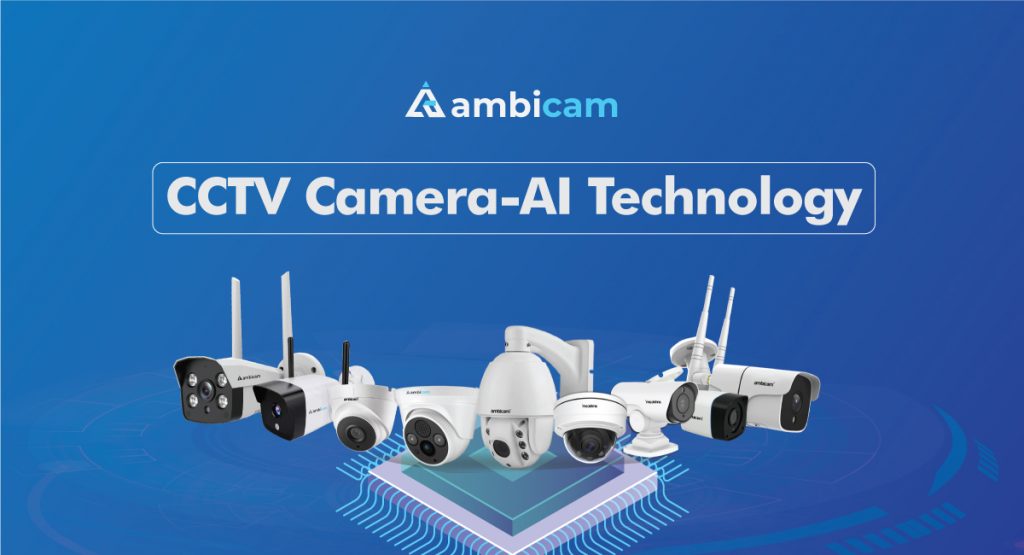 AI-driven CCTV camera is a product of path-breaking innovations in the world of surveillance. AI technology in security cameras aligns the brain with the eyes, empowering them to analyze live video automatically without human involvement. This sophisticated combination of functionality further widens the scope of application of smart CCTV camera in the mainstream, including:
Tracking traffic management and road safety rules across cities
Monitoring waste management
Securing homes, offices, retail shops, healthcare centers, educational institutes, banks, ATMs, borders, airports, bus and railway stations, etc. from robbery, trespassing, vandalism
Assisting police in identifying criminals through video-based records
Managing missing and stolen vehicle cases
Analyzing recorded data to create better policies, norms, and development strategies
The safeguarding driver, passengers, and vehicles on-the-go
Remote surveillance to avoid human contact in the pandemic situation
Enriching the entire surveillance space with self-learning capabilities, AI technology has set up an intelligent software paradigm worldwide to conquer the shortcomings of conventional surveillance methods. CCTV camera is a powered with AI technology are widely embraced by governments on the global frontiers. If the Artificial Intelligence Global Surveillance Index is to be believed, almost 75 nations are active users of this modern surveillance technology. The USA tops this list for using millions of AI-driven CCTV camera at multiple places to access 24*7 video surveillance recordings to protect the nation and its citizens from all potential security breaches. AI technology delivers quick and accurate surveillance results by comparing the interpreted visuals with correct annotations (standardized by humans). This feature of modern surveillance solutions leads to its global acceptance.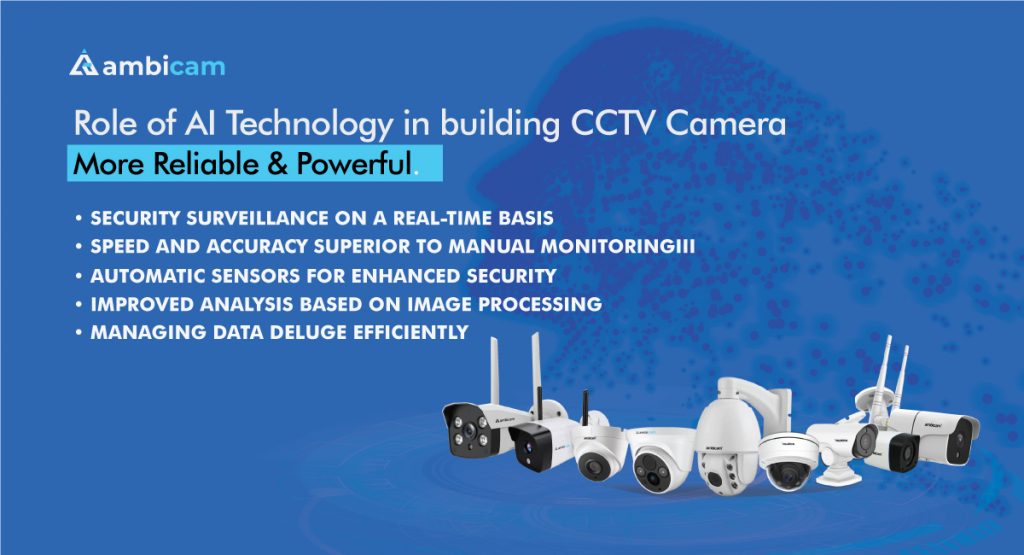 Let us now delve to understand the role of AI technology in building CCTV camera more reliable and powerful.
1. Security surveillance on a real-time basis
Until recently also, CCTV camera were broadcasting live video footage but what has changed so much after the penetration of AI technology in surveillance? The answer is simple, earlier live monitoring videos were primarily used to react to an incident that had already happened. Responders were unable to identify every cynical act on a screen where videos from multiple cameras were streamed.
However, this whole concept has substantially altered with the introduction of AI technology based CCTV camera assisted with AI technology deliver real-time monitoring solutions supplemented with intelligent video analysis. Reports generated through intelligent video analysis help responders understand the pattern of security incidents that have happened or might happen in the future based on the recorded data. It also enables them to make concrete preventative plans to deter the occurrence of possible crimes and incidents.
For instance, parameter safety has always been a major concern that has now been resolved with AI technology. Considering the use case of a high-profile event where high dignitaries are present to launch an exclusive product or service. AI-based CCTV camera deployed at multiple spots to cover the entire area can precisely and instantly detect an unattended object, skeptical movement or position of a person, or any wary sign. Security agents can mitigate such possible security breach incidents by taking immediate precautionary steps.
2.Speed and accuracy superior to manual monitoring
Smart security surveillance systems are completely trustworthy when it comes to speed and accuracy. While human security guards could get tired of watching screens constantly or might miss out on something drastically critical on screen, an AI-assisted CCTV camera has got your back. These smart devices guarantee to warn security agencies instantly after detecting anomalies in private and public spaces. No information or security threat indications go unrecognized when an owner decides to secure his/her property with smart CCTV camera.
3. Automatic sensors for enhanced security
AI technology in CCTV camera empowers them with multiple capabilities including vehicle number plate detection, facial recognition, motion detection, object recognition, mask detection, people counting, and much more. Subsequently, surveillance solutions with automatic sensor-based event detectors deliver proactive, efficient, and reliable real-time monitoring.
These characteristics make AI-driven CCTV camera the most in-demand devices in places with heavy footfall or consuming high-valued goods. Police, corporations, terminals, shopping malls, large enterprises, etc. leverage this advanced technology to alleviate security risks and to identify criminals. Case in point, the facial recognition feature of smart CCTV camera helps police detect the person(s) involved in a criminal act. And if the criminal has acted smart by covering the face, he/she can be identified in a crowd based on the physical appearance like body physique, height, eyes, posture, etc.
4.Improved analysis based on image processing
Unlike traditional CCTV camera, AI technology enables smart surveillance cameras with image processing to deliver far beyond merely identifying images. Intelligent analytics software imitates capabilities like humans to observe, perceive, identify, understand, and define images and video content with precision. For example, AI technology in image processing offers a visual form to objects that cannot be seen through naked eyes. It helps in analyzing every minute possibility of risk clearly. AI technology also enhances the overall quality of an image by sharpening blur and misfocused images to retrieve:
Purposeful information from the captured data
All hidden details for better analyzes
Needful image size and resolution
Measurement and location of objects visible or invisible in an image by understanding patterns
5.Managing data deluge efficiently
Multiple cameras installed across different geographical locations capture overwhelming valuable surveillance data that is tricky to manage manually. AI technology combines huge sets of data using smart, frequentative processing algorithms. These sets are created on the basis of similar patterns and characteristics of the data being analyzed through machine learning, deep learning, cognitive computing, etc. Meaningful and organized processing of data with AI sends accurate security alarms after in-depth analyzes, enabling responders to interpret massive data qualitatively for the protection of lives and assets.
Interested in knowing more about the intervention of AI technology in CCTV camera and its application in the real world? Feel free to get in touch with Ambicam's expert who can help you understand it better. You can also explore our exclusive variety of innovative smart surveillance solutions assisted with edge AI technology.
Read also these relevant blog: Latest New Technology about CCTV Camera you never know before