Complexities in warehouse security management have been aggregated over time and several factors contribute to it. These include the wide-spreading e-commerce market, rapid order fulfillment, increasing cases of warehouse theft, altering working models in the new normal, efficiency, and precision in operations. A one-stop solution to manage all these factors is a next-gen warehouse monitoring system. However, selecting the appropriate surveillance security solution that is custom-made for your warehouse is extremely crucial. The right choice of CCTV cameras serves all your security surveillance needs while augmenting the effectiveness of warehouse monitoring.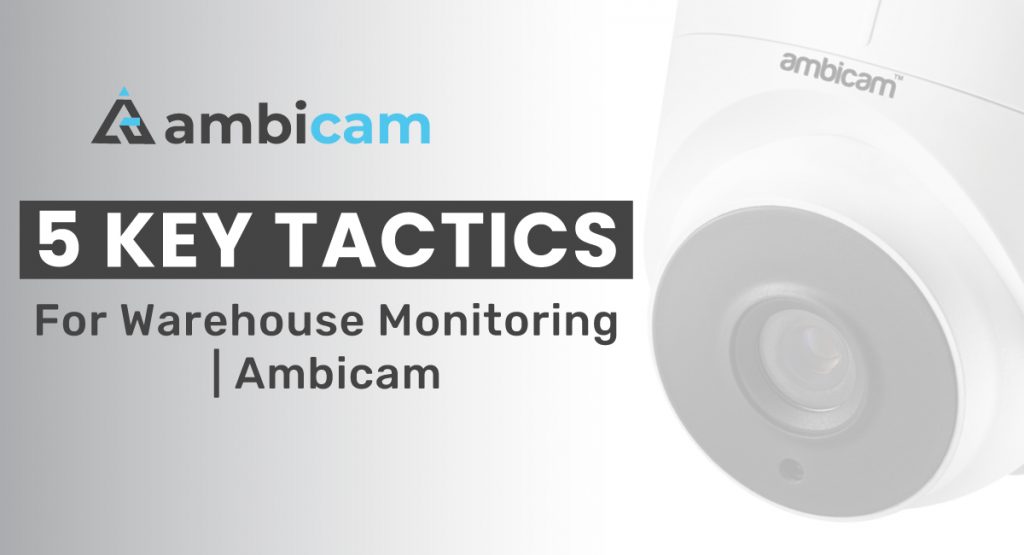 Vulnerability demands resilient warehouse monitoring solutions:
Fulfillment centers and warehouses are undeniably prone to intrusion and robbery as they store large quantities of goods that are worth an amount. Secondly, warehouses are usually located in isolated areas with many blank points, making them an obvious and easy target for thieves. Thirdly, a warehouse has always proven to be an easy target for robbers, being large storehouses with not enough security parameters. These units generally have multiple entries and exit points that need intact surveillance as a lot of activities such as transactions, good loading, and unloading take place. Apart from the mentioned issues, several other challenges are a part of warehouse operations that need innovative monitoring solutions to keep all things safe.
1. Warehouse monitoring challenges in a nutshell
Let's explore common challenges experienced by a warehouse owner when it comes to securing the environment, products, and people.
2. Damage to the goods
Various types of products are stored in warehouses and demand different storage conditions like temperature to avoid product spoilage and accidental incidents. For example, if flammable products are stored near high-temperature surfaces or settings it can result in a massive fire hazard.
3. Avoidance of security SOPs by employees
When employees are not monitored adequately they might end up being careless. Consequently, there can be inventory displacement or higher perils of injuries or fatal incidents that happened due to neglecting safety protocol.
4. Pilferage
More than external robbery cases, internal theft by employees is common and these incidents leave a heavy dent in the owner's pocket.
5. Shipping of wrong or defective packages
Many times customers receive damaged products in the shipped packages. It happens because employees mistakenly drop the item and pack them or products get damaged while loading or unloading but no one finds the real reason.
Warehouse Surveillance System – One solution to all the problems
An advanced monitoring system in warehouses is the best resort to all the challenges because keeping an eye on staff, operations, isolated locations, and every entry-exit point can deter potential crimes. But it needs a strategic deployment of CCTV cameras across and around a warehouse. Scroll down to know 5 ways to secure your warehouse with the smart monitoring system. The secret is to make the best use of the following:
1. Motion detection
Motion sensor helps in detecting movements happening around your warehouse premises especially during odd hours when the entry is restricted. Install smart CCTV cameras detect motion near your property and intimate you about the same instantly, allowing you to check if the person around is a threat or not. Thus, it avoids strangers to enter your warehouse.
2. Multiple surveillance cameras set up
Deploy multiple cameras at prime and isolated locations to view every corner of your warehouse altogether on one unified screen. Smart surveillance cameras come with smart applications allowing users to integrate as many cameras as they want to a single monitoring source to watch live video streaming anytime from anywhere. The night vision feature of smart CCTV cameras gives you a clear view of your property even during the dark hours for complete peace of mind.
3. Real-time notifications
Modern warehouse monitoring solutions are AI-enabled smart cameras that not only record or broadcast live video but also offer video retrieval options whenever required. These video security systems also use AI-based intelligence to identify threats to sensor signals and translate them into real-time alerts. These alerts are sent to the user as notifications through SMS or email to warn them about suspicious activities, preparing them to take precautionary steps in advance.
4. Access control
The automatic smart access control offered by the latest CCTV cameras keeps unauthorized or stranger people away from entering into the prime warehouse sections such as inventory storage units and IT rooms. Smart surveillance cameras allow access only to the faces stored in the camera app feed such as that of employees. However, employees are also given access by entering their specific information, for example, employee ID or department, etc.
5. Scalable surveillance systems
Scalability is paramount. The surveillance cameras that you choose for your warehouse or any other property must be capable of fulfilling your future needs along with the current ones. Invest in those cameras, offering scalability so that you can expand the existing features depending on the changing requirements of your business.
The best thing is that you can find smart warehouse monitoring solutions providing everything we discussed in the section above. Ambicam designs next-gen smart surveillance cameras with cloud technology to offer an optimized video surveillance experience to its clients worldwide.
Read This Relevant Blog:- Why you really need a Warehouse Monitoring

Have a look at the key features of Ambicam Smart Warehouse Monitoring solutions:
AI-driven functions
Ultra HD camera resolution
Customized dashboard
Instant notifications through smart sensor
Automatic access control capabilities
Post-event evidence retrieval
Live video streaming all 24*7 through VMS dashboard
Cloud storage for easy video management
Benefits of Ambicam warehouse monitoring systems
Track all activities in the warehouse-like inventory management
Intelligent warehouse monitoring
Streamline warehouse operations and improve employees' productivity
Day and night real-time surveillance
Remote monitoring
Ambicam offers much more than technology through its dedicated team of experts who help the user in the entire journey from selecting to purchasing a surveillance camera to its installation and maintenance. Moreover, Ambicam cameras come with a simple and quick set-up process that gets the cameras up and running within a few minutes. Just plug and play and it is that easy.
Want to know more about our products? Feel free to connect with our team.