Is it possible to track activities happening around your distant property where no security provisions could be made? The answer is Yes! You can secure remote offices and other commercial buildings using a 4G security surveillance camera. 4G CCTV camera is the best options to protect far-off places through a robust video surveillance device in the absence of Wi-Fi/ internet, and power.
However, every business has different security needs which require a security camera custom-made to fulfill their individual requirements. In the next section, we will discover all that you need to know about a 4G camera before buying it.
Factors to consider while Looking for a suitable 4G CCTV camera for office
Cameras need certain investments that cannot take place time and again and hence, it is important to install the right CCTV camera for your business. It needs proper research to compare and analyze which surveillance camera is best suitable to accommodate your business needs. Here are the key factors you should consider for 4G CCTV camera purchasing: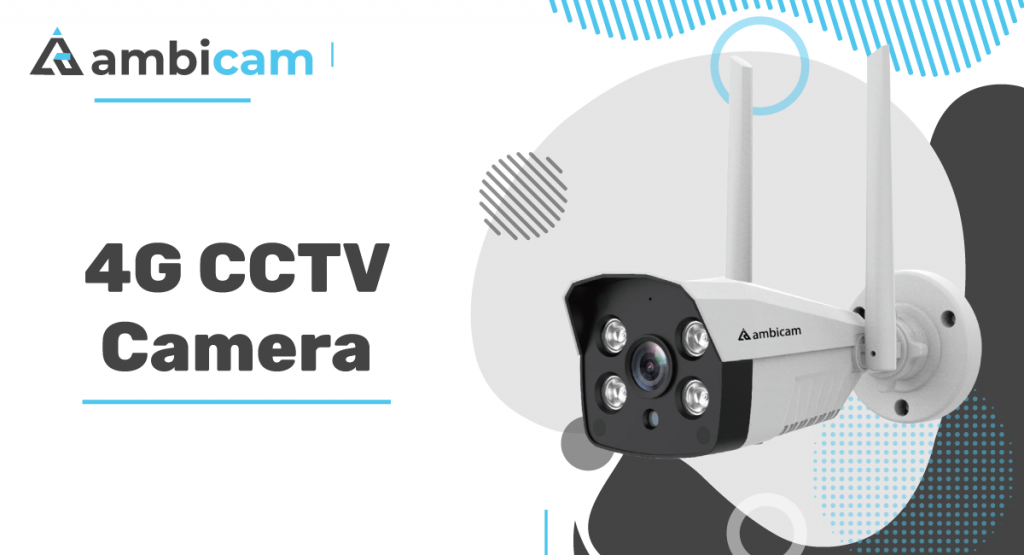 1. Power options for 4G CCTV Camera:
Today's video surveillance market offers 4G technology security cameras with two power options – rechargeable batteries and solar panels. The range of best 4G CCTV cameras such as Ambicam 4G SIM-Based camera offers both options all together in their cameras to deliver the experience of non-stop power usage. The most interesting aspect of battery-powered and solar power CCTV cameras is their eco-friendliness and reliability. With these types of cameras, users don't have to worry about unknown battery discharge or frequent replacement of batteries as the other option comes into play in such situations.
2. AI-based sensors and real-time alerts
Since no one can keep viewing the 24*7 broadcast of live surveillance video of the location, real-time notifications are quite advantageous. Modern 4G technology security cameras are equipped with smart motion detectors, facial recognition sensors, object detectors, and more. These sensors are used to identify any suspected motion, person, or object immediately to send an instant warning to the responder. This in return helps users to get alert and strategize precautionary steps, avoiding a potential criminal activity.
While buying a CCTV camera for your office, specifically the remotely located ones, always ensure to get a camera that does not raise false alarms frequently. Accuracy, precision, and agility are very important to check while choosing the most suitable camera for your office.
3. Strong cellular signal reception
Pick a 4G camera that is a good cellular signal receptor. Wire-free cameras operate on cellular data and demand strong signals to broadcast live video streaming without interruptions. A stable network is essential to get the maximum advantage of the surveillance video or else the mobile data will all go in vain and be wasted. To deal with a bad network scenario, select an authentic and dependable carrier and install the camera in locations with strong cellular signals. It is advised to choose a CCTV camera from a manufacturer who offers sales and after-sales professional support for the right installation of a camera at the right place.
4. Day and Night vision mode
Going by the fact that isolated or distant places are more vulnerable to criminal acts, you ought to choose a camera with day and night vision. It helps in getting good quality surveillance video all day and night, allowing you to track every activity around your location clearly. These days most cameras offer night vision options for enhanced security and Ambicam is one of them. Ambicam 4G CCTV is equipped with Auto IR-Cut and Array IR-LED that can record well-illuminated video up to a distance of 50 meters. Consecutively, responders can track number plates, objects, and faces within the range of 50 meters even during the darkest of hours.
5. Cost-effectiveness
4G SIM-based CCTV cameras can be a bit higher on price at first but they otherwise let you save dollars on various other things. For example, these cameras are a one-time investment that does not require any installation settings of wiring, drilling, etc. Moreover, 4G cameras store recorded data in the SD card, eliminating the requirement of additional cloud storage. However, you have a free hand to choose cloud storage if your business demands a storage capacity beyond the SD card's space. These CCTVs are the best options for businesses with budget-constraint as all things beneficial come within affordable prices.
6. Hassle-free camera set up
Add convenience to the installation process of CCTV at your office location by choosing a 4G security camera that comes easy on deployment. Ambicam surveillance cameras offer a simple and quick camera setup process that gets your camera up and ready within a few minutes. You can install a 4G camera that comes with a DIY setup like that of Ambicam. It is as easy as playing and plugging.
As we mentioned Ambicam 4G CCTV many times in the sections above, let us delve deep to understand its features and benefits before deciding on the ideal CCTV camera for commercial use.
Features of Ambicam 4G camera
Robust and compact to withstand every weather condition and save space on installation respectively
Full HD resolution for superior quality video
4G SIM card support for safe and accessible storage
SD card support up to 128 GB, offering enough storage space to save and sort the recordings
Wide-angle view for wider coverage
Mobile view for easy access to live videos
Benefits of Ambicam 4G camera
Broadcast absolutely clear video surveillance through HD and help you even the minutest thing in detail using Zoom in
Saves up to 80% of space and bandwidth cost due to automatic video compression feature
Offers easy access to live video streaming on smart devices including mobiles, tabs, laptops
Broadcast live videos round the clock in night and day mode
Helps you monitor isolated properties remotely anytime anywhere
Shares and download videos quickly
100% cable-free setup
Integrates with unlimited devices through scalable and reliable in-house mobile app
Can be installed at outdoor, indoor, on-the-go locations
Perfect security surveillance option for smart cities, harbors, airports, parking lots
Can be relocated anywhere without any professional support
Wish to know more about Ambicam's 4G CCTV cameras, connect with our team. Hope you got the idea of all the things that you should consider before investing your money in a commercial security camera.