Wireless CCTV cameras are on their mission to create a monopoly in the realm of security surveillance. It would be unfair to say that a wireless CCTV camera is just like other monitoring cameras available in the market. Accentuating extreme flexibility of placement, positioning, storage, internet connectivity options, and a lot more – wireless security cameras offer an extra advantageous edge to users. Ideal for indoor and outdoor video monitoring, these CCTV cameras work well in favour of houses, jewellery shops, retail outlets, hospitals, banks, ATMs, hotels, schools to name a few.
Connecting the dots
Times are changing and so are the technologies and way we think, work, and perceive things. We are in an all-new world where technology dominates all our strategies and actions. Earlier humans used to feed data in the computer, today automatic software fetch data and analyze it better than ever while also converting it into purposeful information. Another successful case point here is technology-driven smart security surveillance cameras. Advanced video monitoring solutions have effectively replaced the concept of manual gatekeeping by human security guards. Conventional safety management involved various security guards who remain physically present at high-priority locations such as entrance & exit, backyards, powerhouses, etc.
Manual security monitoring has always been tedious, inefficient, and expensive because human guards cannot be omnipresent or work round the clock. It leads to recruiting of multiple security guards calls for a good investment. When considering business safety, it is non-negotiable to watch over factories, warehouses, offices, finance departments, and numerous other places depending on the business scale. The rescue here is an advanced security monitoring camera and a wireless CCTV camera is even better. It helps users protect their businesses, employees, customers, and all valuable assets in many ways to give you absolute peace of mind throughout.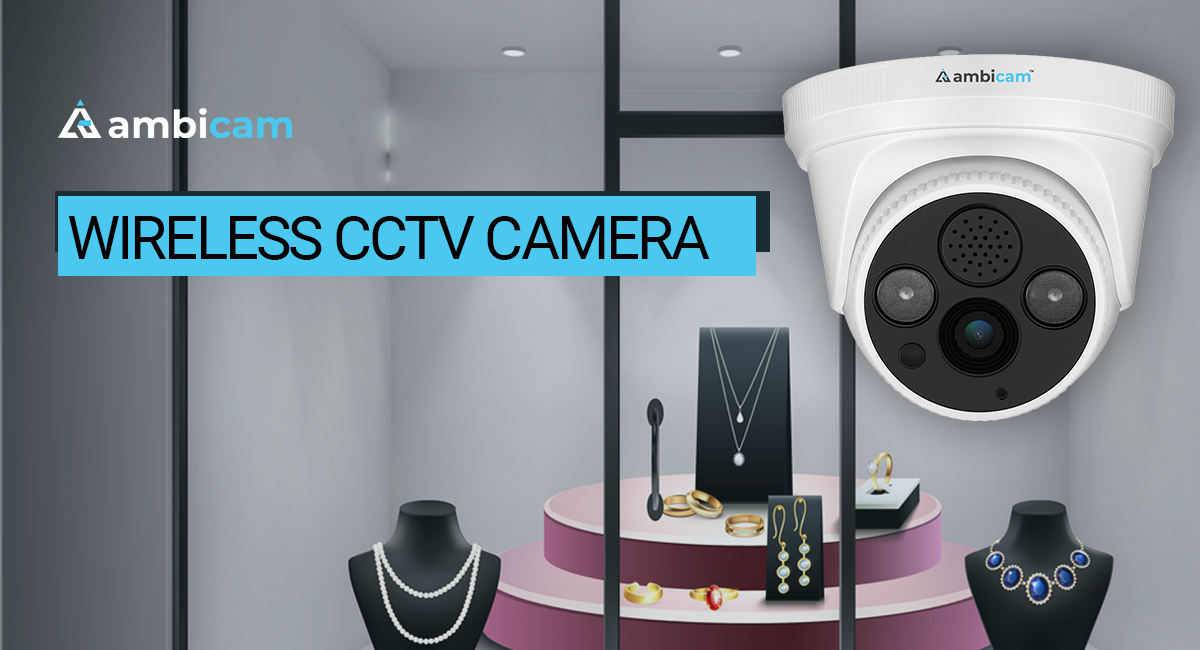 Wireless CCTV cameras safeguard businesses holistically
The best part about wireless CCTV cameras is that they operate on batteries with SIM-based/Wi-Fi technology, delivering complete portability. Without losing that aesthetics game of your office ambience with drilled holes and wire web, you can install and reposition wireless cameras at your convenience. These 100% wireless CCTV camera effortlessly protect your isolated properties where internet connection is unavailable.
Smart wireless monitoring systems like Ambicam Wi-Fi Cloud cameras provide holistic security solutions through smart features such as:
Two-way audio communication, allowing users to have a conversation with anyone at their doorsteps
Digital zoom to check every detail minutely with great precision
AI-enabled video analytics to get instant notifications on detection of anomalies in areas under surveillance
Built-in motion detector to identify trespassing all through working shifts and odd hours
Access live video feed of multiple locations remotely on a single screen
Flexible storage options such as cloud and SD card support
Quick and easy plug and play installation with options to share monitoring access with multiple users as and when needed
Thereby, leveraging all these features, wireless CCTV cameras safeguard your commercial premises effectively in the following ways:
1. Control internal theft by employees
It may sound absurd but unfortunately, many staff members indeed indulge in wrongful activities at work in your absence. Internal theft is one of the rapidly increasing challenges with businesses, especially the high-valued ones. With wireless CCTV camera in your commercial premises, you can find who is being dishonest with his/her job and the organization. Video monitoring cameras capture every minute of the day and broadcast a live video feed to the responder. It helps in identifying employees guilty of robbery, object tempering, data theft, or monetary fraud with video-based proof. Moreover, surveillance cameras also work as a crime deterrent, discouraging staff from doing unethical things.
2. Avert crime at all commercial places simultaneously
Wireless CCTV cameras can be installed both inside out, allowing you to track every activity happening within your premises or in your neighborhood surroundings. Using wide-angle CCTV cameras with flexible camera movements including Tilt, PAN, and Zoom, you get an extra edge to access a 360-degrees view of your property while being around or miles apart from the exact locations.
Blind spots or isolated geographies where security guards cannot be present in person can also be secured with the eye of the camera. Security guards can surveil all such locations through monitors to identify every potential security threat. Even in late-night hours or on holidays when your workplaces are the most prone to a heist, shoplifting, vandalism, or burglary, smart wireless surveillance cameras send you real-time security alerts on decoding a suspicious activity.
3. Assist police and prosecutors to track down offenders
Sadly, businesses end up losing huge capital in cases where they are being robbed, vandalized, and accused of copyrights or counterfeit proclamation. Owners or employees can prove their innocence in such cases by presenting recorded video footage. Data captured by CCTV cameras is a credible piece of evidence that helps police and lawyers get culprits behind the bars. Entrepreneurs can save their hard-earned reputation and customer trust by coming out respectfully from false lawsuits.
4. Creates a sense of security while boosting employee and customer experience
Employees and customers usually prefer working and visiting places that are safe and secure. Having multiple CCTV cameras set up at all vulnerable and high-priority spots help businesses offer better protection to their working partners and customers altogether. Citing an example of elderly customers or night-shift workers who may feel a little concerned about their safety can be assured of being fully protected under constant surveillance of wireless CCTV camera.
Knowing that the security management team is eyeing every unfavorable move of internal and external threats gives an immense sense of security to every head present at a commercial site. In return, it makes customers shop more, enhances customer and employee experience, builds a strong brand image, motivates employees to work better, strengthens business sales, and reduces employee burnout- making your workplace a happy place for all.
Signing off on a positive note
Entrepreneurs have a lot to do to scale their businesses and meet their defined goals. For this reason, they usually stay away from their business place for client meetings, vendor onboarding, etc. and their frequent absence in office may turn out disadvantageous for business. Therefore, having reliable security monitoring systems in place is a success and survival-imperative for all large and small scale businesses. And by now we hope you know that a wireless camera could be one of the best and long-term safety companions of your workplaces.