With the time intricacies in warehouse security camera operations are accelerating that is thrusting upon the necessity of having improved security systems. The pandemic situation has brought up auxiliary avenues to implement innovative warehouse security solutions. Nowadays, security concerns are not confined to ensuring the physical security of workers and products but far beyond that to control the spread of deadly virus infection. Therefore, warehouses need to embrace the smart technology that provides automatic and AI-driven recommendations, enabling employers to make informed decisions assisted by real-time notifications.
The power of automated security simulation in warehouses
Warehouses are the most significant commercial spaces where businesses store their finished products; hence, securing these areas is the top priority. Security cameras are driven by automation and AI analytics empower owners to supervise operations and ensure life and object safety in and around warehouses anytime from anywhere.
Employers can monitor multiple warehouse locations on a single display screen remotely by using advanced warehouse security surveillance solutions. These are custom-made to fulfill the requirement of various businesses and are more reliable, accurate, and faster security solutions as compared to hiring security guards.
To gain a better understanding of the security benefits of warehouse security camera, read along.
1. Remote Surveillance and Management
Warehouse surveillance involves monitoring several areas in the same timeline. With security cameras powered by AI/ML algorithms, tracking the entire floor is now conveniently possible by the installation of multiple cameras at all the critical spots. Owners can surveil whatever happens in warehouses through a live feed on a single screen using an internet connection.
2. Evade Criminal Activities
Ample criminal incidents of warehouse theft have been reported in the news for the past few years. Case in point: In 2016, cargo theft caused businesses in the US to lose over $114 million. Such incidents weigh on having an intact security camera in the system.
CCTV surveillance cameras are the best options to get rid of theft, vandalism, and intrusion. Individuals with immoral intentions lose courage by having a look at CCTV cameras.
3. Discounted Rates of Insurance Premium
Insurance policies have got your back all through your lows. Insurance premiums are indeed expensive but essential too. However, you can avail considerable discounts on your insurance premium if your business places are secured with CCTV surveillance cameras. Security monitoring systems deter the perils of crime, enabling insurers to calculate the expected risks.

4. Monitor Isolated Location
Relying on security guards for the safety of entire warehouse premises and outdoor surroundings is an illusion. The human eye cannot safeguard multiple spots altogether, so CCTV cameras come to the picture. Warehouse monitoring are efficient in monitoring the rear entrance and exit points, dark alleys, backyard, or any isolated location that can be used as a camouflage for criminals. Advanced security cameras are equipped with night vision, motion sensors, face detection, and many more features to boost the safety of workers and goods all over the warehouse.
5. Improve Product Tracing
Workplace crime conducted by insiders as well as outsiders costs over $50 billion to entrepreneurs in the US. The digits are shocking but true. Businesses need to be vigilant as their goods are vulnerable to burglary by local criminals and internal employees equally. Automated warehouse security camera send real-time notifications on detecting any suspicious activity to alleviate robbery and misconduct. Owners can optimize product tracking and inventory management by monitoring the live feed of the surveillance cameras. Besides, video records stored by these cameras are also considered valid evidence to sue culprits in court.
6. Safeguard Employee Health Amid Pandemic
Warehouse security surveillance solutions detect proximity violations when employees don't maintain appropriate social distancing. Based on AI/ML analytics, smart cameras also identify people without masks and sends prompt notifications to the monitoring staff to take immediate action against employees who infringe safety protocols.
7. Boost Cash Handling
Yes, a CCTV camera can deter the shrinking of cash and ballooning of monetary theft. Business owners can constantly track cash handling by deploying a security camera at cash counters and other POS.
8. Transcending conventional security arrangements with innovation
Most businesses admit that their warehouse operations and security managers need up-gradation and better solutions. However, they could not identify a device that is best suitable for their requirements. The dearth of product knowledge, system expertise, and a plethora of options available in the market makes the choice more difficult. In the section below, we will read about the most critical features to look for while picking a warehouse security camera.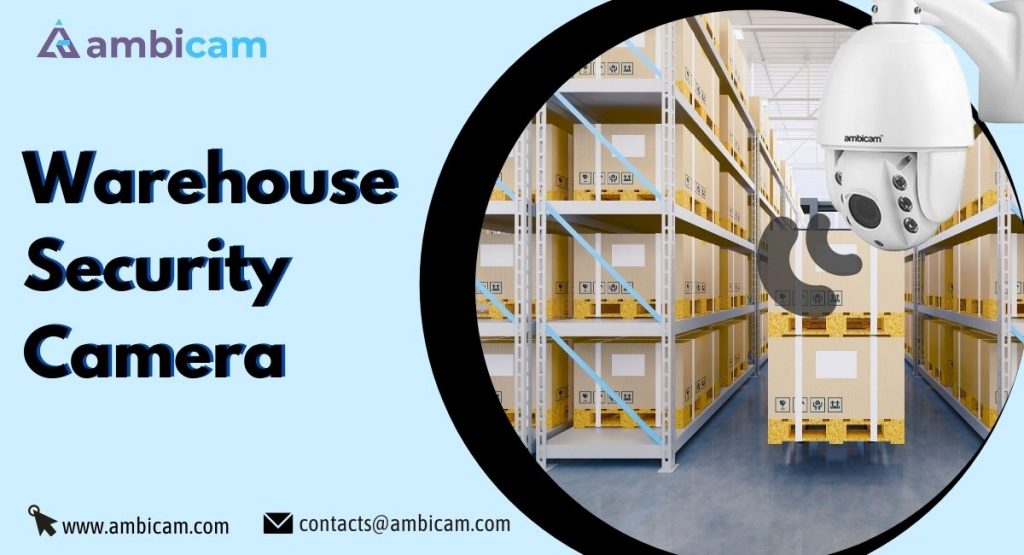 9. Round-the-clock Coverage
Most criminal activities occur in the darkness; therefore, it is non-negotiable to have a security camera that delivers a 24×7 live feed of the monitored locations. A night vision camera enhances security by broadcasting high-quality and clear video even at night.
10. High Camera Resolution and Frame Rate
Higher the camera resolution, the clearer the video quality
Surveillance cameras with good resolution and higher frame per second rate are preferable as they provide a clear view to identifying who is doing what.
11. Portable Device Tracking
In this fast-moving life, individuals prefer using smartphones and other portable devices that are tablets and laptops, to monitor CCTV footage even on the go. Search for warehouse security camera with AI-assisted analytics software and app which can be installed on smartphones. Some camera apps also come with customizing options for personalized security views.
12. Video Compression
Live footage of the whole day consumes massive data, and if you have multiple CCTV cameras broadcasting the live feed, the data storage numbers increase to the manifold. So it is better to go for security cameras that automatically compress video without compromising on quality. Compressed videos consume less space in a storage device, offering enough space for future storage.
Bring on the Security Game with Ambicam
Explore next-generation smart warehouse security cameras offering a wide-angle view, cloud storage, live centralized remote monitoring, customized mobile application, easy setup, and a lot more.
Get in touch with the team to know more.