As more and more mainstream industries are embracing the power of surveillance security systems to safeguard their enterprises and households from suspicious activities and criminal acts, VMS (Video Management system) is gaining momentum in terms of its popularity and usage. VMS these days have become an inseparable part of monitoring solutions deployed at businesses and houses.
Video Management system is a hub where footage and images captured by monitoring systems are saved, recorded, recovered, displayed, and reviewed. From managing security cameras to tracking criminal activities, and now analyzing the recorded data to convert regular videos into purposeful insights, VMS has come a long way in terms of delivering advanced solutions to industries.
Let us deep dive to know more about Video Management systems in form of its Pros and Cons:
Pros of VMS
1. Error-proof security surveillance
Blending automation with monitoring cameras enhances reliability and precision while eliminating the scope of human errors. Similarly, having an automated video management system amplifies the security of premises and people by displaying live video feed from multiple cameras on a single central system. It also helps you with instant tocsins directly on your mobiles phones, warning you of any suspicious activity happing around your property.
2. Hassle-free configuration
Most companies these days offer cloud-based video management systems that are extremely simple to configure. Users have the liberty to integrate several different cameras with one VMS by simply logging into the mobile app with valid credentials. They can further share the access to view surveillance video with multiple users through the same process. The entire configuration process can be done by yourself without the intervention of professionals and takes just a few minutes to get up and running.
3. Maintain and retrieve the record
Cloud-based VMS such as the one offered by Ambicam uses a common interface to save and retrieve data without including any additional hardware infrastructure for optimized safety. Cloud-based or local VMS maintains past recording and current videos safely in an organized way with detailed titles such as dates, time, etc. It delivers ease of retrieving data and reviewing the video for analysis. Maintained records are most useful when a person or a business becomes a victim of a fake lawsuit. Video records can help them get out of that situation by presenting valid evidence of their innocence in court.
4. Reduce overall cost
As we have discussed above that VMS does not involve the requirement of physical hardware infra or multiple software mechanisms, it automatically cuts the expenditure on purchasing different systems and their maintenance. Moreover, VMS with smart recording feature help enterprises optimizes their video storage space by intelligently recording the only video that is useful. For example, it automatically starts recording video when the door is opening or any object is being touched or tampered with. As a result, this feature collects a fewer number of videos in small size, occupying less space and reducing the cost applied on purchasing massive video storage space.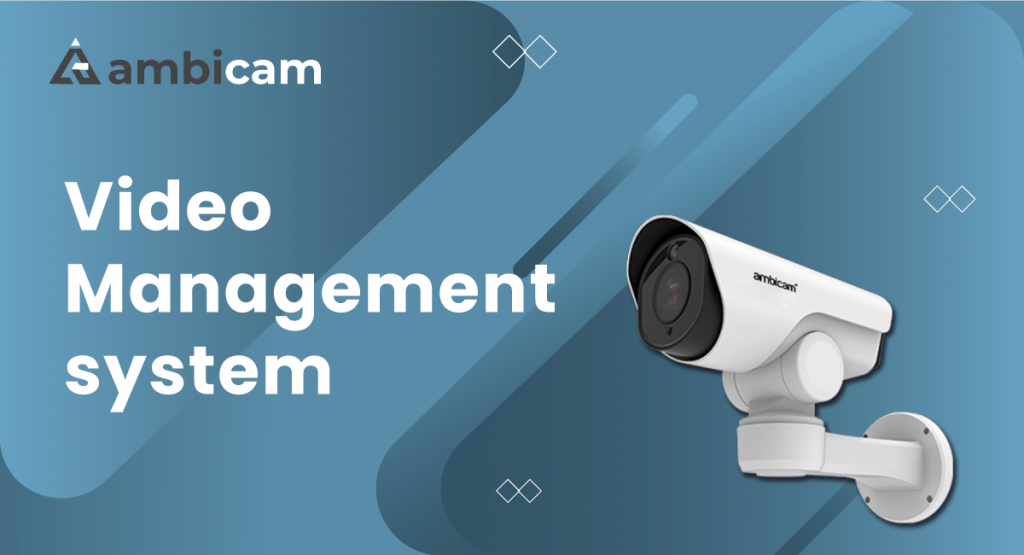 Cons of VMS
1. Restriction of integration with third-party systems
Usually, VMS appliances come with patents that lead to the limited flexibility of integrating them with a third-party system. Besides, proprietary devices and software could not be easily personalized or scaled-up as and when required by the user.
2. Vulnerability
VMS has the possibility to get attacked by hackers or other cyber-criminals. It is at high risk of acquiring bugs when installed by users on different devices to access the video. These bugs or viruses make VMS vulnerable to cybercrime that may end up in the loss or stealing of confidential data. Hackers may clone your device to fetch business insights as well; therefore, it is extremely to purchase VMS from manufacturers who promise to address these threats.
Case in point: Video Management Systems at airports majorly serve the security purpose by monitoring passengers and officials' activities all around their premises to identify unfavorable circumstances and people. While at the same time, airport staff can refer to the footage recorded through the VMS to recognize counters with longer queues, dwell time, most crowded spots within the airport premises, etc. They can use this data to streamline operations and services in order to cut the chaos and enhance passengers' experience and safety.
What does the right Video Management System do?
While choosing an ideal video management system to integrate with your video surveillance solutions, keep a check on the following:
Synchronization of the functionality of multiple monitoring tools into an integrated solution
Capable of unifying a large number of cameras deployed at multiple locations to capture live broadcast all via a single interface
Smart enough to start and stop recording according to sensor activation, for example, motion detection, object tampering, etc. It avoids the recording of unnecessary footage while saving space and bandwidth.
Allow users to gain full access to the live view of cameras distantly along with the movement controlling feature from tilt to pan or vice-versa or zoom in and zoom out.
Allow users to play or recover stored footage remotely from the archives
Flexible to sync with third-party systems such as access control, data analytics, video analytics, etc.
Capable of tagging recorded or live footage with metadata, allowing easy and quick access, searchability, and retrieval of the required video content through smart search
After putting across the meaning and major functionalities of an ideal Video Management system, the next thing we are going to explore is its pros and cons. Needless to say, that everything comes as a boon and curse at the same time in different circumstances. While we make decisions regarding a technology by appreciating its benefits, side-lining its downside is not a wise thing to do.
If you are interested to gather more information on video management systems and security surveillance systems, visit Ambicam. It is one of the top smart surveillance cameras providers in the USA and India. With an internal team of experts, Ambicam helps clients to understand the product and solutions before making a purchase from amazon, indiamart or contact us. Furthermore, it closely listens to your needs to offer you customized solutions that are best suitable to your requirements.