Warehouse monitoring and management have never been a simple task. Warehouse operations and processes have become more complex with time. Putting the fate of warehouse security further into the doldrums, the outbreak COVID-19 gave birth to invisible threats that possess the potential of mass destruction through the health crisis.
With complex anatomies, warehouses remain centred to many kinds of threats including employee security, goods security, internal theft, malpractices, criminal attacks, robbery, and much more. And now, the spread of the contagion virus is the most crucial challenge that warehouse managers are coping with. Putting together safety norms, hygiene practices, and personal awareness is just not enough when you work with a large unit across multiple departments and deal with outsiders frequently to continue working uninterruptedly.
The underlying pain points of warehouses:
Along with the problems that have been experienced and acknowledged by warehouse owners and managers, a pain point that usually stays untouched is the inability to track the occurrence pattern of such risks. And the dearth of effective warehouse monitoring solutions fuels it more.
Let us make it easier for you to understand this. Suppose your warehouse often becomes a victim of theft, that too at night and around blind spot areas. It could just be a theft or robbery of goods and money for you but for thieves, it is a strategically planned act. Blind spots are unsecured places where guards seldom reach. Such areas remain abandoned at night in particular. Warehouses generally store outdated machinery or extra stuff at isolated places to make more space for useful articles. However, to thieves, even these useless things are gold.
So, here is a pattern to the robbery. Thieves choose blind spots during dark hours to conduct a safe and successful robbery. There can be multiple permutations and combinations of criminal acts, patterns, and people who can dent your business heavily both in cash and kind. Even the reports reveal that 50% of commercial criminal cases in America remain unresolved because of the unavailability of evidence.
It is that massive!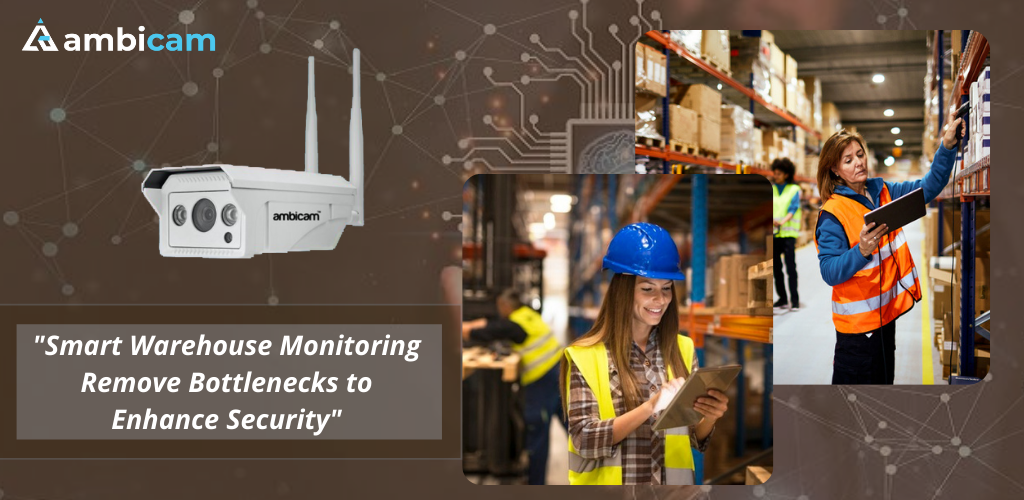 Smart Warehouse Monitoring remove bottlenecks to enhance security:
Companies know they desperately require to improve warehouse security systems and operations. But identifying a reliable solution and customizing it to their systems is the real struggle. Limited data, product expertise, huge infrastructure requirements, and many other aspects get owners stuck in the dilemma of how to remove these bottlenecks.
The advent of smart technologies has been disrupting industries with unlimited opportunities. Innovation is key to optimizing logistics and warehousing, assisting owners to make successful business decisions. Embracing smart warehouse monitoring solutions will play an integral role to thrive in this disrupting ecosystem. Today's ultra-modern warehouse monitoring cameras are one-stop solutions to all warehouse problems. These surveillance solutions drive operational efficiency, cut-down business costs, and boost the security of labour and goods.
Futuristic warehouse monitoring solutions, for example, Ambicam's Smart CCTV cameras for warehouse surveillance are ergonomically designed cameras that can be installed easily without any supporting set-up. They are easy to deploy and operate, eliminating the need for professional assistance. Equipped with wired, wireless, Wi-Fi, and 4G SIM-based connectivity options, these cameras are ideal surveillance options to secure indoor, outdoor, mainstream, and even isolated locations. You can also mount these portable cameras in vehicles to ensure the on-go safety of goods and drivers. Hence, smart warehouse monitoring cameras solve all your security problems in one go.
Automation is the future:
State-of-the-art warehouse monitoring solutions depict automation at its best. Enabled with deep learning AI/ML algorithms and smart analytics, advanced warehouse monitoring cameras deliver accurate and immediate results. It boosts the safety of people and products while increasing productivity and streamlining operations. Know how automation helps warehouse owners reap fruitful business results.
1. Real-time remote monitoring:
Get access to every nook and corner of your warehouse remotely through the eyes of the surveillance cameras. You can integrate multiple security surveillance cameras installed at various locations of warehouses into a single smart screen. These cameras broadcast live video footage allowing you to keep a track of every movement in real-time.
You can keep a watch on employee productivity, stocks, loading and unloading process, inventory management, and every process that is a part of your regular warehousing. It helps you manage operations and other business needs in a better way when you have a constant view of all warehouse activities at your disposal.
2. Immediate sensor-based alarms
Automated warehousing solutions like the ones from Ambicam come equipped with sensor-based motion, human, and object detectors. This smart feature leverages AI/ML algorithms to precisely differentiate between different types of motions, faces, and objects to send immediate security alerts to the responders. On identifying any suspicious movement, smart CCTV cameras share security tocsins through email, SMS, or app notifications to help security guards get prepared to manage the situation. While this feature is fully automated, it intelligently records videos and thus reduces unnecessarily lengthy or useless footage to save data and space.
3. Cloud storage
Smart CCTV cameras for warehouse monitoring offer cloud storage that allows you to store recorded videos, images, and audio safely on the cloud. Cloud storage can be easily accessed remotely from anywhere at any point in time. It also helps in the systematic storage of bulk data based on apt meta tags and recording details such as date and time. You can search saved videos easily using smart and customized filters for quick access in case of emergencies or revisit data for further improvement of operations.
4. Cost-saving
Automated warehouse monitoring solutions boast automatic video compression features. It consequently consumes less bandwidth and saves storage space while saving dollars that are otherwise invested in data and storage spaces. Moreover, smart surveillance cameras are a one-time investment for business owners and these solutions are extremely scalable and flexible to accommodate future business needs.
Empower business with automated warehouse monitoring
You can enjoy an abundance of benefits by adopting smart warehouse monitoring solutions and can sleep peacefully every night after that. Here are some of the most important advantages of having a reliable and intelligent warehousing monitoring solution:
Secure employees and goods from robbers, intruders
Access all blind spots, storage areas, and inventory-related activities easily
Smart warehouse monitoring and managemen
Intelligent warehouse pallet tracking and monitoring
Improve space utilization and operation processes
Reduce employee theft and increase productivity
Deters process malfunctioning
Reduces human errors in warehouse security
24×7 real-time monitoring of all locations on a single screen
Post-event evidence retrieval
AI-enabled smart functionality
Future prospect
Automation is already in full swing in the warehouse industry attributed to its multifaceted functionality and advancements. However, automated warehousing is yet to unleash its full potential in the near future when every SMB, start-up, and the existing market players will embrace it open-heartedly. Experts suggest that the warehouse-automation market is expected to touch $51 billion by the year 2030 which is quite promising. You be a contributor to this revolutionary count and secure your warehouse and people better.
For further assistance, feel free to connect with Ambicam and explore every bit of automated warehouse monitoring solutions.