The right security cameras that could record high-quality video round the clock could be an incredible asset to both indoor and outdoor security systems. With the number of illicit cases accelerating every day, it is indeed critical to deploy a multi-functional security camera in and outside the places one stays and works. Fortunately, today's market offers a multitude of innovative CCTV cameras to businesses and households alike. Buyers have an ample variety of technologically advanced security systems that promise day and night surveillance services along with multiple advanced options. If you are looking for the best security camera to meet all your safety needs, this blog may help you choose an ideal one.
Features that design the best security cameras for day and night monitoring:
1. Night vision
Security cameras with night vision come with an added advantage to boost safety as these are capable of recording and streaming clear video and images even in the dark hours. Besides, night vision security cameras deliver excellent video clarity during the daytime as well. The best security cameras are those with the key feature of day and night vision (also known as infrared) as these cameras assist the responders to identify suspicious acts at night and thus ensuring 24×7 security monitoring facilities.
2. Real-time intrusion detect
Smart cameras with AI-powered software can detect unauthorized access, intrusions, and break-ins within a fraction of seconds through live video streaming and raise instant tocsin.
3. Automatic Security-breach alarm
Smart security cameras with built-in AI features send automatic notifications through online and offline modes to alert the responders as soon as any security breaching activities are suspected in the areas being recorded.
4. Suspicious behavior detector
AI and ML algorithms timely analyze suspicious behaviors in the streaming videos and identify every single unusual activity without a miss.
5. Digital Storages
Security cameras with Cloud storage promise hassle-free data storage and zero downtime.
6. Quick and easy setup
When it comes to secure valuable assets be it a building or expensive possessions, a security system that can be set up in minutes with minimal infrastructure and hardware requirement are the first choice of consumers.
Given features combined make the best security cameras. Ambicam surveillance solutions deliver all the aforementioned features in its exclusive collection of Smart Cloud CCTV Camera. High on quality, performance, and affordability, security cameras boast in-built AI analytics software and guarantee improved security for all the surveillance areas.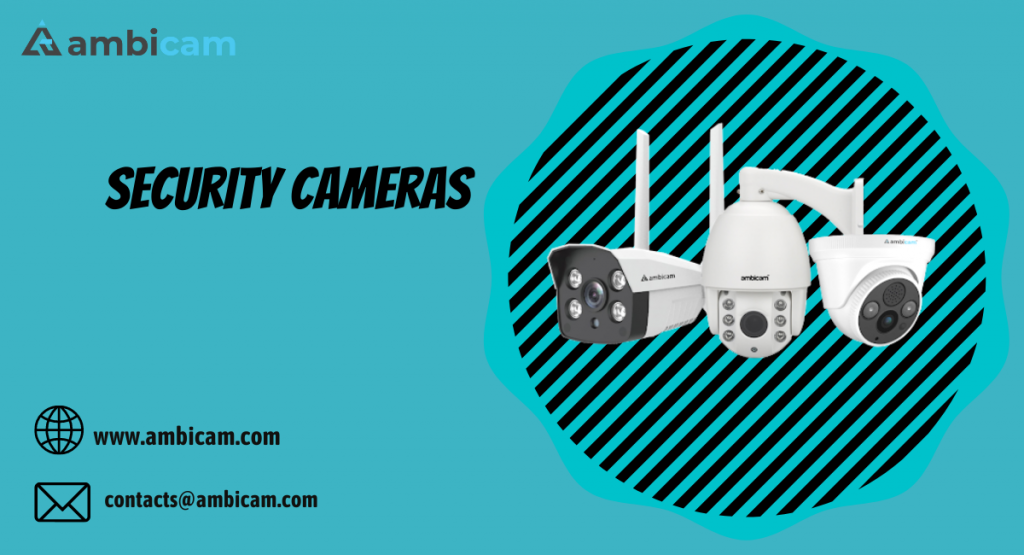 Now that we have learned the salient features of the best night vision surveillance cameras, it is time to understand how security cameras with night vision and AI analytics can help in monitoring different locations.
Advanced security systems are one-stop surveillance solutions to guard indoor and outdoor locations 24×7 all 365 days.
Let's know better about the applications of these cameras:
Outdoor Surveillance is more vulnerable to suspicious and felonious attempts. But, this is no longer a matter of concern with next-gen smart security cameras. Specific features of these devices cater to the security needs of different outdoor locations. Read below.
a. Checkpoints and crossroads
AI-driven and video analytics instantaneously identify prospective incidents such as accidents, over speeding, signal crossing, wrong-way driving, and much more through vehicle capture, accident detector, speed measurement, and other related features.
b. Parking lots and neighborhood surroundings
Smart surveillance cameras can detect improper parking, intrusions, break-in, eve-teasing incidents, garbage management, mob fighting, and a lot more. Such mishappenings can be deterred by receiving real-time tocsins through face detection, crowd detection, object detection, trip zone detection, garbage monitoring, parking detection, etc.
c. Cities and vehicles
Cloud-based smart CCTV monitoring cameras with AI analytics can help the government and public to maintain the road and public safety, and law and order. Live video streaming of roads across the cities; interiors of private and public vehicles enable surveillance authorities to manage emergencies efficiently using precise information.
d. Indoor Surveillance
Indoors are enclosed areas with heavy or no footfall, depending upon the location. Theft, vandalism, overcrowding, terrorism are a few of the most common security breaches inside a building or ground. Attributed to disruptive technology and novel security systems such locations are now under surveillance with live video streaming round the clock.
Retail stores, warehouses, schools, hospitals, airports, railway stations, banks, ATMs, houses, offices, and whatnot can be put under surveillance through portable wireless CCTV cameras. Constant indoor monitoring decreases employee disputes and immoral acts while improving productivity, time management, and coordination. Attentive monitoring of live video with night vision allows surveillance responders to find every suspicious activity on-screen even in the dark environment.
If you want to know more about security cameras, their features, and applications then you can connect with the Ambicam team. Ensure to gather reliable information on surveillance products and services before investing.