Introduction – Cloud CCTV Cameras
Cloud CCTV camera have arisen to be of immense importance to us, the society, and the public. We can use these cameras anywhere, be it at our offices, workplaces, or even homes to prevent illegitimate intrusions or burglaries. After all, security and safety are required everywhere, whether at home to keep the kids protected or at workplaces to keep the business property assets and employees protected. I will introduce you to 4G Security Cameras which are precisely designed to meet your security requirements and just so perfect and comfortable for remote monitoring and surveillance.
Ambicam has introduced a new advanced technology of Cloud CCTV Camera, which requires mostly the Internet or Wi-Fi connection to be strong and fast enough. These cameras are mobile monitoring cameras that enable live viewing and sending instant alerts. A separate mobile service is required, consuming cellular data consumption. They are best suited for outdoor open areas such as yards, farms, construction sites, and many more where Wi-Fi and power are not available.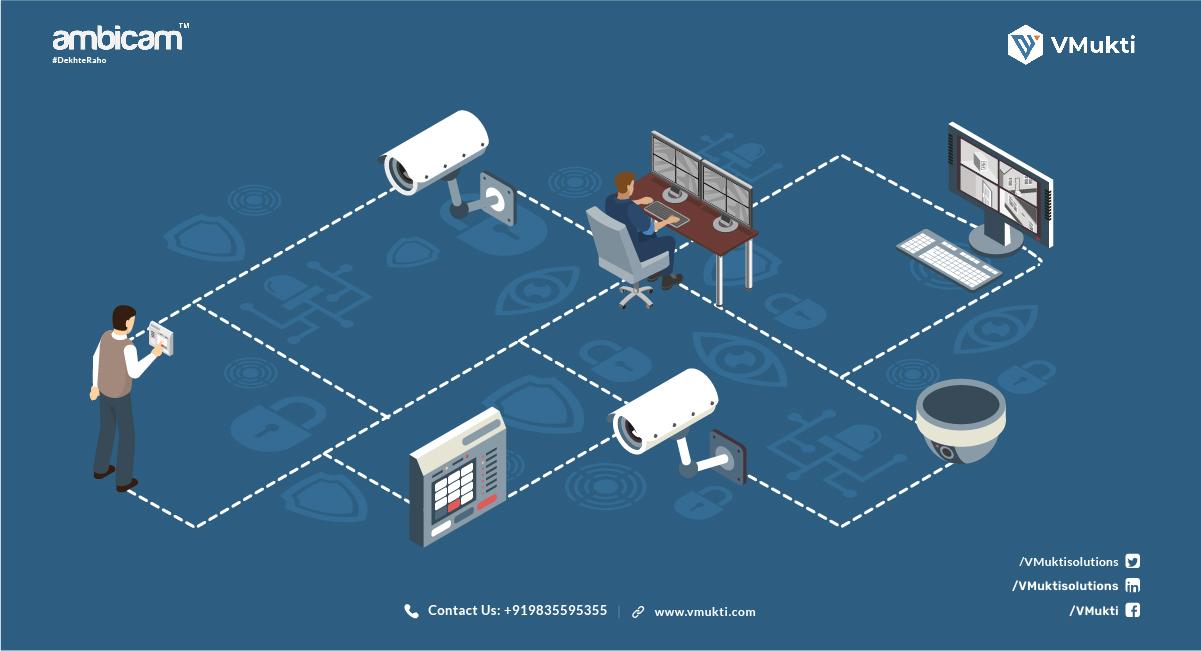 Features and Benefits for Remote Monitoring and Surveillance
Let's talk about some of the exclusive features of this fantastic technology, 4G Cloud CCTV Cameras, which makes it different from other wired cloud-based IP cameras or traditional surveillance cameras.
Some of the hardware and software related features are as listed below:
1. Weatherproof:
This camera is built weatherproof, to withstand any climate, rain, wind, or heat. It is designed entirely waterproof requiring no further protection.
2. Inbuilt GPS:
The inbuilt motion sensor immediately notifies you whenever there is any activity or threat to the camera, and the GPS enables you to locate and track it.
3. Cloud and Local Storage:
The data gets automatically uploaded to the cloud storage, which you cannot miss even if you are operating offline. Also, there is a local storage feature to store offline footage recordings, which can also be downloaded later.
4. Remote Access:
The camera comes with no controls or buttons. You can manage online through messages and avail fully managed service post subscription.
5. Live View:
You can view the activities of the area, and the footage lives and gets the footage straight into your laptop or smartphone.
6. Automated updates:
This camera regularly gets upgraded with new enhancements and features along with the monitoring service of the state of the device.
There are quite many benefits as well, offered by these cameras, as stated by Ambicam. You should be very well aware of whether why to choose 4G Cloud-based Cctv Wireless Security cameras and what will you be benefiting from them.
Affordable and Scalable: You are capable to expand or upgrade your 4G camera systems by addition of cameras at any location, free of any subscription fee. They have begun to compete in the market and have become quite affordable.
Portable and Easy Installation: They support the plug and play feature, thereby no longer requiring you to install wires and cables through walls and ceilings. Therefore they are lightweight, portable, and easy to move.
Versatile: These cameras can work almost anywhere in any environment within the cellular network. Also, they can function normally in the case of power outages.
Wireless or 100% wire-free:4G Cloud-based Security cameras are battery-powered cameras that help you with saving the cost of running wires, thereby, maintaining the original décor of the property.
Conclusion:
From the above blog, we can conclude that the introduction of 4G Cloud-based CCTV Surveillance system by Ambicam, is genuinely different from the other cameras and remarkable in itself. It is worth purchasing these cameras for your home or office security. But, the primary point which steps into this picture is your needs and requirements. There are some renowned camera brands out there joining the competition. These cameras are ideal for places supporting cell service, with no broadband connection or point-to-point wireless systems. Moreover, you get to store the playback of the video on local or remote storage and also could avail some other features like the time-lapse, online dashboard, and activity alerts.