Do you know what is the key to a surveillance system? It is cloud camera software. This software leverages AI and deep learning-powered video analytics solutions for IP CCTV cameras. Cloud camera software such as Video management systems (VMS) and video analytics together has given an all-new meaning to the surveillance industry. IP video surveillance solutions are designed particularly to address the ever-evolving needs of large integrators and original equipment manufacturers (OEMs).
Cloud camera software assists you to customize recording settings and manage surveillance, watch multiple video footage on a single screen, setting notifications for motion detection, intrusion detection, face recognition and much more. It further allows you to review and analyze recordings to fetch more detailed and purposeful information. The video analytics feature of cloud camera software offers a wide spectrum of functionalities to users all across the industries. For example, cloud camera software tailored for warehouse security can help them track anomalies like dodgy people roaming around your property during off-hours.
Enhancing security and revenue to accelerate business success
You would be astonished to know that not less than 86% of the businesses in North America avail of the benefits of cloud camera software such as VMS. Adding more to your ecstasy is the fact that VMS contributes to generating around 25% of revenue for almost 43% of these organizations.
Fascinating, right! Take a look at the fundamental functionalities of cloud camera software to acknowledge what you are reading.
Along with optimizing the safety of business assets and increasing operational quality and efficiency, VMS do:
Collect live and recorded audio, videos, and images from security surveillance CCTVs
Source recorded data automatically from different security devices
Store recorded data securely on the cloud with metadata for optimized content management
Offer an interface to users, allowing them to view recorded and live feeds at their convenience
Though we understand that new users, it is not easy to decide whether or not to adopt a new technology especially when it has everything to do with business or personal security. Myths and fears surrounding technologically-savvy business solutions need to be busted. Allow us to help you overcome this dilemma by explaining how cloud camera software lets you win over.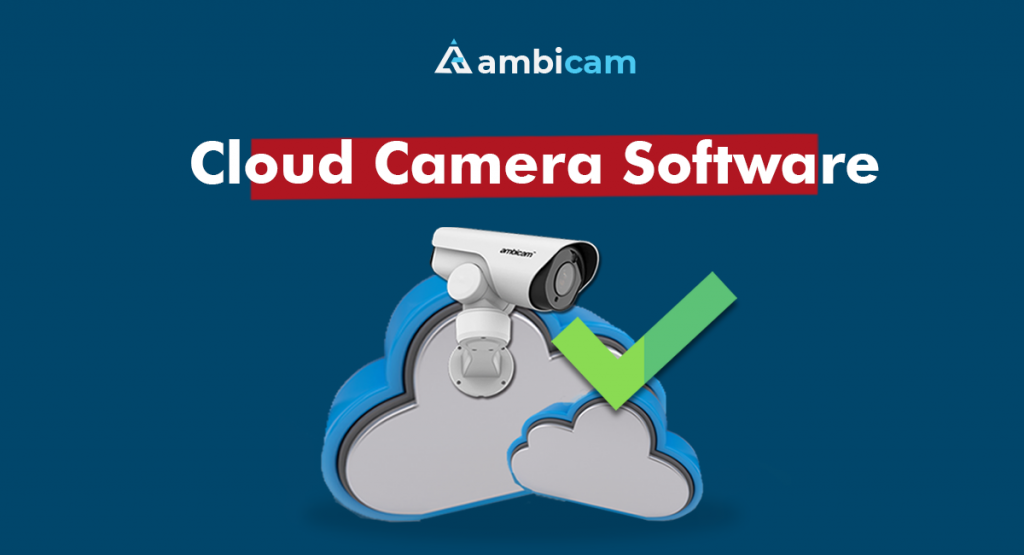 5 easy ways to use Cloud Camera Software strategically
1. Give analytics and decision making power in reliable hands:
Video management systems make it extremely easier for you to operate innovative security surveillance systems by shifting roles across departments. They provide utmost freedom to users to choose who can access their AI system. Be it an employee or a family member, owners have the flexibility to define the rules and rights of a new user based on his profile.
Case in point: Suppose your security guards are not versed with new technology and analytics. In this case, you can share access to analytics software with an IT professional in your team. He/she may use VMS and video analytics to derive meaningful reports and results for your business. On the other hand, the security guard(s) can focus primarily on monitoring the surveillance videos and pay more attention to the automated notifications.
2. Avail of automated security surveillance features for error-free monitoring:
Conventional security systems have become an old school concept replaced by advanced smart surveillance cameras with AI-driven features. VMS CCTVs, like ones manufactured by Ambicam boast deep-learning algorithms to automatically identify suspicious movements, strange faces, tampering, mask detection, crowd counting, and much more all 24*7. Cloud CCTV camera software ensures precise detection of all sorts of anomalies and raises real-time security alarms through messages and emails that are shared with security officials. Hence, by leveraging cloud camera software you can get rid of manual security errors and better protect your valuable belongings at the office and home.
3. Watch the live feed from hundreds of cameras on a single screen:
VMS is simply like a remote that you use to operate television, video games, music systems, air conditioners, etc. Similarly, video management systems act as a remote that control and operate security surveillance CCTV cameras with a single system. The added convenience with VMS is that you can use this remote without any range limitations. Video Management Systems allow you to move and control multiple CCTV cameras simultaneously while you are miles apart from the actual location. You can move cameras in different directions using PAN, Tilt, and Zoom movements to access a holistic view of your property for security purposes using cloud camera software.
4. Save storage and bandwidth with an intelligent motion detection sensor:
Have you ever imagined how much storage space can a CCTV camera consume on recording videos round-the-clock? It may end up filling your entire storage space quickly while costing you extra dollars for internet data and additional storage capacity. However, VMS CCTV cameras like that of Ambicam detect motion and subsequently record videos only on identifying movement around your premises. It ultimately reduces the frames recorded per second.
For example, a surveillance camera records more video footage of a workplace during normal working hours as employees and visitors move around to fulfil their jobs. But during odd hours when shifts are over or on holidays, VMS surveillance cameras record less number of videos because of minimum movements and hence saves space and bandwidth consumption.
5. Enjoy seamless installation along with complete data security:
VMS CCTV cameras such as Ambicam smart cloud monitoring cameras come with a simple installation and integration process that does not need any professional support. You can enable VMS on your surveillance systems using a mobile app and can enjoy the functions within a few minutes. VMS systems help you store, retrieve, and playback live and recorded video on the Android/iOS app interface. Ambicam's VMS CCTVs promise 100% data protection, safe screening, precise and accurate monitoring, and quick analytics through AI/ML-assisted analytics software.
Users can access superior quality surveillance videos, rapid search results, and video retrievals using video analytics. Boosting the convenience, cloud camera software exhibits commendable networking potential such as the integration of unlimited security surveillance systems. It helps users to watch video feeds from multiple cameras on a single network and gain a wider view of locations efficiently. The crux here is that cloud camera software delivers intelligent solutions to operate security monitoring devices on an IP-based network.
If you wish to leverage the advantages of this cutting-edge video surveillance and management technology, feel free to choose Ambicam as your companion in this. We at Ambicam are more than happy to assist you with all security-related issues.