Protecting your business is never easy, and even more challenging when you need to fight an invisible enemy along with visible security threats. The term business security at a micro-level is just not about safeguarding business products, data, infrastructure, and finances, rather it is about the overall safety of staff members, shareholders, partners, and all associated communities around. Be it a startup, an SMB (small and midsize business), or a conglomerate, a constant fear of attack by an external or internal element is what every business and owner lives with.
So what are the best solutions to track all seen and unseen threats around you and your business? A CCTV outdoor camera, probably.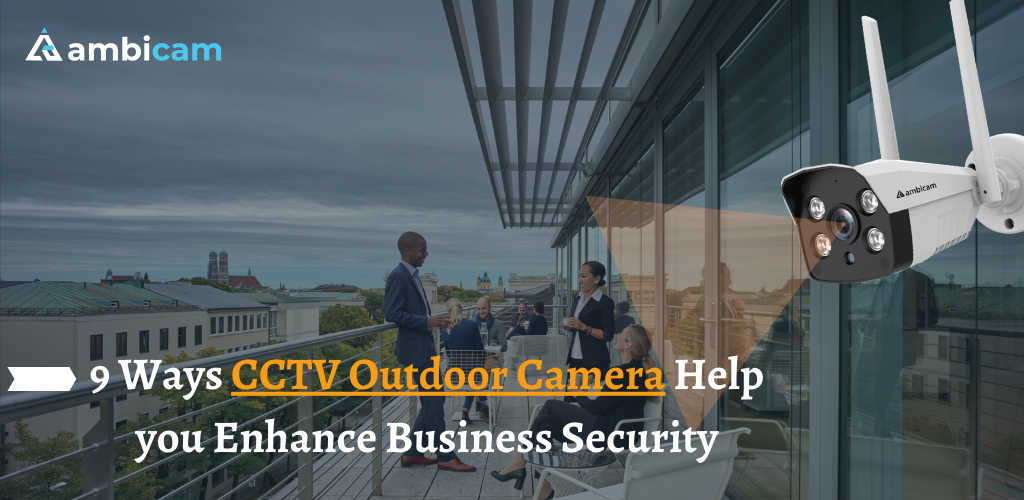 CCTV outdoor cameras with technological advancements are in great demand in all businesses spaces including retail stores, workshops, worksites, offices, fleet, and logistics, bridge engineering, etc. Every business has benefited from the digital intelligence of these smart outdoor CCTV cameras in multiple ways.
Smart outdoor security surveillance cameras are a great combination of video and IOT and the even more impressive aspect is the invention of video analytics along with this exceptional blend. The use of video analytics in the entire business universe multiplies the utility of CCTV cameras manifold. Consequently, it contributes to optimizing operations, increasing security, boosting staff productivity, and improving maintenance.
Let us delve deep to understand 9 ways how businesses of different nature can use an outdoor CCTV camera in a sophisticated manner to bring better output in their operations and safety:
1. Recognize potential threats:
Smart outdoor CCTV cameras are enabled with AI/ML algorithms that help in the real-time processing of captured videos and images. In-built smart applications in modern video security cameras have the potential to process complex video data and allow responders to identify suspicious or immoral actions. As a result, the business can plan a preventive strategy as soon as it recognizes the threat.
Use case: A security guard at an office after watching a suspicious move at the entry point can immediately stop that person from entering the office premises. Thus, eliminating the risks of further mishappenings in terms of trespassing, robbery, vandalism, etc.
Moreover, people themselves get cautious of seeing a visible camera outside a building or a shop.
2. 24×7 security monitoring:
Get a sound sleep after installing a Smart CCTV camera outside your business place as these cameras work on in-built sensors like motion detection, object detection, face recognition, etc. Smart video surveillance cameras provide great accuracy and precision in analyzing images and videos and deter the chances of false alarms. Boasting night vision and the ability to stream live surveillance videos all 24×7, these cameras help you get real-time notifications even in off-hours.
For example; New-age CCTV cameras like Ambicam Smart video surveillance systems leverage video analytics to differentiate between human movements, object movements, and the movement of a leaf or stone falling apart. Hence, raising correct tocsins with the least errors.
3. Provides purposeful business insights:
Watching an actual video of human activities, events, traffic movements, and various other things help you make better decisions rather than defining business strategies based on hypotheses. Smart CCTV cameras precisely analyze videos and images that are distorted, ambiguous, and demand careful processing to accumulate factual business insights.
Case in point: Retail stores can view captured videos and images to assess their customer behavior, age, and other demographics. This information can be translated to acquire business intelligence to redefine product assortment, display patterns, improve practices to improve customer experience, and much more.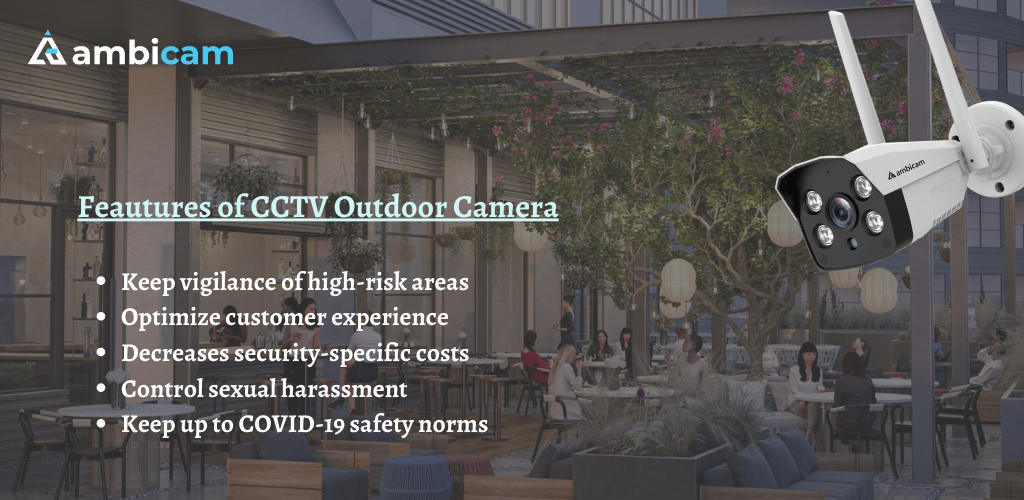 4. Keep vigilance of high-risk areas:
Modern CCTV 4G camera possess ergonomic design along with innovative features. These advantages lead to flexible and dynamic placement of CCTV outdoor cameras at prime and blind spots. Hence, offering video security arrangements to the places far off your physical access.
For example, Ambicam 4G SIM-Based Outdoor CCTV cameras can be mounted on a pole or placed anywhere without requiring any wire setup or internet connection. Under construction sites, the backyard, isolated warehouses, or any other blind spot can be monitored with these resilient and reliable surveillance systems.
5. Optimize customer experience:
Consider having a CCTV camera outside an ATM or a bank where thousands of people visit every day to make small or large monetary transactions. To them, being under surveillance both inside and outside the bank or ATM offers a sigh of relief as they know that security guards are tracking them and unfavorable elements around the place. It in return improves the customer experience and avoids potential risks of theft and snatching.
6. Decreases security-specific costs:
Businesses have another benefit of opting for a video surveillance system instead of hiring more security guards and that is cost-cutting. Manual security has a good scope of errors and it proves to be expensive as well because of the hiring cost and regular wages. On the contrary, installing video security cameras is a one-time investment, allowing you digital surveillance all day and night through the same camera.
Multiple camera setup integrated into a single monitoring screen improves security surveillance and can be monitored by one or two responders. Thus, CCTV cameras outside your commercial property offer precise surveillance, better clarity, the least scope of errors, 24×7 security – all at minimum maintenance costs.
7. Control sexual harassment:
Shameless acts like harassing someone sexually generally take place outside a workplace. To keep an eye on both internal and external elements involved in such immoral activities, CCTV outdoor cameras prove to be very effective. As these cameras possess high-definition video quality, face recognition features, and wide-angle view, they cover a wider area under surveillance. Subsequently, culprits avoid being involved in such acts when they have high chances of being recognized and caught.
8. Accumulate useful evidence against criminals
Along with your business assets, communities can also take the advantage of a surveillance camera. Whenever a crime major or minor happens inside or outside your business place, it is recorded in the CCTV camera. The video footage of that event is valid evidence against the suspect in the eye of the court and judges. You can save yourself or other people and businesses from being trapped in fake allegations by having video footage as a testimonial of your innocence.
9. Keep up to COVID-19 safety norms:
No, one can escape the impact of the global pandemic without following the safety protocol diligently. The innovative technology of CCTV outdoor cameras can be your companion to ensure that your business keeps up with the preventive norms of COVID-19.
Thermal screening outside your commercial building will help you read the body temperature of every head that steps inside your building be it an employee, guest, or visitor. Anyone with a body temperature higher than normal will be denied entry access. Besides, mask detection, people counting are some other advanced features of these cameras that help you maintain safety norms, especially, in today's times when coronavirus is hitting back as a new variant.
We hope that you got the required push to consider installing a CCTV outdoor camera outside your business place to attain all the above-defined benefits. Reach out to Ambicam experts to deep dive into the utility and relevance of smart CCTV outdoor cameras.