As a family man, an owner, a caretaker, or any role you play in your personal life one thing that is sure is the responsibility of keeping your house and family safe. While you cannot be present there every time, video surveillance CCTV for home can help you be virtually present at your place always. And it is probably the most effective, affordable, reliable, and smart solution to keep your eyes on your valuables even when you are miles away.
House help to leave your home after completing the house chores, children returning home from school, pets roaming around the hallway, a stranger standing at the doorstep, or an unattended parcel waiting for in the front yard – a smart CCTV camera at your home keeps you aware of everything happening around.
However, you can make the best use of a CCTV camera for the home only when it is strategically installed at the main surveillance spots with ideal settings. Inappropriate placement of a security camera may create a zero coverage zone or may record nothing at all, resulting in a useless device that cannot protect you or your valuables.
Hence, the right camera setting custom-made for your place and apt placement is integral to accomplishing the best results. This article would help you understand the important aspects of camera setup and settings to deliver maximum coverage and better protection.
Guide to avail the best surveillance output from a CCTV for home
1. Height is important:
Experts suggest installing a video surveillance camera at home almost 8-10 feet high. It is an ideal distance from the ground level to allow the camera to use its motion and face detection sensor precisely. Besides, this height is also away from the reach of a robber, strangers, intruders outside the home and from curious kids and impulsive pets inside.
You also need to be careful not to mount the camera too high as it would fail to record fine details of the event or people around. Moreover, the maintenance and cleaning of the device will be a huge challenge for you if the camera is placed above the suggested height.
2. Hide the camera
As the popularity of video surveillance solutions for domestic purposes is increasing, criminals are getting more conscious about the digital eyes safeguarding their targeted assets. Intruders or robbers act smart and undergo a proper recce of a place, looking out for all possible CCTV cameras that might be a hurdle in their plan. In this situation, homeowners should stay a step ahead of them and place a hidden camera at prime locations.
Hidden cameras are of a size as small as an ice cube and thus, remain missing from the visibility of criminals. Another plan to trick suspicious people is to install two cameras at a place where one is hidden and the other one remains visible. In this case, if anyone tries to tamper or destroy the visible camera the hidden one will keep on recording.
3. Go for a wire-free camera
When going out to purchase a CCTV for home, choose a wireless camera. Wired cameras are installed through a lot of cables or wires and remain within the limit of the wire length. Such cameras require wired connections to transmit the feed. They further damage walls and ceilings due to drilling and nailing and involve a lot of chaos. While on the other hand, wireless security surveillance cameras can be installed easily within the range of a Wi-Fi connection without wiring.
4G SIM-based security cameras do not even need a Wi-Fi connection as they work on a SIM card connection. Wireless security cameras provide maximum flexibility of repositioning and broadcast recorded footage through wireless signals.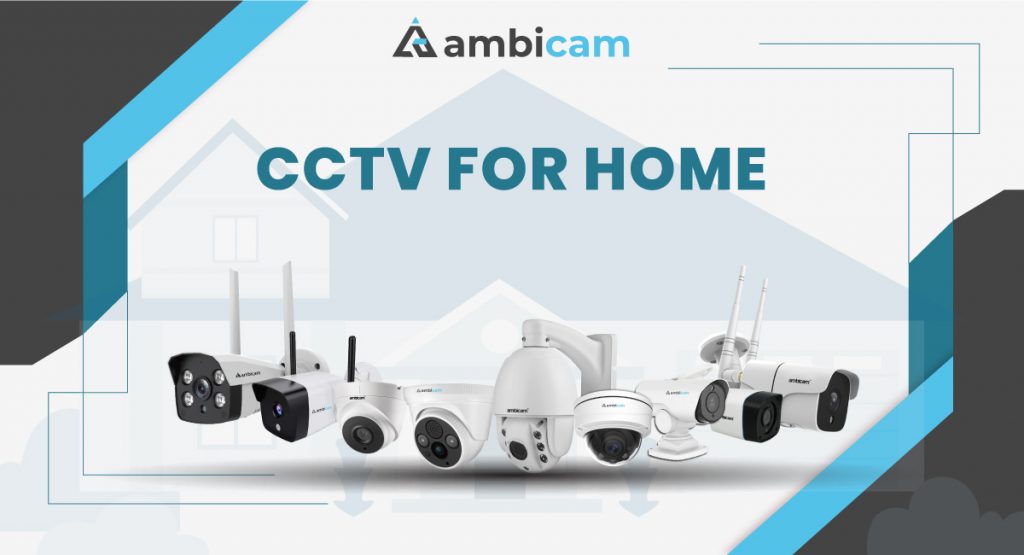 4. Identify the source of power
No CCTV camera work without power. Wired cameras run on electricity received from connected cables. Wireless CCTV cameras must be put within a range of 6-7 feet of the powerhouse. Wire-free cameras operate on external or in-built batteries. But all wired or wireless, every camera needs an individual power source to remain functional. Before installing a camera, understand the kind of power source required for your camera and make the placement accordingly.
5. Switch-on object detection mode
Smart video surveillance CCTV cameras based on cloud technology come with AI-powered advanced features such as object detection, motion detection, face recognition, and much more. Manufacturers such as Ambicam offer these smart features as scalable options within an in-house mobile app or cloud storage plan.
Owners can enable the object detection feature by setting it up through the setting menu to avail real-time push notifications to identify objects and sounds. It also helps in differentiating among human beings and objects such as vehicles, animals, plants, etc.
6. Local or cloud storage
Take your time and choose wisely between local or cloud storage for keeping the recorded data. Local storage refers to the SD card that comes with an in-built slot in SIM-based CCTV cameras. This type of storage is safe and cannot be accessed by anyone without your consent. Moreover, storage in an SD card is way economical as you need not pay any extra dollar for that. Considering cloud storage, security surveillance service providers cost additional for cloud storage. It is slightly vulnerable to being accessed by hackers in the worst cases. However, cloud storage is a more flexible and scalable option to maintain the data.
7. Regular maintenance is key
A CCTV for the home can be smart but it cannot repair itself. Surveillance systems are machines that need regular maintenance for long-lasting utility. Keep a check on the wear and tear of your monitoring cameras every month and ensure whether they are working properly or need to be fixed. Here is a mandatory checklist – make sure that batteries are working fine, verify upload speed, check for the used and free space, test AI-enabled sensors functionality, and other things suggested by the company representatives.
Replace batteries, clean storage space by removing junk and unnecessary recordings, scale up smart features or storage space if required to ensure that your security camera works to meet your specific needs. Follow these tips related to video surveillance cameras for your home and their installation to get the maximum out of its usage and benefits.