CCTV, also known as Closed Circuit Television, is a system that enables us to monitor or keep an eye on the activities going around. We can view events and activities live with the help of cameras and monitors. Recorders are used to record and archive video footage for later reference. CCTV is not an ordinary television receiving publicly broadcasted content, rather it provides only footage through the security cameras installed at several premises. CCTV Technology has been prevalent for decades. There have been several improvements, though, in recent years proving it even more effective for capturing criminals or thieves.
Since school buses transport our most valuable freight, both the school and parents must do all possible to guarantee that students arrive at and leave class safely. With the growing population and traffic in cities, managing school buses has become a frenetic procedure that necessitates a methodical approach to safely and securely transporting students. It's for this reason why so many schools throughout the world are using school bus Security Camera and GPS tracking systems.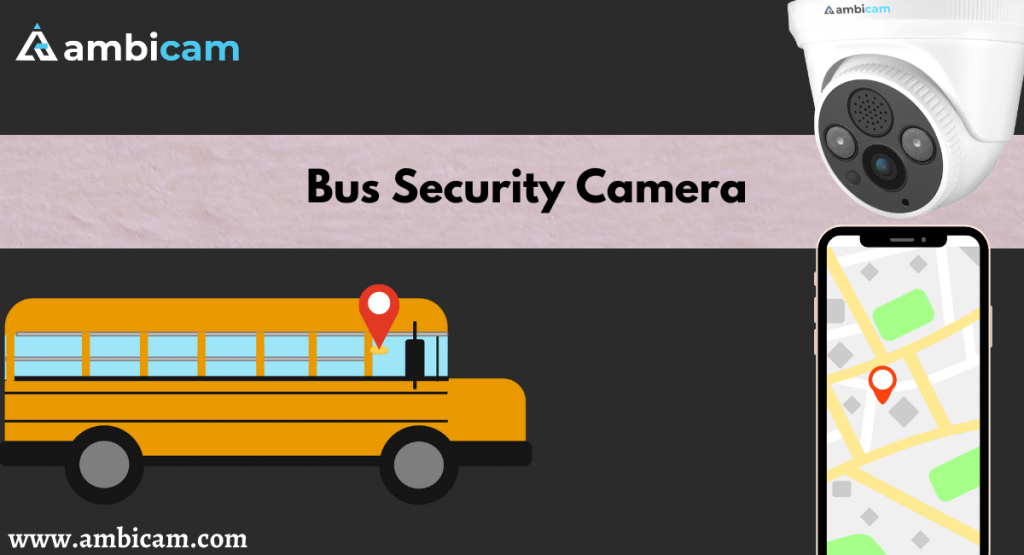 CCTV Cameras in School Buses serve many purposes which are discussed below:
1. Protection of bus: CCTV Cameras fitted outside the bus can help in monitoring the violation of traffic safety rules by other vehicles. There is a special set of traffic rules and regulations to be followed in the case of school buses and other vehicles, similar to in the case of the ambulance. One primary reason for CCTV Cameras is to detect the malicious activities and behavior of other vehicles and drivers.
2. Protection of school children: The behavior of children can be monitored by the driver behind his back.
3. Video Analytics: In-camera Video Analytics is an advancement in technology enabling the efficiency of camera security systems by bus, especially through license
4. Plate technology: These cameras recognize car license plate numbers which make catching the violators even simple.
5. Remote Monitoring: CCTV Surveillance systems in buses have complete video and audio recording. The tapes record the bus on its routes and can be reviewed or removed at the end of the day. A wireless IP system can instantly transmit violations footage making it easier to issue tickets to offending drivers.
 CCTV Camera in School Bus Security Camera
The safety of kids is a predominant issue in our society. Concerned guardians and parents ensure to provide the most secure environments for their wards, including the time they spend on transit to and from school. School buses barge the majority of kids across our country and surveillance has become a mandatory part of any school transport system now. Safety is an extremely essential element of a school bus as they are responsible and charged for transporting millions of children to and from school each year.
Key Features of a School Bus Tracking System
You can't rely only on your bus driver and conductor when it comes to the safety of tiny human lives. These aspects of the bus tracking system will let you realize that this isn't simply another investment, but a supplement:
a. Real-time tracking: Keep track of every bus in your asset in real-time.
b. Customize the route: Set your pick-up and drop-off locations and find the best route for the buses.
c. Geo-fencing: Get notified when the bus departs a specific region. Understand the bus's location about school stops.
d. In-app Chat: Stay in touch with both parents and drivers and close the gap in communication.
e. Speed Control: Set a goal speed and receive SMS alerts if the driver exceeds it.
f. Smart attendance: Use AI analytics for headcounts, student counts, and bus noise alerts.
What is Live Tracking Software for School Buses and How Does it Work?
A real-time school bus tracking system is a customized geo location software that combines GPS, GSM, and RFID technologies to connect school authorities, school transportation systems, and parents/guardians, allowing them to track school buses and children at any time along the predetermined path from school to home. You may bring automation and control of your complete school bus operations on a single platform by implementing this solution.
Why are GPS Tracking Systems for School Buses Crucial for Parents?
Gives you peace of mind: As parents, you are constantly concerned about your children's location till they return home. You can now have ease of mind when there would be a GPS tracking system in your ward's school bus. You will be able to determine the cause of the delayed school transportation by receiving real-time updates via a tracking system.
Awaits are avoided: You won't have to wait at the bus stop for hours because you'll know when the bus will arrive. So, there'll be no more physical strain!
Notifications, Alerts, and Reports of Immediate Importance: Parents receive critical information regarding bus delays, bus breakdowns, route diversions, unplanned bus stops, and emergencies via urgent SMS alerts and notifications. As a result, you won't have to phone the school every minute to verify the bus status.
Why is a GPS Bus Tracking System Required in Every School?
1. Handles safety concerns:
Schools place a high priority on the safety of their students. According to a Stanford Children's Health Study, around 17,000 children are treated in emergency rooms in the United States each year after being harmed while riding, getting on or off, or standing near school buses. There is no room for error when it comes to transporting students. Safety concerns can be intelligently addressed with a GPS-based system in place.
2. Optimization of Routes:
There have been numerous reports on the news about kids being stuck on the bus for hours or being dropped off at the incorrect destination. The GPS tracking technology aids in taking the quickest or most optimized route for buses to save time and adhere to the timeline consistently by taking into account all of the stops.
3. Ensures driver monitoring:
A GPS tracking system provides information on the bus's speed, acceleration, braking, and turning off. These details allow you to determine whether the driver is driving safely and adhering to the regulations of the road. Furthermore, the ongoing real-time surveillance prevents the driver and bus crew from taking chances.
4. Effective monitoring with surveillance cameras:
We offer one of the top school bus GPS systems in the market, along with 3G/4G/Wi-Fi-enabled cameras for data storage and video management, which aids in enhancing accountability and analyzing safety concerns. It also aids in the resolution of student behavioral difficulties. With cameras installed, it's easy to see what happened and what led up to an incident, allowing school authorities to effectively handle the problem.
5. Serves as a Reliable Record:
It keeps track of information about each vehicle's activities. The information acquired from the tracking system is accurate and trustworthy. It keeps track of children in case they go missing. The database can be utilized to locate the situation.
6. Savings and efficiency:
Bus tracking can help in saving money by reducing the amount of money wasted on unnecessary fuel and maintenance expenditures. Fleet tracking helps reduce wasteful miles traveled, enhance route efficiency, and eliminate unnecessary idling time, all of which contribute to lower fuel costs. This will result in increased efficiency and savings.
These benefits have made real-time GPS school bus tracking extremely popular in Middle Eastern countries such as the UAE, as well as Europe and the United States. It's also gaining traction in Asian countries as more individuals discover the value of using GPS School Bus Tracking software.
Conclusion
From the above discussion on the significance and merits of the installation of CCTV Cameras in school buses, we conclude that they are a source of ensuring safety and security for school children. CCTV, also known as Video Surveillance, make the use of video cameras to transmit a signal to any specific place through monitors. There are many places where CCTV Surveillance is applicable, such as in public places, hospitals, banks, and schools.
The technology is still improving, and we may see a lot more innovation in IOT-based school bus Security Camera in the next years. And Ambicam can anticipate that this technological intervention will assuage parents' concerns about their children's safety. For more details Contact us Now!