COVID-19 has hit back with yet another new variant and the world is again preparing itself to give it back to the deadly virus with all the courage. Social support, emotional intelligence, high-tech healthcare systems, altering working protocols, and safety measures, all are crucial weapons to combat this pandemic situation. However, we are still hopeful that this chaos will soon come to end but we are yet not there. Innovation in technology has been integral to thriving in new realities. Thermal Imaging Camera particularly has been the finest example of innovative technology in boosting workplace and public safety against COVID-19.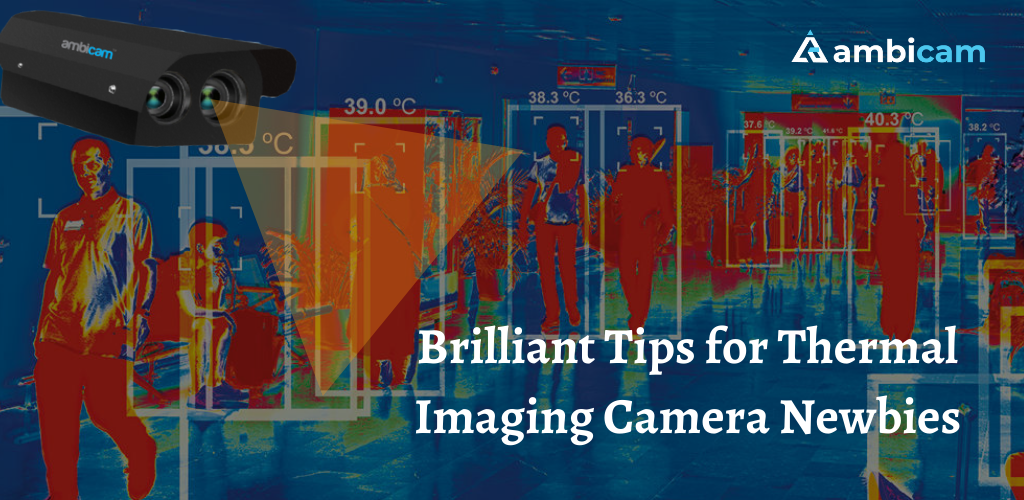 One thing is clear that the world can't be locked down every now and then to control the contagion spread, and there ought to be a better plan to manage such a public health crisis. Thermal imaging cameras are integral in controlling the contraction of coronavirus infection. Since the beginning of the current pandemic, a massive splurge in the utilization of thermal imaging solutions has been witnessed. Malls, retail shops, airports, workplaces, hospitals, railway stations, or any place with a good number of footfalls have been leveraging the thermal imaging camera to measure human body temperature.
As we are amidst the third wave of the COVID-19 pandemic and the mainstream is operational, many new players in the markets across industries have emerged. They primarily should consider embracing this innovative and accurate technology to protect themselves and their people against the deadly virus by identifying the potential infection threat.
However, it is extremely crucial for newbies to know that thermal screening cameras are multipurpose cameras that can be used for various other purposes such as:
Outdoor thermal imaging cameras to track trespassing, intrusions, or suspicious activities around restricted areas.
Thermal cameras can be used to perform non-destructive testing of structures of buildings.
Portable thermal imaging cameras can be used to detect the body temperature of humans, animals, and surfaces.
Explore the advantages of a thermal screening camera
A myriad of benefits is offered by thermal imaging cameras to the installers and the end-users akin. Let us delve to know about them:
As people worldwide are back to their regular work, body temperature detection diminishes the risk of virus spread because high body temperature could be a possible symptom of being infected. Even if it is a false alarm, it is worth a precaution.
Helps in building a workplace that promotes employee wellbeing, while ensuring that the indoor environment is safe for them.
Remote monitoring of people and places offers added security amidst COVID-19
Assists in adhering to the COVID-19 safety protocols by automatically detecting violations of social distancing, people without masks, and overcrowding.
Enabled with deep-learning algorithms, these cameras instantly identify elevated body temperature and raises real-time alarms to alert responders
Deter crime and enhance the safety of buildings and people by accurately recognizing abnormalities, intrusions, forced entrance of strangers, tailgating, etc.
Using AI analytics, thermal screening cameras intelligently differentiate between human, vehicle, animal, and object movements and limit the scope of false positives.
Creates a database of employees by enrolling their faces to precisely recognized staff members, vendors, registered customers and visitors, while restricting entry access to unknown faces. This feature also streamlines complex processes such as marking daily attendance or monitoring people entering into restricted areas, etc.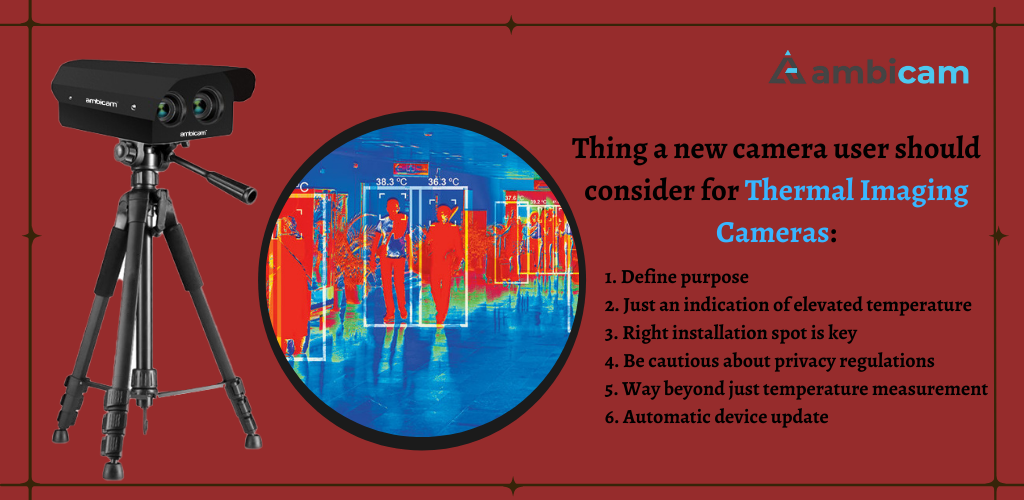 Let us now hop on to the thing a new camera user should consider for thermal imaging camera:
1. Define purpose
As a thermal imaging camera can be used for various purposes, it is quite important to understand the requirement of purchasing the same. The camera can be installed on your premises or outdoors. Clarity of purpose will assist you to buy the most suitable camera for yourself along with identifying an effective installation strategy for the device.
2. Just an indication of elevated temperature
While thermal screening cameras are very effective and accurate when it comes to measuring body temperature. But, in context to the COVID-19 situation, thermal screening can be used only to identify temperatures higher than the normal measurement but it is not a technique of medical diagnostics.
3. Right installation spot is key
You need to be very careful about the surroundings where a thermal imaging camera is deployed as it is extremely sensitive to environmental conditions. Let us suppose, a thermal screening camera is installed at a spot that is exposed to direct sunlight. In such a case, the accuracy of the measurement of the body temperature decreases by approximately a difference of +/-0.3 – 0.5 degrees Celsius.
4. Be cautious about privacy regulations
Employees and customers may feel that a business is spying on them and invading their privacy, therefore, it is advised to keep the communication absolutely clear. Specify the reason and purpose for installing thermal imaging cameras inside and out of your property, allowing them to understand the relevance of maintaining their temperature record. Clear communication helps businesses avoid internal drip with employees and customers.
5. Way beyond just temperature measurement
Apart from assisting users to detect people with abnormal body temperature and restrict their entries into the premises, thermal screening cameras are quite good at offering video surveillance solutions for the holistic protection of lives and properties. Thermal screening cameras come with built-in AI-enabled algorithms that help detect motion, masks, social distancing, crowd, and even human and animal faces.
6. Automatic device update
Another good thing about an advanced thermal screening camera is its built-in GPU system, making it compatible with more advanced or updated algorithms that will be used in the future. Hence, thermal imaging cameras are a one-time investment that can be your long-term companion in securing your assets from visible and non-visible threats.
If you are searching out to buy a suitable thermal imaging camera that may fulfill your security needs, you can consider Ambicam thermal screening solutions.
Ambicam is one of the highly recognized surveillance security camera manufacturing brands that design next-gen smart CCTV cameras. It offers a variety of advanced thermal imaging cameras to the customers through high-tech features such as:
24*7 live monitoring
Body temperature measurement, mask detection, face recognition through AI/ML algorithms
Easy to enroll a huge number of faces
Measures body temperature within a second
Protects schools, hospitals, offices, hotels, malls, shops, etc. against COVID-19 risks
Zero-content body screening with precision
Maintain and share employee records easily
Hassle-free DIY installation process
Full HD video streaming
Support storage of up to 5000 records
Final thoughts
While we cannot control the outbreak of COVID-19 or its new variants, we can definitely stay cautious and do our bit to avoid the contraction and spread of the disease from us to others. Advanced technology such as thermal imaging cameras can be our savior to reduce the pandemic risks. Let us gear up to protect ourselves with the help of technology and pray for the good ahead.
Stay hopeful because hope sustains life!