Ambicam is synonymous with innovation. Innovation amalgamated with the finest of technology and user-friendliness in the field of surveillance and security. We takes pride in being one of the leaders in offering sophisticated yet economical Best CCTV Camera. With exclusive security solutions, It has reinvented the way surveillance monitoring works. The brand delivers premium Cloud cameras for retail and enterprise to better safeguard their properties and valuables.
Security devices are next-generation Full HD Smart Cloud CCTV Cameras powered by AI and ML algorithms.
Ambicam has added myriads of milestones to its business portfolio for providing world-class remote monitoring solutions in both public and private sectors. These smart security cameras have been efficiently monitoring over 35 million people worldwide remotely through cloud infrastructure.
These future-proof techniques and offerings are here to stay, preparing the world to sail through the new normal and buck up for the next normal and afar.
Ways To Simplify Best CCTV Camera
1. Offers smooth, compatible, and reliable handling
2. Requires less space and equipment for installation
3. Provides seamless auto-functionality for user-friendliness
4. Needs minimum manual intervention for operations
5. Hassle-free set-up without any additional hardware
6. Delivers in-built smart intelligence in all the cameras
7. Offers multiple installations and mounting options such as tabletop and wall mounting
8. Consumes considerably less bandwidth as a meagre 20kbps is sufficient for high-quality live streaming from remote     locations
9. Supports 2G/3G/4G mobility internet
10. Provides wireless camera with 0-180 degrees wide angle
11. Offers SD card support
12. Provides two-way audio for better communication
13. Delivers low power consumption, cost-effectiveness, and ease of operations
14. Multiple devices, single objective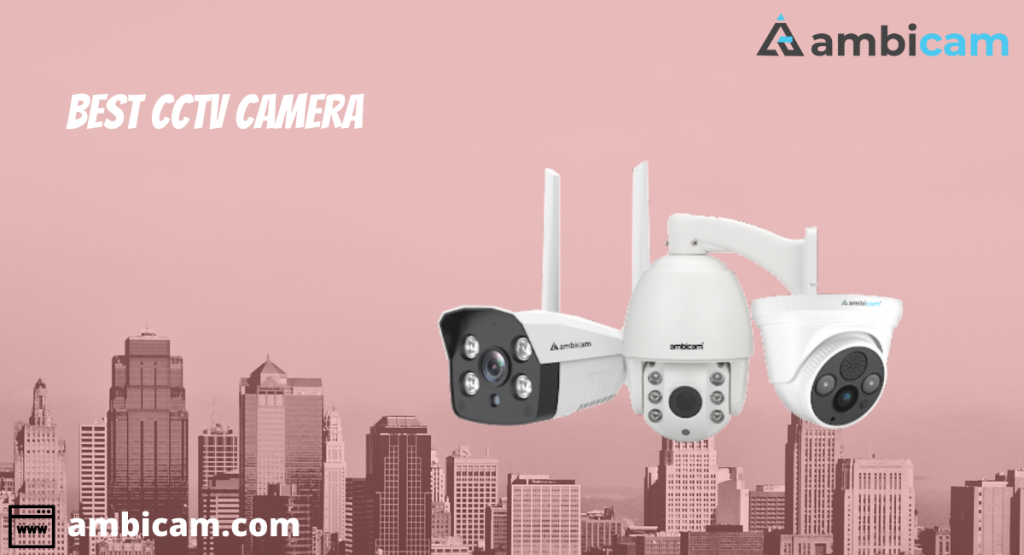 AI Offerings relevant to all the timelines – Yesterday, Today, Tomorrow
Since its inception, Ambicam has been protecting businesses effectively with its cutting-edge technology integrated into smart security cameras. These high-grade AI-powered surveillance Cameras have always been a reliable option to mitigate potential risks through Advanced motion detection, Tamper detection, Human detection, Loitering, Line crossing, ANPR, People counting, Object removal detection, and a lot more.
Even today when the whole world is struggling to stay safe from the contraction of deadly coronavirus infection, these Best CCTV Camera with video analytics are playing a technologically heroic role. Taking all necessary sanitization and social distancing measures is survival imperative in the present time and smart surveillance devices assist businesses to ensure that the staff and visitors in their premises are following the precautionary steps. Ambicam's innovative offerings of VMS and VAS raise instant tocsin in real-time through features such as Face detection, Mass detection, Headcount, Proximity alert, etc. Hence, it significantly contributes to the prevention of COVID-19 spread by assisting businesses and the public akin.
A commitment of quality and scalability for partners' success
Ambicam is a globally renowned security camera brand, delivering hi-tech operating systems, an app store, and a conforming development setting – matching up to the global quality standards. The success of this brand banks on the success of its clients that are widespread across the industries including BFSI, education, hospitality, media, healthcare, retail, and PSUs. Its customer-centric business model strives to apprehend the unique requirements of each client and thus deliver customized security solutions that meet customers' expectations.
The brand seamlessly touches upon three prime prospects of innovation, flexibility, and scalability – success majors – for every business through its smart surveillance devices. Compatible with 2G/3G/4G, Ambicam's CCTV surveillance cameras offer more than 97% uptime performance along with brilliant video quality at up to 96% lesser bandwidth.
These cameras with a plug-and-play functionality enable businesses to track live video feeds of multiple locations at anytime from anywhere using the brand's in-house app on mobile, laptop, or tablet. Be it a warehouse, parking lot, retail store, home, vehicles, or office, any place can be secured well, installing these portable FHD CCTV cameras. Such features not only add value to the security optimization of a business but cuts down the cost, time, and effort invested in installing and setting up video monitoring systems.
Revolution! Revolutionizing the surveillance and security domain is the only motive, encouraging  to deliver one-of-its-kinds products and services. The brand is focused to bring forward highly competitive products, assisting its customers to perform through its innovative services. Ambicam aims at empowering businesses with unique monitoring solutions to set up a win-win approach for mutual growth and stability.