Security surveillance is the fundamental necessity for every public place, commercial center, household, and public vehicle throughout the world. The accelerating crime rates have increased the need of installing a resilient video surveillance system multi-fold while the global pandemic situation has enforced the establishment of remote security solutions.
An effective remote video surveillance system is the best solution to protect all things valuable from theft, intrusion, and other sorts of crimes along with the physical safety of people and security guards from visible criminals and invisible contagious viruses.
Securing isolated locations is the real challenge
Even if we talk about having an intact remote security surveillance CCTV camera, not every monitoring camera can ensure the security of far-fledged or isolated assets. Properties in remote locations or some particular spots in the main city with zero or no network connections still pose the challenge of being monitored through most security cameras.
In such cases, a 4G camera is a savior. Video surveillance cameras with 4G SIM-based technology work independent of any cabled or router-connected internet such as landline or Wi-Fi. 4G SIM-based cameras come with an SD card slot and operate on the internet connection based on 4G IoT-enabled technology. These cameras help owners safeguard their belongings in strategic as well as isolated locations by overcoming the limitations of conventional networks.
Best SIM-based Security CCTV 4G Camera in the USA Market
We have handpicked some of the best 4G SIM-Based Smart CCTV cameras with cloud technology to make it easier for you to choose an ideal one. Defined below are the 4G cameras manufactured by Ambicam, a leading security surveillance solution provide in the USA.
1. Ambicam 4G Dome PTZ SIM-based Cloud Camera
This 4G camera is best known for providing a wider range of coverage with PTZ technology. The viewer can access live footage from the field/area under surveillance through PAN and tilt movements along with a higher capacity of Zoom out functionality. Responders can get a detailed view of criminals, suspicious objects, or unfavorable events by zooming out on video footage or still images captured by the camera.
The camera stores bulk recordings of 24×7 surveillance videos on the cloud for better security and easy search ability.
Ideal to install at: Factories, hotel premises, basements or parking lots, shops or warehouses; Salient features
2.0MP Full HD videos
6 Pcs IR LED for night vision
360-degree panoramic view angle to cover areas with a distance of 40-45m
Support up to 128GB SD card storage
24×7 live feed with local and cloud storage
Mobile app and Web VMS to access live view
Auto-focus lens and 4xZoom
Low data usage and H.264 video compression
2. Ambicam 4G Dome SIM-based Cloud Camera
It is an ergonomically designed static camera offering a holistic monitoring view of the entire area under surveillance in high-quality resolution. Extremely easy DIY set-up, auto night vision mode for clear visibility all 24×7, reduced bandwidth consumption, automatic video compression, and much more interesting features of this camera make it a perfect choice for indoor and outdoor security surveillance.
Ideal to install at: Public and private vehicles, remote locations, school buses, fields, and construction sites; Salient features
Motion detection sensor
SD card and cloud storage
Mobile view on iPhone, iPad, Android
Supports 4G/LTE SIM of any network operator
2.8/3.6mm fixed lens
2.0-megapixel FHD camera
3. Ambicam 4G Bullet SIM-based Cloud Camera
Keep track of all the movements and entries in your premises with Ambicam 4G Bullet camera. It works effectively round the clock and broadcast live video footage alongside real-time push notifications for more reliable security surveillance. The camera integrates easily with multiple devices through a mobile app to access video streaming remotely anytime from anywhere.
Ideal to install at: Vehicles, farmhouses, and isolated properties, public buses, warehouses, homes, offices; Salient features
Consume low bandwidth by compressing videos automatically and save costs
Comes with dual storage options of SD card and cloud
DIY installation and portable design
IR support for night vision
The fixed lens of 2.8/3.6 mm
7 reasons to embrace Ambicam 4G camera :
Sturdy and robust to stay functional even in extreme weather conditions
Store bulk video safely on cloud or local SD card for instant search and sharing
Wireless set up within 60 seconds
Uninterrupted live feed on various devices all together
Highly scalable
Created from industry-grade material for durability
Feature smart data analytics and AI/ML algorithm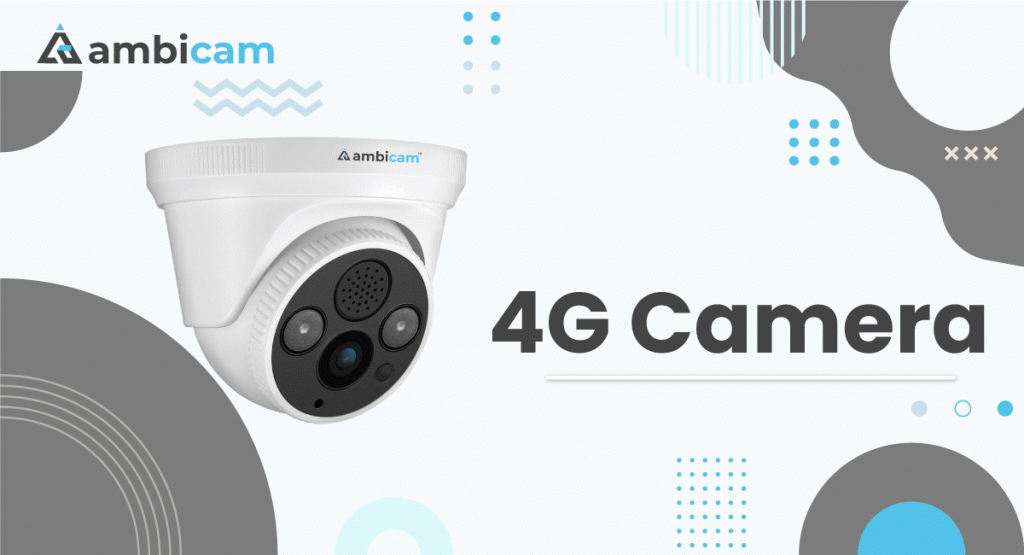 4G technology and its enablers
4G is a next-gen wire-free connectivity technology with the potential to integrate multiple devices all at once. It increases the connection speed manifold, improves latency and dependability while decreasing the power consumption considerably. In the past few years, myriad factors have given a boost to the acceptance of 4G technology. These are:
Enhancements in cloud computing
The increasing number of connected devices and apps with the appetite to accumulate maximum data
Accelerating need for data-enabled solutions, real-time analytics, AI-based push notifications, etc. for quick and better decision making
Economical internet packages and proliferation of smart devices
4G Camera for indoor and outdoor protection
In the absence of a cabled bandwidth connection or pin-plugged wireless connection, cellular connectivity plays an integral role in connecting devices. Similarly, 4G LTE cellular security cameras develop sustainable and successful connections with display devices to access the live video. These cameras can be feasibly installed inside and outside of the property for reliable security surveillance.
Applications of 4G Cameras:
Isolated properties
Under-construction buildings
Wildlife studies
Vehicles
Cities
Public places
Traffic signals
Role of 4G technology in improving security surveillance
a. Connects IoT devices in a better way on a real-time basis to promise higher degrees of safety through automatic security tasks such as constant scanning of locations to identify possible crimes
b. 4G connected devices gather many forms of data (voices, videos, images) and translate it into useful information, allowing security authorities and businesses to leverage the information to make informed decisions
c. Devices connected through 4G technology deliver process controls in real-time to maximize operational flexibility and scalability along with more accurate security surveillance based on AI and ML algorithms
Know everything about a 4G security camera from experts; connect with Ambicam to get more insights on relevant products.