The presence of CCTV security cameras dominates the business landscape and personal space akin. The sense of being under surveillance and monitoring distant valuables gives a huge relief to all of us as it creates a protective realm. New-age video security systems are designed with innovative features and thus offer enhanced security to humans, objects, animals, properties, and cities.
If we delve into unveiling the benefits of CCTV security cameras, we would not stop at a few as surveillance security cameras are multi-function. These devices are not just confined to delivering protection through broadcasted video and rather contribute to improving the overall management of the places of application. The finest range of video monitoring cameras such as Ambicam Smart Cloud CCTV cameras with their advanced technologies and smart analytics increase the functionality and utility of installing security cameras multi fold.
Let us understand how superior quality video surveillance cameras make a difference in improving the overall security of homes and workplaces. Particularly in the context of CCTV security cameras manufactured by Ambicam, multiple benefits are offered to the users that are explained in the next section.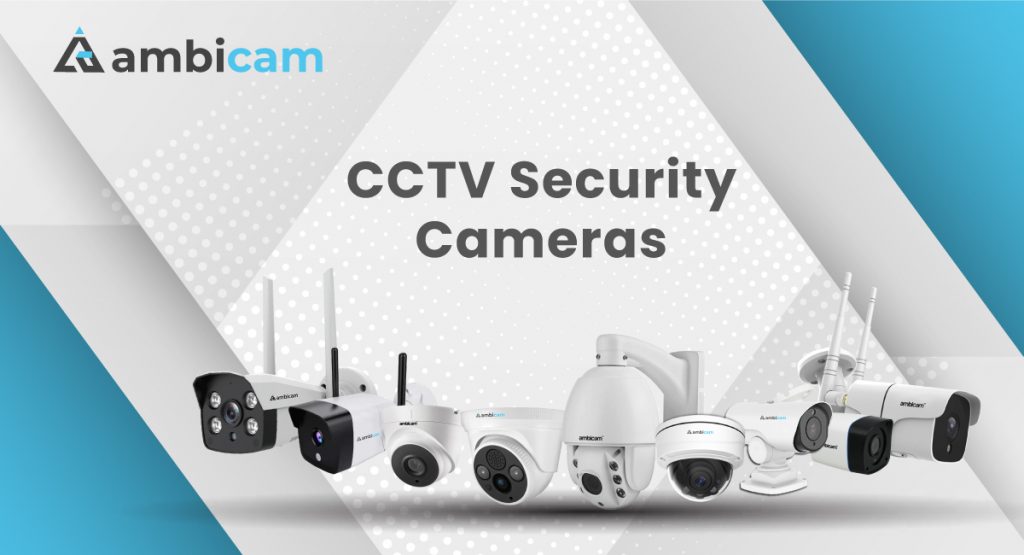 Advantages of Ambicam CCTV Security Cameras:
1. Regulate crime:
CCTV cameras by Ambicam offer round-the-clock video surveillance as they broadcast live video and images of high quality. Responders can monitor every activity happening at their homes or office through the eyes of these smart surveillance cameras all day and night. CCTV features such as night vision, full HD resolution, zoom-in allow users to find every minute detail with clear visibility, allowing them not to miss out on any movement.
Users can monitor all indoor and outdoor activities through these cameras at any time while being at any place on the earth. By gaining the visibility of property and people, users can identify every suspicious movement and can take necessary steps to deter criminal activities such as vandalism, robbery, intrusion, etc.
2. Receive real-time alerts:
Ambicam CCTV security cameras come with smart video analytics that work on AI-based algorithms to identify unfavorable conditions. These include detection of object tempering, unrecognized faces, over speeding, wrong parking, and much more. In identifying such a situation, the advanced monitoring cameras raise instant alarms and send notifications to the security personnel through messages or email. It warns responders about suspicious actions and helps them take preventive actions immediately.
3. Track multiple locations on a single screen:
With Ambicam in-house mobile app you can integrate as many cameras as you want into a single device such as mobile, laptop, or tablet. It allows you to monitor multiple locations simultaneously. For example, you can keep an eye on your home, farmhouse, office, parking lot, warehouse, or any other place with a CCTV camera all through a single platform. Moreover, users have the flexibility to share surveillance videos and monitor access to other users at their convenience through the app.
4. Tape events and collect evidence:
Understanding modus operandi or identifying the criminal remains a fluke until you have concrete evidence or documentation of an event or suspect. In such situations having a CCTV camera installed at your home or commercial property is of great help. Video evidence is the most reliable and realistic evidence against a culprit to sue him for the attempted or committed crime. Besides, these recordings help owners find the security loopholes and vulnerable spots of property to fix them with better safety management.
5. Identify strangers and manage access:
Face recognition is a built-in feature of Ambicam cameras that enables the CCTV to automatically allow and restrict entry access to known and unknown faces respectively. Those employees whose personal and official details are stored in the camera intelligence get access to the permitted areas according to their departments and work profiles. While unknown faces get to connect with the responders to get entry to a person or official space inside a building.
6. Monitor staff activities:
It is next to impossible for the employer to track what each employee is doing. Therefore, having a CCTV camera in place allows owners to watch if employees are on their working desk during job hours or if they are involved in malpractices such as shoplifting, data theft, etc. On the other hand, when employees know they are under surveillance they tend to be more conscious about their behavior and actions.
Thus, CCTV security cameras in offices and other commercial spaces help in avoiding internal conflicts, misbehavior with colleagues and guests, procrastination of work, etc. Moreover, it consequently makes staff members more productive and sincere.
7. Maintain records to avoid false allegations:
Maintaining video recordings of CCTV cameras is the best way to avoid hiccups that could ruin your business operations and reputation. You can give data-based or video-based feedback to employees about their check-in and check-out times or about delayed waiting times experienced by customers. It helps in avoiding unnecessary friction between an employee and employer as unbiased work review is shared.
Besides, surveillance cameras also record customers' activities and behavior and thus keep evidence to manage false allegations raised by customers. Smart CCTV cameras by Ambicam maintain records in the cloud storage along with meta tags for each recording, making it easiest and quicker to find and access the required record within a few clicks.
8. Offers a sense of security to people:
Be that a family member, guest, customer, or staff, everyone feels much more secure when being monitored by security officers throughout their presence at a particular place. They literally move from one spot to another, connect with people, and work stress-free as they know that the responder would be taking all possible measures to protect them against odds. The more free-minded are the employees, the better they work. And, the more secure the customers feel, the more they like the business.
Case in point: Customers at jewelry shops, banks, and ATMs feel a high sense of security through video surety systems as they make major transactions at such places.
Conclusion:
CCTV security cameras are undoubtedly beneficial to optimize the safety of all businesses and homes. However, video security systems are way more advantageous for small-scale businesses as they are 4 times more vulnerable to criminal activities. According to reports 64% of SMEs become victims of employee theft and end up losing dollars every minute.
Consider deploying a robust CCTV security system at your place to sleep peacefully every night.