Every business in today's time is struggling to fulfil the dual need of business continuity and security management in parallel. The altering world with increasing crime incidents both real and virtual, and the emergence of contagion pandemic have acted as a catalyst to accelerate the demand for reliable security systems for remote monitoring. As far as the installation of advanced security solutions at mainstream locations is concerned, it is quite feasible to deploy smart security cameras for constant surveillance. But tracking events and activities at remote locations with limited connectivity and network is the real challenge. Cellular connectivity plays a pivotal role in such scenarios. For example, 4G Security Cameras – are standalone devices that offer effective and sustainable surveillance solutions in areas without Wi-Fi or other network connectivity options.
4G Security Camera comes with SIM Card slots and supports SIM Cards developed specifically for the Internet of Things and are compatible with 4G LTE technology. It is because surveillance CCTV cameras demand an extremely high amount of data to broadcast uncompromised live footage. This innovative technology has made it possible for enterprises and property owners to safeguards their isolated premises and people residing or working there with remote security surveillance solutions.
Here are the 5 things you would like to know about 4G Security Camera:
Unlike other security cameras which operate on wireless networks, 4G security cameras boast some unique features, functionalities, and applications. Read below.
1. Remote security without Wi-Fi availability
If you are looking for security solutions to monitor your old home or warehouse situated in a secluded location or a huge farm with limited or almost no network availability; then a 4G Security Camera is there for the rescue.All you need is to arrange the cellular mobile network such as 4G-LTE and 3G to get the security camera up and running. SIM cards designed for IoT with 4G and 3G technology are easily available in the market.
With the help of SIM cards, 4G security cameras work all-thing wireless and enable responders to access the live view of the surveillance areas directly on their mobiles from anywhere all 24×7 and 365 days. These security cameras send instant notifications on detecting anything strange or suspicious to alert the security staff.
2. Simple and quick installation
Save your time and yourself from getting into wire beading and the hassle of installing heavy hardware infrastructure to install a security camera for the protection of your remote property. Thanks to the advent of novel and portable surveillance systems like 4G security cameras, the installation of security devices inside and outside the property has become much easier.
Relish the 2-step camera setup process by simple plug and play option in these innovative monitoring systems. Furthermore, they offer the utmost convenience of repositioning when and where required at your convenience. For instance, these cameras are the perfect pick for Airbnb properties or sites under construction which require surveillance of different areas of the property at different points of time.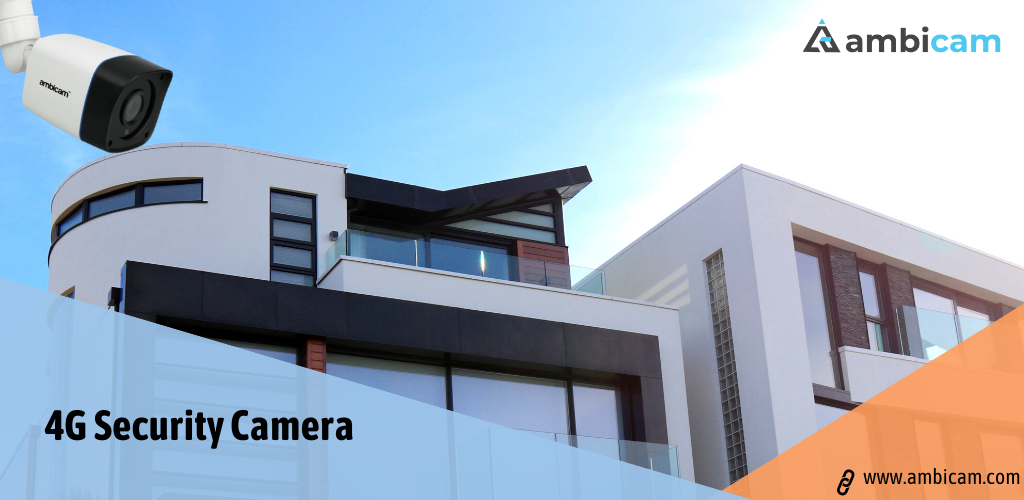 3. Safeguard public transports
4G Security Cameras are standalone devices that share live video streaming on TV screens, mobiles, laptops, and tablets without requiring any Wi-Fi or wired connection. They can be mounted easily on ceilings or poles in vehicles and public transports for persistent surveillance. Governments, private, and public authorities can monitor even the minute activity or event that takes place in public transports such as trains, buses, and shuttles. 4G security cameras help in regulating crime and immoral behaviors in public transports boarded by masses to commute regularly.
4. Blend of affordability and scalability
With the rising competition in the market of surveillance solutions, more and more players are trying to make a strong presence by offering competitive prices of 4G security cameras. Besides, these cameras have stepped into the threshold of mainstream usability and hence it is no longer an exclusive product that makes it more affordable and accessible for the masses.
On the other hand, 4G security camera are highly scalable to meet the changing requirements of your business or household. They offer you a free hand to expand or upgrade your 4G security device by installing multiple other cameras in your preferred places without having to buy a new subscription.
5. Versatile functionality
4G Security Cameras can work in as many locations with the availability of a 4G cellular network. Most 4G video cameras feature motion detectors, night vision, and PTZ movement to deliver added functionality. These security cameras stream clear and high-quality monitoring footage in dark hours to ensure the protection of scrutinized areas from unpleasant incidents that are likely to be planned at night.
AI-enabled Motion Detection sends real-time alarms whenever someone approaches your place and thus, avoids break-ins and intrusions. Alongside, the PTZ movement of these surveillance cameras provides an extended view of properties with PAN, Tilt, and Zoom in-Zoom out movements.
Now that we have understood the 5 major aspects of a 4G security camera in enhancing the safety of valuables remotely in areas without internet connection, another important thing to explore is a good 4G security Camera from a reliable brand.
Secure remote locations with Ambicam 4G Security Cameras
4G/3G Cloud CCTV security cameras feature a built-in SIM card and operate on 4G-LTE and 3G networks. These are best suitable to remotely safeguard indoor and outdoor locations without requiring wired or wireless network access. Affordable in cost, robust in construction, and smart in functionality, 4G security cameras provide full-time monitoring footage and real-time alerts that are crucial.
Differentiating features about 4G Security Cameras
Full HD resolution
SD card support up to 128GB storage
Low bandwidth consumption
DIY plug-and-play installation process
Share and download videos
H.264 compression
Cloud storage and live view
Wireless operations
In-house mobile application
Key Advantages of installing 4G Security Cameras
Cloud monitoring for enhanced safety and steadfastness
Make even the minute details visible with HD streaming
Save up to 80% of your storage and bandwidth cost by compressing videos automatically without compromising on quality
Remotely monitor various properties anywhere anytime
Allow live streaming on multiple devices including smartphones, laptops, desktops, and tablets
Ergonomic design for space-saving
Wide-angle view for wider coverage
4G Security Cameras are one-stop solutions to augment the security of people and property in areas with and without network connectivity. Get in touch to explore more about Ambicam 4G security products and offerings.
Moreover, the camera delivers safe and secure video storage in its SD card or on the Cloud for future reference or investigation. 100% wire-free, 4G security cameras operate on the power of batteries or solar panels eliminating the cost and effort invested in messy cable settings. Now maintain the beautiful interiors and exterior walls of your property by installing wireless security cameras to safeguard all your valuable belongings both indoor and outdoor.