We have stepped into 2022 and if you are still dependable on wired CCTV cameras to protect offices, houses, parking spaces, malls, vehicles, etc. – you are in a fix then! If you can relate to this, then how do you think of protecting your far-off property where the internet and electricity are once in a blue moon? You cannot be omnipresent to take care of all your assets all the time simultaneously. Then what?
Then just a 4G thing!
A 4G bullet camera is an exceptional invention of technology in the realm of security surveillance. 4G security cameras work on SIM-based or cellular technology that is free from wire or another rigid connectivity phenomenon. A 4G bullet camera wins over the security challenges of distant properties, especially if you have an under-construction building, isolated warehouse, or a farmhouse in the woods where you visit once in a year to party or unwind. You can secure all such places simply by deploying a 4G bullet camera that will operate on cellular data and consume power through batteries. Thus, eliminating the dependency of electric power, LAN, and other wired connections to function.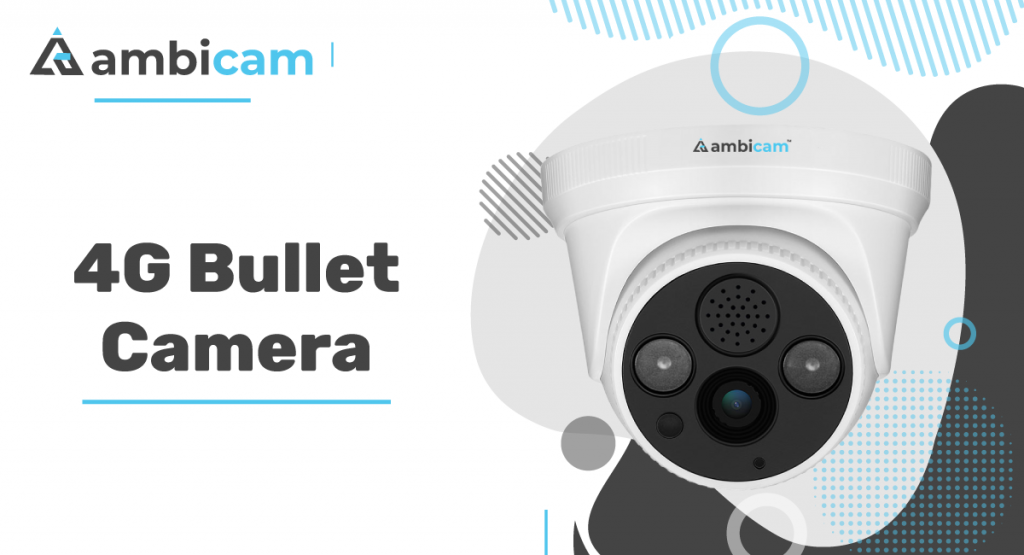 A tour to discover the technology behind the working of 4G Bullet cameras
4G bullet camera is an ideal security monitoring device for indoor and outdoor locations whether within the heart of a city or miles away from there. Such kinds of cameras operate on the 4G-LTE and 3G networks without requiring any NVR or DVR. Equipped with a SIM card slot to store the recorded data safely, 4G bullet cameras cut the intervention of connected hardware to organize or save captured videos and images.
4G Bullet Camera like Ambicam 4G bullet SIM-based Smart Security Cameras are professional-grade video monitoring systems that work best for residences, commercial places, public vehicles, cities, and public places. It operates round the clock to stream live video feed from the areas it is installed for surveillance, allowing you to monitor every movement at your property.
Differentiating factors of 4G Bullet Cameras
4G bullet cameras for security surveillance are designed with robust material in a sleek and smart appearance, making them easy to install either through ceiling, wall, or pole mounting. Operated on Wi-Fi or 4G network, these cameras broadcast videos and images with great precision and high-grade display resolution for enhanced video clarity. Ambicam 4G bullet cameras come with an in-built video compression feature i.e. H264 compression that compresses the size of recorded video automatically during storage. It in return reduces the consumption of bandwidth that leads to lower bandwidth cost and saves more space and money.
More surveillance power
4G bullet security CCTV cameras execute brilliant functions and innovations creating a win-win for users and service providers. Let us delve to understand:
Perceptive AI/ML watch on the property: 4G monitoring cameras allow real-time audio-video streaming to the cloud. 4G network with its high-speed transmission capabilities broadcast live videos with the least disruption and latencies. The camera uses live video analytics to decode the recorded data into information to understand the real-world problem.
Use case point: A CCTV security camera can analyze a disturbance within the area of surveillance, recognize a potential threat, and send instant notifications to the responder to investigate the situation and take necessary steps.
Rapid decision-making capability: 4G bullet cameras help responders in taking quick and spontaneous decisions by accumulating, arranging, filtering, and analyzing the recorded data.
Sensor-detected accuracy: 4G bullet cameras boast smart sensors like face recognition and motion detection. These features produce a result or what we call security alerts based on built-in deep learning algorithms. Since it is an automatic smart technology to identify strange faces or abnormal motion around your property, the chances of false alarms are nearly zero. As a result, these smart cameras do not waste bandwidth on triggering false positives and avoid creating confusion for responders on whether to trust the alarm or not.
Any over-speeding car, back and forth walking motion of a human, unrecognized face peeping frequently through your entrance or into the security camera, everything gets recorded and analyzed by a 4G bullet camera in real-time. It ensures that you and your valuables remain protected all day and night and with or without your presence.
Scope of application of 4G bullet camera
4G bullet cameras come with an added advantage of wire-free deployment that extends its scope of application and utility in the mainstream. You can install a 4G security CCTV on your vehicle to track people, drivers, goods, and other valuables on the go which is otherwise not possible with wire-connected cameras. 4G cameras are also an ideal security device for houses with front and backyard, basements, parking areas, monuments, public places, city monitoring, traffic management, garbage management, residential societies, schools, hospitals, warehouses, fields, and farms, or any other place that you can think of.
Salient features of Ambicam 4G surveillance CCTV
2.0 MP high definition sensor
IR LED to cover up to 15 m distance
Auto IR-CUT day and night mode
Starlight night vision IR radiation distance 50 m
H.265/H.264 video compression
25 FPS video frame rate
Automatic white balance for a clear image
3D digital noise reduction, and digital WDR
1920×1080 display resolution
Advantages of installing Ambicam 4G bullet cameras
Deter crime, intrusions, robbery, violence, harassment
Enhanced data security with cloud and 4G monitoring
Digital zoom and HD quality video streaming to check even the minutest detail with clarity
The automatic video compression feature saves up to 80% of storage space and reduces bandwidth costs
Remote monitoring of people, property, and assets anytime from anywhere on this planet
Real-time monitoring and security alerts
Wider coverage through a wide-angle view
SD card support up to 64GB for local storage
Built-in motion detector to identify forced entries
Access multiple cameras feed on a single screen
100% wire-free set up
Personalized mobile app to integrate multiple devices and share access to multiple users
Share and download recorded or live videos quickly
The simple DIY installation process of just plug-and-play
Make the best use of a 4G bullet camera to live safely in 2022 and beyond. To get more insights on the functions, features, and variety of 4G security cameras available in the market, feel free to consult Ambicam experts.